FT
by Roger Blitz

A visitor to Mexico City's Bellas Artes Museum walks between two Andy Warhol "Dollar Sign" paintings August 24. The two paintings are part of the first ever Andy Warhol exhibition in Latin America. Warhol's art is back in fashion, according to museum director Agustin Arteaga, as similar retrospective exhibitions are being held this year in several cities around the world.
Four words in this week's US Federal Reserve policy statement triggered a remarkable 24-hour rollercoaster for the dollar.
"Export growth has weakened," said the central bank, in a veiled reference to how the sustained appreciation of the currency since last summer has weighed on the economy.
Although the Fed rarely chooses to discuss the currency, Janet Yellen, chairwoman, also referred to dollar strength during her press conference after the statement was published.
That one-two punch drove the dollar sharply lower on Wednesday, with the euro, which has depreciated 13 per cent since the start of the year, on track for its best weekly gain since October 2011.
A 25 per cent rise in the dollar over the past year may well give way to a period of far choppier trading that challenges investors, especially those betting on further gains for the greenback. With the US central bank voicing its worries about a strong dollar and signalling that this could delay monetary tightening, investors are likely to face a tougher trading environment in the currency market.
The strength of the dollar and ramifications for Fed policy have been bubbling away for a while. When ex-Fed chairman Ben Bernanke was guest of honour at a recent private investment forum hosted at Pimco, the bond fund management firm's staff peppered him with questions about the central bank's likely approach to the strengthening dollar.
Surging dollar appreciation globally has triggered growing unease among US equity investors as numerous multinational companies have revealed lower profits from their foreign operations.
That became apparent during this week's Fed press conference. In addition to worries about exports, Ms Yellen said import prices had restrained inflation, and "in light of the recent appreciation of the dollar, will likely continue to do so in the months ahead".
Rich Clarida, global strategic adviser at Pimco, says: "Until now, with markets romancing the idea of quantitative easing in Europe and Japan, you have had a one-way move in the dollar. The new element is that this is the first time the Fed, through its jawboning, has signalled that the currency move is on its radar."
While the Fed statement and Ms Yellen played down the prospect of a rate rise in June, dollar bulls quickly capitalised on a knee-jerk bout of weakness.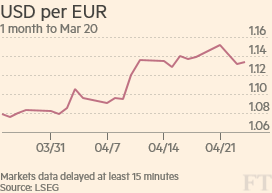 After falling 2.5 per cent against the euro on Wednesday, the dollar roared back 24 hours later, reversing those losses. This whipsaw trading between the dollar and euro highlights how volatility is picking up across the currency market.
"You have to go back a long time to get to anything like that level of volatility," says Simon Derrick, strategist at BNY Mellon. "To go from $1.06 to $1.10 [in one session] — that was 'wow'."
Marc Chandler, global currency strategist at Brown Brothers Harriman and a long-time dollar bull, says it was an opportunity that long-dollar advocates could not pass up.
"Long and medium-term dollar investors are still very dollar bullish," he says. "Whether the Fed raises [rates] in June or September is not such a big deal."
But some long-dollar traders have begun shifting their strategy and on Friday the euro was rising fast. Ugo Lancioni of asset manager Neuberger Berman says the group has been long on the dollar since last year but has become more neutral.
One reason, he says, is that divergence is now priced into the greenback. "Investors jumped on the dollar story on the back of expecting divergence, which is a powerful story, but which has played out," he says.
"Given that the dollar is doing some of the tightening for the Fed, will that momentum of the divergence story continue?"
That view is shared by longstanding dollar-bull proponents at HSBC who say the dollar rally is nearing its end.
"Tell me something I don't know," says Daragh Maher of HSBC about the divergence argument. "There's no one out there who isn't aware the Fed wants to raise rates. We are in the autopilot phase."
There are other reasons to believe that the dollar bull case has run its course, says HSBC.
The dollar has already moved a long way, more than in other historical dollar rallies; the dollar is the world's second most overvalued currency (behind the Swiss franc); the markets are ignoring both disappointing US economic data and surprisingly good numbers from eurozone economies; positioning is so stretched that there appears no resistance to dollar bulls; and historically the dollar tends to fall after the US raises interest rates.
Mr Chandler disagrees. In dollar rallies of the 1980s and 1990s, the euro or its equivalent halved, he says.
History will repeat itself, he says. "It peaked at $1.60 back in 2008 and ever since that peak my technical models and fundamental views became much more dollar-bullish.
"It has been a long slog since then . . . but I'm convinced that the euro is going back down to test those historic lows at about half the value of its peak."