NSA
New Eastern Outlook
by Vladimir Platov
Recent days have been marked by a record number of news about the US and its allies trying to establish a total control over Internet users.
On February 16 researchers at Moscow-based security group Kaspersky Lab announced the discovery of an ultimate virus that has virtually affected all spheres of military and civilian computing in more than 40 countries around the world. They've managed to discover a piece of malware that must have been installed on vhard disks while they were still being manufactured, and due to its complexity and a certain number of features that it shares with Stuxnet, it's safe to assume that it was created by US secret services.
On February 18 The Guardian confirmed that for the last 7 years Government Communications Headquarters had been sharing personal intelligence data en masse with America's national security agencies, regardless of the fact that it had intercepted millions of foreign citizens conversations. The ruling of a UK court clearly suggests that these actions were illegal on top of being carried out in violation of the the European convention on human rights.
On 19 February it was announced that National Security Agency (NSA) along with its British partner in crime – the Government Communications Headquarters (GCHQ) has manged to steal encryption keys from Gemalto – the world's largest manufacturer of SIM-cards. This allowed the above named intelligence agencies to tap any phone and intercept data from any mobile device that was using a SIM-card produced by Gemalto. This conspiracy was unveiled by The Intercept, that added that Gemalto was created nine years ago when a French company Axalto merged with Gemplus International that was operating in Luxembourg. Today Gemalto has more that 85 offices across the globe along with a total of 40 factories, that are working in close cooperation with the leading telecommunication corporations, including AT&T, Verizon and T-Mobile, along with many others. Representatives of the three above listed companies refused to comment on this scandal.
By the way, one can easily trace the German Deutsche Telekom among the customers of Gemalto group of companies. Hence it is highly unlikely that anyone would have any doubt on the involvement of US intelligence in the tapping of Angela Merkel's mobile phone, that was uncovered back in the mid 2014. What is particularly peculiar in this situation is the decision of The Federal Attorney General of Germany to stop investigating the Chancellor tapping case as it was reported by Focus Online on the pretext of "zero possible outcome of the investigation." Well, the claims of the same Focus Online that "Merkel now has a new cell phone that cannot be tapped." looks ridiculous enough, since this brand "new phone" uses the same-old Gemalto SIM-card. So the NSA can spy on Madam Chancellor as long as they see fit, while the general attorney sees nothing wrong about it. Well, perhaps, Germany has finally agreed to stand in line with the citizens of other countries and their political and business elites, eager to play the role of laboratory rats in the US intelligence surveillance game.
One would be surprised to learn that Gemalto is producing up to 2 billion SIM-cards per year, along with chips for bank cards and identity cards. According to many information security experts, US intelligence agencies, due to the encryption keys they've stolen are able to retrieve any information from mobile devices, bank cards, e-passports.
The Wall Street Journal reported the "successes" of US intelligence agencies in retrieving information from millions of US citizens' cell phones back in 2014. Most of the US citizens are under constant control of the security forces, due to the surveillance systems that were mounted on light aircraft and drones, that was developed by Boeing, which allows to collect private data from dozens of thousands of mobile phones. In addition to the ability to establish whereabouts of a person, that can be tracked with the accuracy to within three meters, his phone can be remotely block, while all of information stored on it can be easily stolen.
On February 20, the spokesperson for the United States Department of State Jen Psaki in her typical manner complained about how difficult it is for the US to confronts thousands of hostile attacks in cyberspace. However, she has never mentioned the above listed facts and Washington's paranoiac desire to dominate cyberspace.
Vladimir Platov, an expert on the Middle East, exclusively for the online magazine "New Eastern Outlook"
The Burning Platform
by Jim Q
In Part One of this article I attempted to illuminate the concept of generational theory as articulated by Strauss and Howe in The Fourth Turning. In Part Two I provided proof this Crisis is far from over, with ever increasing debt, civic decay and global disorder propelling the world towards war.
Seeds of Crisis & War
"The seasons of time offer no guarantees. For modern societies, no less than for all forms of life, transformative change is discontinuous. For what seems an eternity, history goes nowhere – and then it suddenly flings us forward across some vast chaos that defies any mortal effort to plan our way there. The Fourth Turning will try our souls – and the saecular rhythm tells us that much will depend on how we face up to that trial. The saeculum does not reveal whether the story will have a happy ending, but it does tell us how and when our choices will make a difference." – Strauss & Howe – The Fourth Turning
When you accept the fact history is cyclical and continuous linear progress is not what transpires in the real world, you free yourself from the mental debilitation of normalcy bias and cognitive dissonance. Things do get worse. There are dark periods of history and they recur on a regular cycle. And we are in the midst of one of those dark periods. This Crisis will not be resolved without much pain, sacrifice, bloodshed, and ultimately war. Catastrophe is a strong possibility. The core elements of this Crisis – debt, civic decay, global disorder – are coalescing into a perfect storm which will rage for the next ten to fifteen years. The rhythms of history only provide a guidepost of timing, while the specific events and outcomes are unknowable in advance. The regeneracy of society into a cohesive, unified community, supporting the government in a collective effort to solve society's most fundamental problems seems to have been delayed. Or has it?
Maybe the answer can be found in the resolution of the last Fourth Turning. The seeds of the next crisis are always planted during the climax of the previous crisis, when the new social order is established. The American Revolution Crisis created a new nation, but left unresolved the issue of slavery. This seed grew to become the catalyst for the Civil War Crisis. The resolution of the Civil War Crisis greatly enhanced the power of the central government, while reducing the influence of the States. The rise of central authority led to the creation of the Federal Reserve, the implementation of income taxes to fund a vastly larger Federal government and the belief among the political class that America should intervene militarily in the affairs of other countries. The Great Depression was created by the monetary policies of the Federal Reserve; the New Deal programs were a further expansion of Federal government; FDR outlawed the ownership of gold; and America's subsequent involvement in World War II created a military and economic superpower.
After sixty-two years of ever increasing debt; ever increasing taxes to support an ever growing governmental bureaucracy; ever expanding laws, regulations, and rules; currency debasement by the Federal Reserve; complete abandonment of the gold standard; and never ending wars of choice around the world, the next Crisis grew and blossomed from the seeds planted during the previous Crisis. The New Deal social programs, along with the extension of the welfare state by LBJ and subsequent administrations, have swelled to unprecedented unsustainable levels with unfunded liabilities exceeding $200 trillion. The promises cannot be fulfilled. The $18 trillion national debt increases by $2.3 billion per day; $96 million per hour; $1.6 million per minute; $27,000 per second. Does that sound sustainable? The legacy media sycophants cheer when consumer debt outstanding surges past $3.3 trillion, as their warped worldview applauds spending versus saving, consuming versus investing, and living for today rather than striving for a sustainable future.
The American people have lost their ability to think, reason, question, do math, control their urges, defer gratification, or realize when they are being lied to by the people they elected to public office. A culture of ignorance, celebration of the absurd, salutation of stupidity, honoring of the inane, being mesmerized by electronic gadgets, and satiating their egocentric shallow impulses on social media, is a sure recipe for societal collapse. Victory in World War II and becoming a modern day empire created the dynamic Eisenhower warned about. An immense military industrial complex has created enemies around the globe in order to keep the profits flowing in this welfare/warfare empire of debt. War is a racket for the rich. The peasants who buy into the incessant patriotic propaganda and volunteer are nothing but cannon fodder for the .1%. Keeping the masses fearful of phantom enemies and portraying foreign leaders as evil, is essential for the oligarchs to retain their wealth, power and control. Truth, facts, and long-term consequences are of no interest to the sociopaths running the show and pulling the levers. The dissent into darkness has been gradual and unnoticed by a purposefully distracted populace.
"As nightfall does not come at once, neither does oppression. In both instances, there is a twilight when everything remains seemingly unchanged. And it is in such twilight that we all must be most aware of change in the air – however slight – lest we become unwitting victims of the darkness." ― Supreme Court Justice William O. Douglas
What I've begun to realize about Fourth Turnings is how slow and methodical they are in reality. They will play out over twenty years at a pace dictated by events and the actions of the major players. I had been looking for a regeneracy event that would unify the country behind one leader. It is not to be. Since Fourth Turnings are driven by mood changes amongst the generational cohorts, the changes are subtle, incremental and not visible as identifiable events. Looking back in history, the election of FDR and the rollout of his New Deal policies began the regeneracy of the nation, but did not create unity or solve the economic problems of the country. There was an actual plot by prominent businessmen to conduct a coup and overthrow the government. A large contingent of the population did not support the New Deal or our entry into World War II.
The first battle of Bull Run and the subsequent mobilization of a half million more men by Lincoln marked the beginning of the regeneracy during the Civil War Crisis. It certainly did not unify the nation or even the North. It just marked the point where there would be no turning back or compromise. There were draft riots in New York City in 1863 and Lincoln thought he would lose the 1864 election. The Declaration of Independence and mobilization of an army in 1776 marked the regeneracy during the Revolutionary Crisis period, but did not unify the colonies or colonists into a cohesive unit. The Revolution was piloted by a minority of freedom minded colonists, while the majority remained neutral or obedient to the Crown.
I now believe the focus of this Fourth Turning will be the conflict between the government and its supporters, and those who oppose the welfare/warfare surveillance state controlled by Wall Street vested interests. The overbearing, militarized, captured Federal government has treated citizens like suspects since 2001. Those in the highest echelons of wealth and power have captured the three branches of government (executive, legislative, judicial) and are ruthlessly ransacking the remaining wealth of the nation. Their unquenchable desire for more wealth and power has never been more blatantly obvious than in the aftermath of the 2008 financial collapse created by their derivative orgy of debt which blew up in their faces.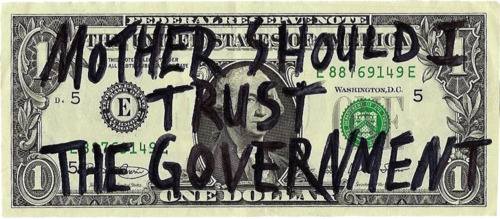 All the "solutions" implemented since 2008 (TARP, ZIRP, QE1, QE2, QE3, $800 billion stimulus plan, government takeover of student loans, subprime auto loan bonanza, waging wars of choice, doubling of food stamp households, and the Wall Street foreclosure/buy/rent scheme) have been designed to benefit the vested interests in this corporate fascist authoritarian regime. The average person has been left nearly destitute, unemployed or underemployed, bereft of savings, stuck with declining real household income, and left with political candidates hand-picked and bought off by the men running the show behind the curtain. The mood of the country has darkened significantly since 2008 and will darken further when the bubbles in stocks, bonds and real estate, created by the "solutions", pop simultaneous in the near future.
The wave of dismay, disillusionment and blinding rage that will sweep across the land will mark the next phase of this Fourth Turning. The mistrust and cynicism toward government and politicians has already reached historic highs. Congressional approval levels reached 56% in 2001 and have been in a downward spiral since, with a plunge to single digits since the 2008 Crisis began. The number of people classifying themselves as independents reached an all-time high of 47% in 2014, up from 27% in 2006. An awakening minority now realize Democrats and Republicans are nothing but brands appealing to liberals or conservatives, but representing the ruling Party and beholden to Wall Street, the military industrial complex, mega-corporations, and not the American people.
As trust in the political, economic and financial systems implodes, the existing social order will crumble and be swept away in a torrent of chaos and upheaval. Severe misery will settle on our land and tear the fabric of our society. Internal strife will be compounded by external threats, with citizens fighting each other and nations going to war on a large scale. It has happened before and it will happen again. The realization this Crisis would be driven by the conflict between government and the people occurred to me in 2013 when Edward Snowden revealed the depth and depravity of a government which believes it to not be bound by the constraints of the Constitution, laws, regulations, or human decency.
The political class, along with the government apparatchiks, protected by their propaganda mouthpieces in the media, used the 9/11 attack as the basis to implement command, control and surveillance measures which make Orwell's Big Brother seem like amateur hour. The hyperbolic level of propaganda in support of the vested interests is actually a sign of weakness, as their grip on the masses is weakening rapidly. Chris Hedges explains Washington as it functions today:
"Washington has become our Versailles. We are ruled, entertained, and informed by courtiers — and the media has evolved into a class of courtiers. The Democrats, like the Republicans, are mostly courtiers. Our pundits and experts, at least those with prominent public platforms, are courtiers. We are captivated by the hollow stagecraft of political theater as we are ruthlessly stripped of power. It is smoke and mirrors, tricks and con games, and the purpose behind it is deception.
The mass media blindly support the ideology of corporate capitalism. They laud and promote the myth of American democracy—even as we are stripped of civil liberties and money replaces the vote. They pay deference to the leaders on Wall Street and in Washington, no matter how perfidious their crimes. They slavishly venerate the military and law enforcement in the name of patriotism.
They select the specialists and experts, almost always drawn from the centers of power, to interpret reality and explain policy. They usually rely on press releases, written by corporations, for their news. And they fill most of their news holes with celebrity gossip, lifestyle stories, sports and trivia. The role of the mass media is to entertain or to parrot official propaganda to the masses.
It plays an essential role in the dissemination of official propaganda. But to effectively disseminate state propaganda the press must maintain the fiction of independence and integrity. It must hide its true intentions."

It isn't hard to connect the dots if you choose to open your eyes and not be blinded by normalcy bias or the nationalist propaganda spewed by the mass media. Snowden's revelations of an NSA global surveillance network spying on U.S. and foreign citizens and approved by the highest levels of government should have caused outrage and mass protests. Instead, the media propaganda arm portrayed Snowden as a traitor and spy. Snowden revealed that the NSA was harvesting millions of email and instant messaging contact lists, searching email content, tracking and mapping the location of cell phones, undermining attempts at encryption via Bullrun, and the agency was using cookies to "piggyback" on the same tools used by internet advertisers to pinpoint targets for government hacking and to bolster surveillance.
The NSA was shown to be "secretly" tapping into Yahoo and Google data centers to collect information from hundreds of millions of account holders worldwide by tapping undersea cables using the MUSCULAR surveillance program. The NSA's top-secret "black budget," obtained from Snowden by The Washington Post, exposed the "successes and failures" of the 16 spy agencies comprising the U.S. intelligence community, and revealed that the NSA was paying U.S. tech companies such as Apple, Google, Facebook, Microsoft, Verizon, and AT&T for "clandestine access" to their communications networks. Every electronic communication of every American is being collected by the government to be used at their discretion. It will be used against you when the time is right.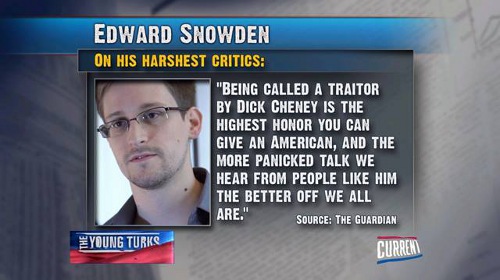 What kind of government clandestinely spies on its citizens; militarizes local police forces; conducts military training operations in major cities; wires its streets and highways with surveillance cameras; disperses peaceful protestors with water cannons, tear gas, pepper spray, and rubber bullets; and treats the U.S. Constitution like toilet paper? An authoritarian regime treats its people like this. Authoritarian regimes treat everyone like a potential enemy. They trust no one. Those in power care only for themselves and their lackeys.
The extreme wealth inequality created by dishonest means is leading towards strife and a systematic breakdown. Our entire system is built on lies, monetary machinations, propaganda and strict obedience to a vast array of laws, regulations and mandates. The ruling elite are desperate to keep their despotic bacchanal empire of debt from disintegrating in a catastrophic apocalypse of derivative time bombs, bank failures, corporate bankruptcies, and denial of their guilt. They recognize the consequences they face when the music stops. When people realize their money system is a fraud they'll lose faith in all the institutions that make up a civilized society. Trust in politicians, corporate leaders, bankers, institutions, the media, parents, neighbors, and ourselves will evaporate in an instant. The anger and pursuit of those responsible will result in governmental collapse and domestic anarchy. The guilty and innocent alike will die.
Those in power are preparing for war – against you. Executive orders already in place, when executed, give the executive branch the ability to lockdown the country the same way they locked down Boston while bumbling about trying to capture two teenage kitchen utensil bombers. There are two things the ruling class fear the most – the internet and the approximately 300 million guns owned by citizens in 50 million households. The State, through the FCC, wants to "regulate" the internet to "protect" people from being told something other than what the State wants them to hear.
That First Amendment, with its free speech and freedom of assembly, is dreadfully inconvenient for the oligarchs. Truth and dissent will not be tolerated. Every mass shooting incident, caused by the shooters being pumped full of anti-psychotic prescription drugs, is used as an excuse to disarm the public. The Second Amendment right to bear arms makes it more difficult for government thugs to ignore the Fourth Amendment when they kick your door down during an illegal search and seizure operation. An armed populace is our only defense against the tyranny of a draconian government bent on retaining its stranglehold on the country.
After the 2008 financial collapse the guilty were not punished, prosecuted nor reproached for their criminally destructive schemes to loot the American people and the world. Instead they were bailed out, allowed to retain their wealth and power, and rewarded for their misdeeds with further riches provided by their politician puppets in Washington D.C. Evil won. The masses were frightened into keeping silent and believing bankers, politicians, and government bureaucrats had saved their world of bread (debt based consumption) and circuses (iGadgets & HDTVs). Ultimately, this Fourth Turning Crisis will come down to a battle between good and evil. It would be easy if the evil people revealed themselves and the good people could destroy them, but evil and good exist within all human beings.
As witnessed in previous Fourth Turnings, the majority will sit idly by paralyzed by fear or apathy. Most people wait to be led. But, as Samuel Adams profoundly noted:
"It does not take a majority to prevail … but rather an irate, tireless minority, keen on setting brushfires of freedom in the minds of men."
The Federal and State government directly employs over 20 million Americans and millions more indirectly through their largess to arms dealers and other crony capitalist corporate entities. Over 145 million Americans receive a check of some sort from the Federal government every month, with over 100 million enrolled in a government welfare program. It is unlikely that many of these people will rise up against the government, unless their checks stop flowing (a distinct possibility). Every instance of governmental overreach, corruption, malfeasance, un-Constitutional act or ineptitude tips the scale further towards more people waking up and resisting. I believe the good in most people's hearts outweighs the evil. Once a tipping point is reached and enough people defy the government, an avalanche of consequences will sweep away the existing social order. Justice for unborn generations will be sought. Keeping silent only allows the evil to grow ever more formidable and entrenched.
"In keeping silent about evil, in burying it so deep within us that no sign of it appears on the surface, we are implanting it, and it will rise up a thousand fold in the future. When we neither punish nor reproach evildoers, we are not simply protecting their trivial old age, we are thereby ripping the foundations of justice from beneath new generations." – Aleksandr Solzhenitsyn, The Gulag Archipelago 1918-1956
In Part Four of this article I will focus on the drumbeats of war getting louder on a daily basis. Fourth Turnings always climax with war on a grand scale. There will be no escape.
InfoWars
by STEVE WATSON & DAVID KNIGHT
In a recent speech, former head of the NSA and the CIA Michael Hayden suggested that following the 9/11 attacks, he reinterpreted the US Constitution and "started to do different things," without the authorization of Congress or the President.
Speaking at Washington and Lee University last week Hayden effectively said that he was able to rewrite the Constitution based on his own "mature judgment" of what is right and wrong.
He specifically noted that, in his own mind at least, Fourth Amendment protections are now open to interpretation.
The Atlantic has the story, noting:
In a speech at Washington and Lee University, Michael Hayden, a former head of both the CIA and NSA, opined on signals intelligence under the Constitution, arguing that what the 4th Amendment forbids changed after September 11, 2001. He noted that "unreasonable search and seizure," is prohibited under the Constitution, but cast it as a living document, with "reasonableness" determined by "the totality of circumstances in which we find ourselves in history."

He explained that as the NSA's leader, tactics he found unreasonable on September 10, 2001 struck him as reasonable the next day, after roughly 3,000 were killed. "I actually started to do different things," he said. "And I didn't need to ask 'mother, may I' from the Congress or the president or anyone else. It was within my charter, but in terms of the mature judgment about what's reasonable and what's not reasonable, the death of 3,000 countrymen kind of took me in a direction over here, perfectly within my authority, but a different place than the one in which I was located before the attacks took place. So if we're going to draw this line I think we have to understand that it's kind of a movable feast here."
Perhaps terrorists should take note. If you keep attacking the US, the people in charge, like Hayden, will keep systematically breaking down what were previously considered unalienable freedoms until they are completely gone – thus you, the terrorists, win.
Within the same twisted speech, Hayden also casually noted that since 9/11 the NSA has not only been spying on and monitoring bad guys, but also anyone it considers to be "interesting".
"I am not a law enforcement officer. I don't suspect anybody." Hayden said, adding "I am simply going out there to retrieve information that helps keep my countrymen free and safe. This is not about guilt. In fact, let me be really clear. NSA doesn't just listen to bad people. NSA listens to interesting people. People who are communicating information."
So much for the age old justification of 'if you have nothing to hide, then you have nothing to fear'.
General Hayden. of course, has a track record of trashing the Constitution – it's what brought him to the NSA gig in the first place.
He was the man who seriously argued, a decade ago, that there was no mention of "probable cause" in the Fourth Amendment, insisting that only 'reasonable search and seizure' was required in violating the privacy of Americans.
Hayden also contends that government secrecy is akin to an individual's private privacy, and so the American public should not be privy to the actions of the NSA.
Hayden has also dubbed Edward Snowden worse than any American "traitor" ever, including Benedict Arnold, for blowing the whistle on government spying, and described Guardian journalist Glenn Greenwald, who broke the Snowden story, as a "co-conspirator". Hayden intimated that he would like to see both added to a government 'kill list'.
SHTFplan
by Mac Slavo
Though it has remained officially unsaid, the powers that be have all-but-officially designated the American people as their enemy in a foggy battleground that has become global, nebulous, highly technological and extremely paranoid.
Homeland Security and FBI protocol have set the stage for profiling Americans as potential threats, while the rising police state have often cracked down with a heavy hand and perhaps a SWAT raid. The War on Terror, global jihad, cyber attacks and a new Cold War have all contributed the necessary pretexts for an atmosphere of control and preemptive suspicion that seemingly justifies total surveillance of the population.
USCYBERCOM, activated by the federal government in 2009 and operated by the director of the NSA, adds a whole new dimension to that, by bringing home – to computer screens and devices everywhere – the cyberwar.
And since that time, WikiLeaks founder Julian Assange became the first civilian designated, according to declassified information, as a military-designated "enemy of the state." Many SWAT raids, FBI and police visits have now resulted from alleged threatening or offensive Internet activity. Likewise, StuxNet became the first major cyber attack against Iran, a (perceived) military threat. More recently, we've seen major cyber warfare exchanges with North Korea, resulting in an Internet blackout there following the SONY hacking scandal and diplomatic standoff over a Hollywood film.
As Daniel Taylor, of Old Thinker News, points out, the militarization and weaponization of the digital space has been a long time coming, and it might mutate into a conflict wide enough to involve you and your online activities. His article, "NSA Cyber War Will Use Internet of Things as Weapons Platform; Your Home is the Battlefield" argues:
As time goes on it will be readily apparent to the masses that the monumental surveillance architecture that will catalog and track the population is nothing more than an attempt at full spectrum domination.

[…]
New Snowden documents recently revealed that the NSA is getting ready for future digital wars as the agency postures itself in an aggressive manner towards the world. "The Five Eyes Alliance", a cooperation between United States, Canada, Britain, Australia, and New Zealand, is working hard to develop these weapons of Cyber Warfare.

So called "D" weapons, as reported by Der Spiegel, will paralyze computer networks and infrastructure that they monitor. Water supplies, factories, airports, as well as the flow of money are all potential targets.
Simultaneously, while handing out tech goodies to consumers, the American people have also become their dupes, their sheep and their eyes. Through the digitalization of the planet, cyberspace has brought home a front that is equal parts transformative, enticing and eerily grim.
The Edward Snowden leaks constituted notice to the world that all things digital are subject to surveillance – a total and complete surveillance that includes the participation of the population who, through carrying various "smart" devices that capture data, images and audio for meta-analysis – are feeding the powers that be with vast catalogs of spy information – including valuable proprietary consumer data. Taylor notes:
The NSA's Cyber Weapons program will undoubtedly exploit these devices, which include household appliances, and, frighteningly, medical devices that can be hacked. Pacemakers can be remotely stopped, and insulin pumps can be made to deliver a lethal dose of insulin. With the advent of implantable devices that communicate via Wifi, the potential for manipulation and hacking is growing exponentially.

If the developers of these internet connected devices don't willingly work with the NSA to place back-doors in the technology, the agency is hard at work trying to find and exploit them.
Through the emerging Internet of Things (IoT), household appliances, smart meters, street lights and more will create a total digital picture of life, capturing real time data per appliance that creates a total information grid. Taylor writes:
The Der Spiegel report does not mention the wider issue of the expanding network of everyday objects and appliances that are connected to the internet. According to CIA chief David Patraeus the Internet of Things will have a monumental impact on "clandestine tradecraft." Richard Adhikari writes for Tech News World that the Internet of Things is "…ripe for exploitation by the NSA"

Consumer appliances are now becoming activated and "smart." RFID chips and wireless internet connections enable devices like televisions, refrigerators, printers, and computers to communicate with each other and generally make life easier for us. This comes at a price, however. Your privacy is eliminated.

[…]

Think the idea of your appliances spying on you is crazy? According to Samsung's new privacy policy, their smart TV can monitor your conversation. The policy states, "Please be aware that if your spoken words include personal or other sensitive information, that information will be among the data captured and transmitted to a third party through your use of Voice Recognition."
This digital surveillance age does not make spying on persons of interest merely possible or probable in any theoretical sense. Instead, it is a living matrix that defaults to spying. It is set up to flag aberrant and eccentric behavior and patterns, and will prompt a due response – whether you have done anything wrong or not.
The scheduled blurring of legitimate military targets and average civilian members of the population will present a different type of war, with weaponized information and data. Putting it all in perspective, Taylor cites a media pioneer from a time before the digital age had dawned:
"World War III is a guerrilla information war with no division between military and civilian participation." – Marshall McLuhan, Culture is Our Business, 1970
Such a war will likely be the ultimate battle between the individual and the state. Unless stopped or slowed, it will accomplish, systematically, what no Cold War secret agency working on the ground and in the shadows could ever hope to gain.
Remember when President Obama told Jay Leno (and the world) with a smiling face that "there is no spying on Americans"? Not only was that untrue, but it is now clear that it was blatantly false on so very many levels.
The cell phone interceptor scandal has now become scales worse, with revelations that the Justice Dept. has been scooping Americans' data in major cities across the nation with secret flights by the tens of thousands, continuously. And that's without them admitting how far this has gone. Yikes.
As if the state of the surveillance society wasn't bad enough, this has come to light, via Fox News:
The Justice Department is scooping up data from thousands of cellphones through fake communications towers deployed on airplanes, a high-tech hunt for criminal suspects that is snagging large number of innocent Americans, according to people familiar with the operations.

The U.S. Marshals Service program, which became fully functional around 2007, operates Cessna aircraft from at least five metropolitan-area airports, with a flying range covering most of the U.S. population, according to people familiar with the program.

Planes are equipped with devices—some known as "dirtboxes" to law-enforcement officials because of the initials of the Boeing Co. unit that produces them—which mimic cell towers of large telecommunications firms and trick cellphones into reporting their unique registration information.

The technology in the two-foot-square device enables investigators to scoop data from tens of thousands of cellphones in a single flight, collecting their identifying information and general location, these people said.

Click to see full sized image.
That just follows the series of revelations concerning secretive on-the-ground interceptors – known as Sting Ray – that also mimic cell phone towers and force devices to share data with police departments, the FBI and/or various other unknown entities (perhaps foreign governments, the NSA or private firms?).
According to the Electronic Privacy Information Center (EPIC):
A StingRay is a device that can triangulate the source of a cellular signal by acting "like a fake cell phone tower" and measuring the signal strength of an identified device from several locations. With StingRays and other similar "cell site simulator" technologies, Government investigators and private individuals can locate, interfere with, and even intercept communications from cell phones and other wireless devices. The Federal Bureau of Investigation ("FBI") has used such cell site simulator technology to track and locate phones and users since at least 1995.
As Melissa Melton previously wrote:
According to the Associated Press, the Obama Administration has been actively advising police departments to refuse disclosure about certain cell phone surveillance technologies, including the widely used "StingRay" device, even in routine state records requests.

Instead, police are bypassing company assistance and collecting unique information on suspects, persons of interests, and – as the AP reports – they can even "sweep up basic cellphone data from entire neighborhoods," all without any court orders or oversight.
The Edward Snowden leaks proved beyond a shadow of a doubt that the NSA has zero regard for the privacy of Americans.
Now, it is also crystal clear that the Justice Department and FBI (and perhaps likely most assuredly other law enforcement agencies) have no regard, either. Not for Americans. Not for privacy. Not for the law. Not for due process. And certainly not for the constitutional republic they were ostensibly created to serve.
In these troubled times, it is at least good to know that former NSA chief Gen. Keith Alexander has found a lucrative gig advising Wall Street on cybersecurity using NSA data and employees who are also simultaneously top NSA officials.
No conflict of interest, no breach of duty to see here. Move along.
Gulp. Sigh.
The New American
by Thomas R. Eddlem
The NSA and the National Director of Intelligence have consistently denied that they listen to the content of Americans' telephone calls, but the history of intelligence agency claims about the scope of its spying on Americans is one of lies and more lies. So the question must be asked: Are they lying again with respect to recording the content of Americans' phone calls?
The answer to that question may be "yes," and it may be "no." But there's also a possible "technically, no" response to that question that's even more frightening, for which there is a substantial amount of circumstantial evidence. First, here are a few of the blatant lies the U.S. intelligence apparatus has publicly told to the American people:
Lie #1: We are not keeping Americans' phone data.
During a March 12, 2013 Senate hearing, Senator Ron Wyden asked U.S. Intelligence Director James Clapper: "Does the NSA collect any type of data at all on millions or hundreds of millions of Americans?" Admiral James Clapper replied: "No, sir."
Several months later, NSA contractor Edward Snowden revealed to the American people that Clapper's statement was a bold-faced lie. The NSA had, in fact, been collecting data on hundreds of millions of Americans under a program named PRISM, a program NSA documents revealed that also collected Internet traffic "directly from the servers of these U.S. Service Providers: Microsoft, Yahoo, Google, Facebook, PalTalk, AOL, Skype, YouTube, Apple." And copies of that database, it was later learned, are sent to the U.S. Drug Enforcement Agency. James Bamford over at The Intercept likewise revealed on October 2, 2014 a 40-year history of the NSA releasing documented lies to both the American people and to Congress.
Lie #2: We can't grab Americans' e-mails.
NSA Director General Keith Alexander told U.S. House investigators on March 20, 2012, that the NSA didn't have the "ability" to wiretap Americans' telephone calls:
Representative Hank Johnson (D-Ga.): General Alexander, if Dick Cheney were elected president and wanted to detain and incessantly waterboard every American who sent an email making fun of his well-known hunting mishaps, what I'd like to know is, does the NSA have the technological capacity to identify those Cheney bashers based upon the content of their emails? Yes or no.
General Alexander: No. Can I explain that?
Representative Johnson: Yes.
General Alexander: The question is where are the emails and where is NSA's coverage. I assume by your question that those emails are in the United States.
Representative Johnson: Correct.
General Alexander: NSA does not have the ability to do that in the United States.
The reality is that the NSA does possess the technical ability to record Americans, and former NSA contractor Edward Snowden's revelations proved that hundreds of thousands of Americans' telephone conversations have been "legitimately" recorded by the NSA because one party of the call was abroad. Moreover, thousands of innocent Americans' e-mails have been monitored by the NSA, according to information provided by whistleblower Edward Snowden. Indeed, the capacity to wiretap American's phone lines and record the full audio from them is present on a widespread basis, as the NSA program SOMALGET wiretaps the full audio from every call in and out of the nation of the Bahamas (and the NSA grabs metadata from the same program from all calls in Mexico, Kenya, and the Philippines).
Lie #3: CIA wouldn't hack into U.S. Senate computers.
As the U.S. Senate conducted its oversight of the Bush-era detention policies under the CIA, Senator Dianne Feinstein (D-Calif.) charged the CIA with spying on Senate computers and deleting material on those U.S. Senate computers. "As far as the allegations of the CIA hacking into Senate computers, nothing could be further from the truth," CIA Director John Brennan told Andrea Mitchell at a Council on Foreign Relations forum March 11, 2014. It later came out that Feinstein's charges were the precise truth, and Brennan had told a bold-faced lie.
Lie #4: NSA wiretapping authority has never been abused.
"There is no abuse," former NSA Director Michael Hayden told NBC's Meet the Press on December 15, 2013. President Obama himself denied the NSA had abused its surveillance capabilities in an address to the nation on August 9, 2013: "If you look at the reports — even the disclosures that Mr. Snowden has put forward — all the stories that have been written, what you're not reading about is the government actually abusing these programs and listening in on people's phone calls or inappropriately reading people's emails. What you're hearing about is the prospect that these could be abused. Now, part of the reason they're not abused is because these checks are in place, and those abuses would be against the law and would be against the orders of the FISC."
But it soon came out that there have been thousands of cases of abuse of that intelligence on American citizens from internal NSA reviews of the information. In some cases, this involved taking audio from telephone calls of Americans by suspicious lovers in the employ of the NSA, according to a summary provided to Senator Charles Grassley (R-Iowa): "In 2004, upon her return from a foreign site, the subject reported to NSA Security that, in 2004, she tasked a foreign telephone number she had discovered in her husband's cellular telephone because she suspected that her husband had been unfaithful. The tasking resulted in voice collection of her husband."
So in light of the many lies of our intelligence officials and the politicians overseeing them, it's quite possible that the NSA could be lying — again — with respect to its gathering, retention and search of Americans' conversations as it did with phone records "metadata."
Tag-team Approach to Surveilling Americans
But there's another possible explanation for the NSA following legal protocol, as claimed in public, where it nevertheless has indirect access to Americans' phone calls: It's possible the NSA has an agreement with foreign intelligence agencies to spy on Americans in exchange for U.S. surveillance of their populations, with an agreement to exchange the information. Consider the possibility that the NSA — which like the all-seeing eye of Sauron in the Lord of the Rings trilogy — is faced outward surveilling the world while the other two pairs of the "Five Eyes" partners (the U.K., Canada, Australia, and New Zealand) are focused inward on the NSA's one blind spot: the United States. This may sound like a far-out conspiracy theory, but statements of partnership between the United States and it allies — especially its Anglo "Five Eyes" allies — make such an arrangement plausible in light of existing legal restrictions against surveilling American citizens.
The NSA has paid hundreds of millions of dollars to "Five Eyes" partner GCHQ in Britain because GCHQ is "less constrained by NSA's concerns about compliance," according to intelligence officials who talked off the record with London's The Guardian for August 1, 2013. Of course, there are no restrictions whatsoever on NSA surveillance of foreigners; the only surveillance restrictions on the NSA are those against recording the audio of Americans' phone calls. According to The Guardian, the federal funding of British intelligence "exploited to the full our unique selling points of geography, partnerships [and] the UK's legal regime." The chief benefit of geography is that Britain is not constrained by legal restrictions on spying on Americans. A British Cabinet official told The Guardian after the Edward Snowden revelations that "joint projects in which resources and expertise are pooled, but the benefits flow in both directions."
GCHQ has already acknowledged collecting massive Internet information on British citizens under its blanket authority under U.K. law to collect "external communications." What's to stop them from also collecting the Facebook and Google traffic of Americans? Clearly, Americans' phone calls and e-mails are "external" to the U.K. But without American assistance, the British government likely lacked the technical capability for such massive surveillance, or perhaps lacked the will to invest this level of funds to surveil the people of an ally. In this light, the massive NSA aid to GCHQ and the close partnership with the Five Eyes countries could be explained. Two pair of the Five Eyes are quite possibly charged with surveilling Americans, and then coordinating with their American counterparts in order to skate around what little is left of the Fourth Amendment to the U.S. Constitution prohibiting warrantless searches. In exchange, the NSA shares information on their people, as well as information on other nations where the United States surveils and our allies don't have surveillance capabilities.
Similar relationships have been reported among America's other allies. The Washington Post reported on October 30, 2013, "In France, the daily Le Monde reported Wednesday that France's external intelligence agency collaborated with the United States starting at the end 2011 or beginning of 2012 to provide a window into Internet traffic flowing via underwater cables that surface in France…. The cables carry much of the Internet traffic that flows to Africa and Afghanistan, the newspaper said. In exchange for allowing access to the traffic, the NSA provided information about areas of the world where France has no intelligence presence, the newspaper reported." What areas that involved, the article didn't specify. Clearly there are many areas the massive resources of the NSA could help the French intelligence agencies. But if the French intelligence agencies are willing to sell out the privacy of their people in exchange for more intelligence sharing, why should American intelligence agencies be immune from such a deal?
Indeed, American intelligence officials have publicly expressed a rather blasé attitude toward foreign intelligence agencies spying on Americans. In an October 29, 2013, hearing before the House Select Committee on Intelligence, Director of Intelligence James Clapper responded to this question from Chairman Mike Rogers (R-Mich.):
Mike Rogers: Do you believe that the allies have conducted or at any time any type of espionage activity against the United States of America — our intelligence services, our leaders, otherwise?
Clapper: Absolutely…. And I have to say, Chairman Rogers, that some of this reminds me a lot of the movie Casablanca. "My God, there's gambling going on here!" You know, it's the same kind of thing.
The statement above proves that Clapper is aware of allied intelligence agencies spying on Americans, an activity the agencies he controls are prohibited from doing. But it also leaves open the question of how much of that spying (and sharing of that intelligence) is done on a formalized partnership basis, and how much is done on an ad hoc basis. If the NSA is lying about its restraint from collecting the audio of Americans' phone calls, a vigorous partnership of "we'll spy on you, if you'll spy on us" would be unnecessary, as would hundreds of millions of dollars in aid to GCHQ. But if the NSA wants to surveil Americans while at the same time formally complying with their public pronouncements, focusing two pair of the "Five Eyes" back on Americans becomes a real possibility.
The extent of foreign surveillance of American phone calls is not known, and won't be known without an Edward Snowden-like whistleblower from GCHQ or one of the other Five Eyes partners. But it's clear that Congress should not take the NSA's public pronouncements at face value, but should investigate the level of foreign surveillance of Americans.