US News
New Eastern Outlook
by Phil Butler
There are three kinds of people inhabiting Earth these days. There are those who strive to remain informed, there are those who for one reason or another are mis-informed or under-informed, and there are the "informers" or communicators among us. In looking at this simplified segmentation of society we can see the evanescence of once concretely held ideals. Even without a keen perception people are beginning to sense that true democracy is nothing but vapor.
What you are about to read begins as a bombastic criticism of "think tank" dinosaurs, one group of the aforementioned "informers" who choose (for whatever reason) to constrain progress in our world. Farther on you will be presented with cases that label the current state of US foreign policy as catastrophic. If you'll forgive the scathing critique of one academic dignitary out of this writer's utter disbelief, I'm sure the latter cases will indemnify the former.
Trouncing Archaic Ideas
An article posted on the Boston Globe entitled "Containing and engaging Russia" targets a delusional readership with a testimony right out of Alice's Wonderland. Author and scholar John Shattuck reverts to the role of reality comedian in his "cart before the horse" assessment of Russia, and of the US role in world geo-strategy. If the former United States Assistant Secretary of State for Democracy under President Bill Clinton were not so scary in his mental twisting of new "Cold War" synergies, I'd personally nominate him for a Comedy Central award of some kind. I use the term "scary" here without reservation because of the author's position as rector of Central European University. You see his role in academia, the fertile spawning grounds of both despots and disciples, and the place where the roots of hatred, mistrust, and fallible international relations are planted. The reason for my ire here is, decades of killing and chaos have been brought about by such men. In the incubators of major universities great solutions for all humankind are spawned, but also the chaos of our current world is hatched, evangelized and perpetuated too.
This causes me and millions of others a systemic fear for our future, one amplified by his article with the realization that he and others like him may actually believe their own brainstorms. Speaking on the mission of NATO and eastern European "democracy", the author of this policy nonsense assets:
"The opposing (American) narrative is that the West effectively won the Cold War. Promoting a market economy and democracy was the best way to help countries from the former Soviet sphere recover from the legacy of communism. Because Russia had been an aggressor in Eastern Europe, NATO was expanded to guarantee the security of these countries, and the EU was expanded to foster their market economies."
You need not read Mr. Shattuck's entire piece beyond that point, for he hums and haws for a few more paragraphs, then suggests a Washington strategy Roman Emperor Commodus would have approved of. Like me, the thought may occur to you; "What if these people actually believe what they are preaching?" That possibility is staggering in its implications. Maybe like me, you would prefer some "unseen hand scenario" for humanity, or even theories of the Illuminati ramping up for Armageddon, instead of the blind academic leading us staggering into a black abyss of endless killing, hate and war. If probability theory ever were valid, then the United States of America following such "experts" will certainly lead to nowhere. I vote for more evidence of a new world order over this newfound evidence we're lectured, taught and led by well educated, often over fed and over compensate nincompoops. This is how empires and dynasties have been deconstructed since the dawn of time.
Mediocrity takes control, hapless leaders are assisted by horrible communicators, and so often both are moved by powerful puppeteers and their unseen machinations toward the end, the end of an era. It's time for a wake up call, a brisk slap in the face to all who adhere to the "same old" tired strategies of containment and sanctionable punishments of nations of human beings. We need to send a message to John Shattuck, to the Bill Clintons and Barack Obamas of the world too. The message should read (or needs to be shouted).
"Russia has not advanced on anybody, anywhere, or any geo-strategic target, but instead America and the NATO alliance have for decades now made strident moves to threaten the nation of people called Russia. "
Misleading Mice and Men
"Funded by." Who was it that said for investigations should "follow the money?" Funded by the notorious billionaire George Soros, the Central European University mentioned previously has an interesting list of faculty and noted alumni. However, Soros' Open Society Foundations' role in supporting academic brainwashing is by far the most important fact readers need to glean here. The man who was said to have "broken the Bank of England" spends billions backing far left NGOs around the world, this is common knowledge. The reader may also find significant for the "long view" the fact Soros-sponsored organizations have helped mobilize protests in Ferguson. These effort across the seas from Hungary, have helped build grass-roots coalitions on the ground backed by a nationwide online and social media campaigning. The big question is, to what genuine purpose? Is George Soros the stylist of revolution? Could the Obama administration be part and party to some double ended dissection of America? Sorry if that sounds conspiratorial, but the sentient mind does wonder.
Taking a look at the last six years, it's interesting to observe the larger pattern of civil unrest in the world. Does it occur to anyone else that Arab Spring, the Euromaidan rioting, or even the gay rights onslaught across the world have a common source? These seemingly unrelated events are what have become the flavor of the month these days. Ferguson, Baltimore, Charleston, and now Chattanooga in the United States, these seem to be the fringes of an America some think may unravel altogether. In all this world chaos there seems to be a common thread for me. I believe it was the imminent Carl Jung who once said: "In all chaos there is a cosmos, in all disorder a secret order." Napoleon also spoke of controlling the chaos of war, and even Mary Shelly's Frankenstein monster was conceived out of chaos.
There's evidence Soros has funded other organized chaotic movements, such as the Egyptian variant. Soros, who some say has a firm hand on the strings operating US President Barack Obama, has not concealed his views about a global welfare state construct. This new world order (NOW) prospect is further revealed by Obama's actions with regard to "American influence" leveraging abroad. His appointment of Harold Koh, the dean of Yale Law School, as legal advisor to the U.S. State Department is but one key illustrative. Koh is an advocate of a concept called transnationalism, that argues in favor of "gobal governance" by a central plutocracy of "worthy" leaders. According to the theory, the world's most challenging problems are too complex for any single country to solve on its own. Basically these people advocate a world system governed by a set of supranatural laws and institutions, rather than systems of constitutional governance. Just how such a system fosters democracy is mysterious, but it's not the idea or reality of transnationalism that is worrisome, for in and of itself the idea is sound. It's who's put in charge that is scary. Worse still, this neo-liberal game is misleading to the extreme.
We're watching men and women operate these days who presuppose and presume with an age old narcissism, just look at the arrogance of Hillary Clinton for instance. Standing back and taking a clear look at our Titans of industry and politics, we see them all exerting massive leverage on policy using funding and misdirects to transfigure society not to the people's will, but to their own. Soros' so-called "Open Society" is a game plane of chaotic innovation, one set in motion by Soros and the Obama administration in my view. An example can be seen in Soro's and Obama's take on the US Constitution. Both Soros and the American president contend the founder's of a nation intended this unique parchment to be trashed any time its keepers saw fit. Yes, believe it or not the laws of the United States were never meant to be set in stone, morality was intended to be flushed down the commode, any time despots in disguise took control. In Obama's 2006 book The Audacity of Hope, the current president wrote of this law of the land, "is not a static but rather a living document and must be read in the context of an ever-changing world." So you see, this is how our world became a mess. Promises are not meant to be kept, Russia or any nation becomes the enemy as soon as Obama decides, or as soon as George Soros or our unseen hand decides. The will of the people is, insignificant.
We see this arrogance (exceptionalism) played out in the recent Supreme Court decision on same sex marriage. The court ruled 5 4 in favor, with Reagan appointee Anthony Kennedy joining Obama appointees Sonya Sotomayor and Elena Kagan voting yes alongside Clinton appointees Ruth Joan Bader Ginsburg and Stephen Breyer. This is a separate issue really, but relevant for our purposes if only for identifying a control mechanism. The Constitution also guarantees something called separation of powers, but two presidential nominee sets just changed all that. An entire nation just moved, all at once, as if great Atlas had shrugged.
The Exceptional Malfunctioning Politic
The BBC proclaimed in December 2014 that our Central European University was "built to defend democracy". Also, according to John Shattuck, his school was founded to "resuscitate and revive intellectual freedom" in Eastern Europe! But any college graduate knows that professors grade based on adherence to correct answers, answers written on the chalk board during great lectures. Herein resides the crux of my own fears, that flawed ideology and Machiavellian vested interests result in tilted and controlled education. In plain language Soros is funding a school that churns out Georgian presidents, activists, and prime movers that literally surround Russia. And I might add, the same Russia the Boston Globe and other corporate media routinely vilify. Freedom then, by any definition, is as far from what the current American administration practices as heaven is from hell. When we look at the associations of such people, the "would be" leadership of or new world aristocracy, we find conflicts of interest abounding. My question is, "how did we manage to put beneficiaries of robber barons on our Foreign Relations committees, our key foundations, in charge of our institutions of higher learning and thought?"
Finally, we see in this my Soros- Shattuck-Obama example but one iota of incongruity which our foreign and domestic policies in the West misfire upon. What I mean by this is, just how dysfunctional has our ruling class become? George Soros, and Barack Obama have professed their new age allegiance to disruptive government. My question is, how in the world is America being transformed constitutionally by a man who is a self-professed pseudo-American. To quote Soros directly:
"I did not belong to any community. As a Hungarian Jew I had never quite become an American. I had left Hungary behind and my Jewishness did not express itself in a sense of tribal loyalty that would have led me to support Israel."
Are these the bearers of the new standard for international discourse and relations? How can someone who is un-American understand or suggest laws and ideals coveted by Americans? This is idiocy, tantamount to a Nobel Peace Prize for drone killing. Will Obama win another for perpetuating war, forgetting every promise, and making a festering wound of West-East relations? And how about the unwitting purveyors of new academic realms, what new powers will these professors be possessed of in the new world order? I say to you their power already exceeds what's tolerable, for universities across the world are brain wave chambers for a new generation of ideological zombies, the walking dead of humankind's future. I leave you with a quotation from a relatively new book by Ben Shapiro, a UCLA student who exposed academic indoctrination of students in "Brainwashed". In the forward publisher David Limbaugh writes:
"How can ideas flowing from traditional values receive a proper airing when the prevailing dogma emphatically rejects moral absolutes? How can students be expected to further their grasp on reality when the university atmosphere teaches that truth is a social construct determined largely by power?"
Later on in the text the author recounts something Harvard professor Orlando Patterson uttered on News Hour with Bill Lehrer in a discussion about former President Bill Clinton's perjury. Patterson said, "I think it is important to emphasize there are no absolutes in our moral precepts." If humanity is destined to always be a kind of collective herd, if we are to delegate leadership in thought or deed to others, then what manner of system should we have? Clearly democracy is dead as the proverbial door nail. Power, however one defines it, exerts control on us as never before. We cannot even learn with any trust in higher forms of guidance. We are cattle, herded into a chosen reality no matter what potential we may dream of ultimately. Russia, China, or any nation that dissents, they are our enemy. People like Soros, his handlers and minions both, they treat us as if they were matadors, waving the red cape to lure us toward the sword. This discourse is not new, but reminiscent of 18th century philosopher Jean-Jacques Rousseau's Social Contract wherein we agree to submit to the authority of the general will of the people, and thereby are guaranteed individual rights against being enslaved or subjugated by the will of the few. In this contract it is "we" who are the authors of the law, and not college deans or professors, or rich and quite mad billionaires who are convinced they are our betters.
For those of you who are desperate to be informed, perhaps you will now try and relate to your neighbors who cannot receive such messages. And for the great communicators out there the choice is clear here. Right and wrong seem to me to be getting clearer all the time. Thanks for your attention, and may we never forget:
"The fruits belong to all and the land belongs to no one." – JJ Rousseau
Phil Butler, is a policy investigator and analyst, a political scientist and expert on Eastern Europe, exclusively for the online magazine "New Eastern Outlook".
The Economic Collapse
by Michael Snyder
What I am about to share with you is quite stunning. A well-respected financial expert that correctly predicted the last two stock market crashes is now warning that we are right on the verge of the next one. John Hussman is a former professor of economics and international finance at the University of Michigan, and the information in his latest weekly market comment is staggering. Since 1970, there have only been a handful of times when a combination of market signals that Hussman uses have indicated that a major market peak has been reached. In 1972, 2000 and 2007 each of those peaks was followed by a dramatic stock market crash. Now, for the first time since the last financial crisis, all four of those signals appeared once again during the week of July 17th. If Hussman's analysis is correct, this could very well mean that the next great stock market crash in the United States is imminent.
It was an excellent article by Jim Quinn of the Burning Platform that first alerted me to Hussman's latest warning. If you don't follow Quinn's work already, you should, because it is excellent.
When someone is repeatedly correct about the financial markets, we should all start paying attention. Back in late 2007, Hussman warned us about what was coming in 2008, but most people did not listen.
Now he is sounding the alarm again. According to Hussman, when there is a confluence of four key market indicators, that tells us that the market has peaked and is in danger of crashing. The following comes from Newsmax…
He cited the metric among the indicators that foreshadowed declines after peaks in 1972, 2000 and 2007:

*Less than 27 percent of investment advisers polled by Investors Intelligence who say they are bearish.

*Valuations measured by the Shiller price-to-earnings ratio are greater than 18 times.

*Less than 60 percent of S&P 500 stocks above their 200-day moving averages.

*Record high on a weekly closing basis.

"The most recent warning was the week ended July 17, 2015," Hussman said. "It's often said that they don't ring a bell at the top, and that's true in many cycles. But it's interesting that the same 'ding' has been heard at the most extreme peaks among them."
It is quite rare for the market to set a new record high on a weekly closing basis and have more than 40 percent of stocks below their 200-day moving averages at the same time. That is why a confluence of all these factors is fairly uncommon. Hussman elaborated on this in his recent report…
The remaining signals (record high on a weekly closing basis, fewer than 27% bears, Shiller P/E greater than 18, fewer than 60% of S&P 500 stocks above their 200-day average), are shown below. What's interesting about these warnings is how closely they identified the precise market peak of each cycle. Internal divergences have to be fairly extensive for the S&P 500 to register a fresh overvalued, overbullish new high with more than 40% of its component stocks already falling – it's evidently a rare indication of a last hurrah. The 1972 warning occurred on November 17, 1972, only 7 weeks and less than 4% from the final high before the market lost half its value. The 2000 warning occurred the week of March 24, 2000, marking the exact weekly high of that bull run. The 2007 instance spanned two consecutive weekly closing highs: October 5 and October 12. The final daily high of the S&P 500 was October 9 – right in between. The most recent warning was the week ended July 17, 2015.
The following is the chart that immediately followed the paragraph in his report that you just read…
When I first took a look at that chart I could hardly believe it.
It appears that Hussman's signals are able to indicate major stock market crashes with stunning precision.
And considering the fact that we just hit a new "ding" for the first time since the last financial crisis, what Hussman is saying is more than just a little bit ominous.
According to Hussman this is not just a recent phenomenon either. Even though advisory sentiment figures were not available back in 1929, he believes that his indicators would have given a signal that a market crash was imminent in August of that year as well…
Though advisory sentiment figures aren't available prior to the mid-1960's, imputed data suggest that additional instances likely include the two consecutive weeks of August 19, 1929 and August 26, 1929. We can infer unfavorable market internals in that instance because we know that cumulative NYSE breadth was declining for months before the 1929 high. The week of the exact market peak would also be included except that stocks closed down that week after registering a final high on September 3, 1929. Another likely instance, based on imputed sentiment data, is the week of November 10, 1961, which was immediately followed by a market swoon into June 1962.
Of course the past is the past, and what has happened in the past will not necessarily happen in the future.
So is Hussman wrong this time? With all of the other things that are happening in the financial world right now, I certainly would not bet against him.
Other financial professionals are concerned that a market crash could be imminent as well. The following comes from a piece authored by Andrew Adams…
More than 13% of stocks on the New York Stock Exchange are at 52-week lows, which is about 6 standard deviations above the average over the last three years (1.62%) and an extreme only seen one other time during said period (last October when the S&P 500 was percentage points away from a 10% correction).

This dichotomy has created what I believe to be the biggest question about the stock market right now – have we already experienced a stealth correction in the majority of stocks that will soon come to an end or will the market leaders finally succumb to the weight of the laggards and join in on the sell-off? The answer to this could end up being worth at least $2.2 trillion, which is how much money would essentially be wiped out of the stock market if we finally get the much-discussed 10% correction in the overall market (the total U.S. stock market capitalization was $22.5 trillion as of June 30, according to the Center for Research in Security Prices).
Sometimes, a picture is worth more than a thousand words. I could share many more quotes from the "experts" about why they are concerned about a potential stock market collapse, but instead I want to share with you a "bonus chart" that Zero Hedge posted on Tuesday…
Do you understand what that is saying?
In 2007 and 2008, junk bonds started crashing well before stocks did.
Now, we are witnessing a similar divergence. If a similar pattern holds up this time, stocks have a long, long way to fall.
Like Hussman and so many others, I believe that a stock market crash and a new financial crisis are imminent.
The month of August is usually a slow month in the financial world, so hopefully we can get through it without too much chaos. But once we roll into the months of September and October we will officially be in "the danger zone".
Keep an eye on China, keep an eye on Europe, and keep listening for serious trouble at "too big to fail" banks all over the planet.
The next several months are going to be extremely significant, and we all need to be getting ready while we still can.
Mises Institute
by Charles Hugh Smith
You've probably read that there is a "war on cash" being waged on various fronts around the world. What exactly does a "war on cash" mean?
It means governments are limiting the use of cash and a variety of official-mouthpiece economists are calling for the outright abolition of cash. Authorities are both restricting the amount of cash that can be withdrawn from banks, and limiting what can be purchased with cash.
These limits are broadly called "capital controls."
Why Now?
Before we get to that, let's distinguish between physical cash — currency and coins in your possession — and digital cash in the bank. The difference is self-evident: cash in hand cannot be confiscated by a "bail-in" (i.e., officially sanctioned theft) in which the government or bank expropriates a percentage of cash deposited in the bank. Cash in hand cannot be chipped away by negative interest rates or fees.
Cash in the bank cannot be withdrawn in a financial emergency that shutters the banks (i.e., a bank holiday).
When pundits suggest cash is "obsolete," they mean physical paper money and coins, not cash in a bank. Cash in the bank is perfectly fine with the government and its well-paid yes-men (paging Mr. Rogoff and Mr. Buiter) because this cash can be expropriated by either "bail-ins" or by negative interest rates.
Inflation and Negative Interest Rates
Mr. Buiter, for example, recently opined that the spot of bother in 2008–09 (the Global Financial Meltdown) could have been avoided if banks had only charged a 6 percent negative interest rate on cash: in effect, taking 6 percent of the depositor's cash to force everyone to spend what cash they might have.
Both cash in hand and cash in the bank are subject to one favored method of expropriation, inflation. Inflation — the single most cherished goal of every central bank — steals purchasing power from physical cash and digital cash alike. Inflation punishes holders of cash and benefits those with debt, as debt becomes cheaper to service.
The beneficial effect of inflation on debt has been in play for decades, so it can't be the cause of governments' recent interest in eliminating physical cash.
So now we return to the question: Why are governments suddenly declaring war on physical cash, the oldest officially issued form of money?
Why They Hate Cash in Hand
The first reason: physical cash has the potential to evade both taxes as well as officially sanctioned theft via bail-ins and negative interest rates. In short, physical cash is extremely difficult for governments to steal.
Some of you may find the word theft harsh or even offensive. But we must differentiate between taxes — which are levied to pay for the state's programs that in principle benefit all citizens — and bail-ins, i.e., the taking of depositors' cash to bail out banks that became insolvent through the actions of the banks' management, not the actions of depositors.
Bail-ins are theft, pure and simple. Since the government enforces the taking, it is officially sanctioned theft, but theft nonetheless.
Negative interest rates are another form of officially sanctioned theft. In a world without the financial repression of zero-interest rates (ZIRP — central banks' most beloved policy), lenders would charge borrowers enough interest to pay depositors for the use of their cash and earn the lender a profit.
If borrowers are paying interest, negative interest rates are theft, pure and simple.
Why are governments suddenly so keen to ban physical cash? The answer appears to be that the banks and government authorities are anticipating bail-ins, steeply negative interest rates and hefty fees on cash, and they want to close any opening regular depositors might have to escape these forms of officially sanctioned theft. The escape mechanism from bail-ins and fees on cash deposits is physical cash, and hence the sudden flurry of calls to eliminate cash as a relic of a bygone age — that is, an age when commoners had some way to safeguard their money from bail-ins and bankers' control.
Forcing Those With Cash To Spend or Gamble Their Cash
Negative interest rates (and fees on cash, which are equivalently punitive to savers) raise another question: why are governments suddenly obsessed with forcing owners of cash to either spend it or gamble it in the financial-market casinos?
The conventional answer voiced by Mr. Buiter is that recession and credit contraction result from households and enterprises hoarding cash instead of spending it. The solution to recession is thus to force all those stingy cash hoarders to spend their money.
There are three enormous flaws in this thinking.
One is that households and businesses have cash to hoard. The reality is the bottom 90 percent of households have less income now than they did fifteen years ago, which means their spending has declined not from hoarding but from declining income.
While corporate America has basked in the glory of sharply rising profits, small business has not prospered in the same fashion. Indeed, by some measures, small business has been in a six-year recession.
The bottom 90 percent has less income and faces higher living expenses, so only the top slice of households has any substantial cash. This top slice may see few safe opportunities to invest their savings, so they choose to keep their savings in cash rather than gamble it in a rigged casino (i.e., the stock market).
The second flaw is that hoarding cash is the only rational, prudent response in an era of financial repression and economic insecurity. What central banks are demanding — that we spend every penny of our earnings rather than save some for investments we control or emergencies — is counter to our best interests.
A War on Cash Is a War on Capital
This leads to the third flaw: capital — which begins its life as savings — is the foundation of capitalism. If you attack savings as a scourge, you are attacking capitalism and upward mobility, for only those who save capital can invest it to build wealth. By attacking cash, the central banks and governments are attacking capital and upward mobility.
Those who already own the majority of productive assets are able to borrow essentially unlimited sums at near-zero interest rates, which they can use to buy more productive assets. Everyone else — the bottom 99.5 percent — is reduced to consumer-serfdom: you are not supposed to accumulate productive capital, you are supposed to spend every penny you earn on interest payments, goods, and services.
This inversion of capitalism dooms an economy to all the ills we are experiencing in abundance: rising income inequality, reduced opportunities for entrepreneurship, rising debt burdens, and a short-term perspective that voids the longer-term planning required to build sustainable productivity and wealth.
Physical Cash: Only $1.36 Trillion
According to the Federal Reserve, total outstanding physical cash amounts to $1.36 trillion.
Given that a substantial amount of this cash is held overseas, physical cash is a tiny part of the domestic economy and the nation's total assets. For context: the US economy is $17.5 trillion, total financial assets of households and nonprofit organizations total $68 trillion, base money is around $4 trillion, and total money (currency in circulation and demand deposits) is over $10 trillion (source).
Given the relatively modest quantity of physical cash, claims that eliminating it will boost the economy ring hollow.
Following the principle of cui bono — to whose benefit? — let's ask: What are the benefits of eliminating physical cash to banks and the government?
Benefits To Banks and the Government of Eliminating Physical Cash
The benefits to banks and governments by eliminating cash are self-evident:
Every financial transaction can be taxed.
Every financial transaction can be charged a fee.
Bank runs are eliminated.
In fractional reserve systems such as ours, banks are only required to hold a fraction of their assets in cash. Thus a bank might only have 1 percent of its assets in cash. If customers fear the bank might be insolvent, they crowd the bank and demand their deposits in physical cash. The bank quickly runs out of physical cash and closes its doors, further fueling a panic.
The federal government began insuring deposits after the Great Depression triggered the collapse of hundreds of banks, and that guarantee limited bank runs, as depositors no longer needed to fear a bank closing would mean their money on deposit was lost.
But since people could conceivably sense a disturbance in the Financial Force and decide to turn digital cash into physical cash as a precaution, eliminating physical cash also eliminates the possibility of bank runs, as there will be no form of cash that isn't controlled by banks.
So, when the dust has settled who ultimately benefits by this war on cash, government and the central banks, pure and simple.
Global Research
By Amy Worthington
This carefully researched article by Amy Worthington first published by GR in July 2004 sheds light on the unspoken and forbidden truth: geoengineering and environmental modification (ENMOD) techniques for military use.
It is worth noting that geo-engineering is casually dismissed and excluded from the debate on climate change. It is a scientific taboo. The mainstream media has chosen not to provide coverage of of aerosol and electronic operations for military use and their underlying impacts on the global environment.
Michel Chossudovsky, GR Editor, July 29, 2015
* * *
North America is now suffering its seventh year of conspicuous and dangerous aerosol and electromagnetic operations conducted by the U.S. government under the guise of national security. Concerned citizens watch in fear as military tankers discolor the skies with toxic chemicals that morph into synthetic clouds.
We continually witness bizarre meteorological occurrences as powerful electromagnetic devices manipulate both the jet stream and individual storm fronts to create artificial weather and climatic conditions. Black operations projects embedded within these aerosol missions are documented to sicken and disorient select populations with biological test agents and psychotronic mind/mood control technologies.
Part of what is happening in the atmosphere above us involves the Pentagon's secret space weapons program, designed for strategic, operational and tactical levels of war. NASA missions will soon be transferred to Pentagon control.1 The Air Force Space Command declares that, in order to monitor and shape world events, it must fight intense, decisive wars with great precision from space.2 Air Force Secretary James G. Roche has stated: "Space capabilities are integrated with, and affect every link in the kill chain."3
A glimpse into new death technologies under construction is in legislation introduced by Ohio Congressman Dennis Kucinch. His unsuccessful Space Preservation Act of 2001 was intended to ban space deployment of:4
* electronic, psychotronic and information weaponry* high altitude ultra low frequency weapons

* plasma, electromagnetic, sonic and ultrasonic weapons

* laser weapons

* strategic, theater, tactical or extraterrestrial weapons

* chemical biological, environmental climate or tectonic weapons

* chemtrails (this item was stricken from a later version, suggesting duress)
In their quest to remain top dog in the kill chain, the purveyors of perpetual war have deliberately dimmed earth's life-giving sunlight,5 and reduced atmospheric visibility with lung-clogging particulates and polymers.6 This ecological terrorism has severely compromised public health, according to thousands of testimonials. Years of mass appeals to legislators, media and military officials for information, and for cessation of catastrophic atmospheric degradation, have fallen on deaf bureaucratic ears. Public awareness of what befalls us remains as murky as our skies because those "in the know" are muzzled by national secrecy laws and Americans have no authority to challenge matters of national security. Left to gather clues, we know this much so far:
1. At least part of the aerosol project has been dubbed Operation Cloverleaf,7 probably due to its multi-faceted operations, which include: weather modification, military communications, space weapons development, ozone and global warming research plus biological weaponry and detection testing.2. Dumping tons of particulate matter from aircraft has geo-engineered our planetary atmosphere into a highly charged, electrically-conductive plasma useful for military projects.8 The air we breathe is laden with asbestos-sized synthetic fibers and toxic metals, including barium salts, aluminum, and reportedly, radioactive thorium.9 These materials act as electrolytes to enhance conductivity of military radar and radio waves.10 Poisonous on par with arsenic and a proven suppressant of the human immune system,11 atmospheric barium weakens human muscles, including those of the heart.12 Inhaled aluminum goes directly to the brain and medical specialists confirm that it causes oxidative stress within brain tissue, leading to formation of Alzheimer's like neurofibrillary tangles.13 Radioactive thorium is known to cause leukemia and other cancers.14

3. Only a small percentage of the military's atmospheric modification projects are visibly obvious. What we can't see is equally dangerous. The ionosphere, the earth and its inhabitants are continually bombarded with high frequency microwaves used to manipulate the charged atmosphere for weather modification, information gathering and for tectonic (earthquake-producing) weaponry.15 Independent chemtrail researcher Clifford Carnicom confirms that we are also continuously subjected to extremely low electromagnetic frequencies (ELF) pulsing at 4 hertz multiples, frequencies known to profoundly affect human biological and mental functioning.16

4. There is a well-documented biological component to continuously ongoing atmospheric studies in which nations and regions are furtively inoculated via specially designed delivery systems with combinations of viruses, bacteria, fungi, mycoplasma, desiccated blood cells and exotic biological markers so that testmasters can assess human, animal and plant response.17

5. The multi-organizational megalith perpetrating these bio-chem projects against humanity includes the U.S. Department of Defense (DOD) and its research arm DARPA, plus the Department of Energy (DOE) with its huge network of national labs and universities. Private defense contractors and pharmaceutical companies are heavily involved.18 Cooperating governments of other nations and probably some United Nations agencies are complicit, since the aerosol projects are global in scope.
Gross chemical and electromagnetic pollution is only part of the horrific realities we endure. The sociopaths who brazenly pervert skies, climate and weather for power and profit are the same madmen who have waged four limited nuclear wars since 1991. Radioactive weaponry, declared both illegal and immoral by the entire civilized world, has been used by the Pentagon in Desert Storm, the Balkans campaign and the on-going occupation-wars against Afghanistan and Iraq. Few Americans understand the extent of carnage inflicted in their name across the planet.
By scientific definition, the missiles, tank penetrators and bunker busting bombs unleashed against Iraq and Afghanistan by U.S. and British forces in the so-called war on terror are nuclear weapons.19 Refuse from radioactive weaponry does not disperse, but remains in the atmosphere organotoxic, mutagenic and carcinogenic to all living flesh for 4.5 billion years.
Inhabitants of the Pentagon's two newly "liberated" nations are now slowly dying of radiation and heavy metal poisoning. Victims of U.S. weaponry used in Afghanistan have a concentration of non-depleted uranium isotopes in their bodies never before seen in civilian populations.20 Tons of depleted and non-depleted uranium contaminating their land, air, food and water guarantee their painful demise. Using data from the United Kingdom Atomic Energy Authority (UKAEA), nuclear scientist Leuren Moret calculates that the estimated 2,500+ tons of depleted uranium used against Iraq in 1991 and 2003 is sufficient to cause 25 million new cancers.21 Is it a coincidence that the population of Iraq, according to the CIA, is 25 million?
The quarter million U.S. and British fighting forces who have helped the Pentagon deliver this holocaust also face inevitable radiological death by slow burn. Rotated into atomic war zones since 2001, coalition troops have inhaled and ingested millions of tiny invisible ceramic uranium particles which emit alpha, beta and gamma radiation as they embed in lungs, kidneys, blood, lymph and bone.22 Radiation exposure to a single internalized U-238 (uranium) alpha particle is 50 times the allowable whole body dose for one year under international standards.23 As U-238 decays into daughter isotopes, it becomes ever more radioactive, causing cell and organ destruction to escalate over time.24 Uranium contamination leads to incapacitating, multi-organ system disorders identical to illnesses suffered by thousands of Gulf War I vets. Bodily fluids poisoned with uranium isotopes sicken spouses and visit upon offspring a genetic Armageddon.25
Who knows what a disabled and prematurely dying military population will mean to future stability and safety of USA? Yet Senator Chuck Hagel (R- Neb.) now demands that America provide more fodder for its atomic battlefields by reinstating the military draft so that "all of our citizens…bear some responsibility and pay some price" in order to "understand the intensity of the challenges we face."26
Despite disingenuous denials that biological harm will result from atomic warfare,27 the Pentagon knows full well the gruesome realities of uranium weaponry by virtue of its own voluminous studies spanning 60 years. Pentagon documents confirm that America's war establishment knowingly exposes its own troops to dangerous levels of radiation.28 The resulting illness of those now returning from the war zones is already making headlines.29
Because our military-industrial overlords brazenly poison the very grunts who make their war games possible, we must logically conclude there is virtually nothing they would not secretly and sadistically do to the rest of us. Military officials lie as perniciously about chemtrail operations30 as they do about effects of DU weaponry. If people were to consider the published science regarding chemtrails and DU, they would understand that we are all in mortal jeopardy.
Both the Pentagon's aerosol operations and its limited nuclear wars are deeply interconnected. We can trace the beginnings of Operation Cloverleaf right to the Strangelove brain of Dr. Edward Teller, father of the hydrogen bomb and proponent of nuking inhabited coast lines to rearrange them for economic projects.31 Before he died in 2003, Teller was director emeritus of Lawrence Livermore National Laboratory, where plans for nuclear, biological and directed energy weapons are crafted. In 1997, Teller publicly outlined his proposal to use aircraft to scatter in the stratosphere millions of tons of electrically-conductive metallic materials, ostensibly to reduce global warming.32
Shortly after Teller's presentation, the public began seeing frenetic chemtrailing. In 2000, CBS News admitted that scientists were "looking at drastic solutions for global warming, including manipulating the atmosphere on a massive scale." CBS confirmed that the plan to load the air with tiny particles would "deflect enough sunlight to trigger global cooling."33
Teller estimated that commercial aircraft could be used to spew these particles at a cost of 33 cents a pound.34 This gives credence to a report by an airline manager, forced by a compulsory non-disclosure agreement to remain anonymous, that commercial aircraft have been co-opted to assist the military in consummating Project Cloverleaf.35 A 1991 Hughes aircraft patent confirms that sunscreen particulate materials can be run through jet engines.36 A science textbook now used in some public schools discusses the sunscreen project by showing a large orange-red jet with the caption, "Jet engines running on richer fuel would add particles to the atmosphere to create a sunscreen." The logo on the plane says "Particle Air."37 The implications of this crucial information should not be understated. A program to make America's millions of annual jet flights a source of specially designed particulate pollution is serious business.
Cloverleaf particles and polymers saturating the air we breathe are smaller than 10 microns (PM 10) and are invisible to the human eye. By comparison, a human hair is 60 to 100 microns in thickness. Scientists and the EPA report that because PM10 and sub-micron pollution particles bypass lung filters and enter the blood stream, they cause radical changes in the endocrine and nervous systems. 38 They can trigger high blood pressure and cause heart attack within two hours of inhalation.39 They cause the blood to become sticky, making it tougher for the heart to pump and increasing the risk of blood clots and vessel damage.40 Now researchers in Taiwan document "a significant increase" in the number of stroke victims when PM10 pollutant levels rise.41 The American Lung Association confirms that we are breathing more toxic air than ever.42 No wonder nationwide asthma rates have been soaring in recent years.43
Tiny synthetic filaments called polymers are part of the brew. In 1990, a NATO report detailed how high-flying aircraft can modify the atmosphere by spraying polymers to absorb electromagnetic radiation.44 U.S. patent number 6315213 describes how cross-linked aqueous polymers dispersed into a storm diminish rain.45
Polymer chemist Dr. R. Michael Castle has studied atmospheric polymers for years. He has found that some of them contain bioactive materials, which can cause "serious skin lesions and diseases when absorbed into the skin."46 He has identified microscopic polymers comprised of genetically-engineered fungal forms mutated with viruses. He says that trillions of fusarium (fungus)/virus mutated spores, which secrete a powerful mico-toxin, are part of the air we breathe.47 Allergies anyone?
We can safely bet that into our particle-enriched air, experimenters are also dumping nanoparticles, developed for a variety of military and industrial uses. These engineered carbon molecules, as small as one-thousandth the diameter of human hair, display bizarre chemical properties and are known to trigger organ damage.48 A recent study at Southern Methodist University found that fish exposed to one type of nanoparticle suffered severe brain damage after only 48 hours.49
The military's aerosol operations have been climate altering to the extreme. Air traffic is a huge source of greenhouse pollution. Increasing that traffic exponentially in order to scatter tons of heat-trapping metallic particulates and heat-liberating barium salts have undoubtedly led to accelerated global warming. Greenhouse gases in the atmosphere, including carbon dioxide, have reached a record high this year.50 As carbon dioxide levels rise, oxygen levels decrease.
In 1996, Scientists for Global Responsibility compiled a report contending that dangerous geoengineering, as proposed by Teller and the Global Change Research Coordination Office, would be absolutely ineffective in mitigating global warming. The report noted that climate engineering research is funded by industry with a vested interest in continued high consumption of fossil fuels.51 The hair-brained scheme of particle engineering was contrived to ensure that industry polluters will never be forced to decrease their greenhouse gas emissions. But because warming and pollution trends have worsened drastically since the aerosol projects began, we must suspect that the warming mitigation program is a hoax and that chemtrailing is really intended, among other things, to create a series of "hobgoblins."
The establishment's modus operandi for maintaining a fierce and lucrative hold upon the collective American mind has been defined precisely by satirist H.L. Mencken (1880-1956) who wrote: "The whole aim of practical politics is to keep the populace alarmed, and thus clamorous to be led to safety, by menacing it with an endless series of hobgoblins, all of them imaginary."
In The Report from Iron Mountain published in 1967, just as the Pentagon's lucrative Vietnam War was being revved into high gear, establishment braintrusters confirmed that perpetual war is absolutely vital for controlling and manipulating the masses. The document even suggested a number of options for creating fictitious enemies, noting that perpetual war induces populations to give blind allegiance to political authority.52
Since the 1930s, when the Eastern Establishment, including the Bush family, used its New York banks and oil companies to secretly fund Hitler's German Nazi party,53 our controllers have employed FEAR, the concept of ENEMY and WAR to keep us in bondage. Chemtrailing is a manifestation of the Fourth Reich, an era of corporate fascism ushered in by a powerful military juggernaut, which manufactures enemies and unleashes fake terror attacks to scare us into voiceless submission.
Both Saddam Hussein and the al Queda networks have long been nourished with U.S. government and corporate funding and groomed by U.S. military and corporate advisors to play useful roles as "enemies."54 Former German Technology Minister Andreas von Bulow recently confirmed on U.S. radio that hijacked planes were able to fly around the eastern U.S. on 9/11 unimpeded by military interdiction because those attacks were part of a carefully-orchestrated "covert operation" designed to coerce America into perpetual conflict with the Muslim world.55
Now, a "secret" Pentagon report has been conveniently leaked to the media. It contends that abrupt climate change is the most fearful hobgoblin yet.56 Authored by change agents with ties to the CIA and the Royal Dutch/Shell Group, the report contends that abrupt climate change will lead to a global catastrophe of monumental proportions, including nuclear war and natural disasters, as whole nations disappear beneath the encroaching sea and survivors fight for dwindling food, water and energy supplies.
Yet the Pentagon has been involved for decades in the drastic manipulation of weather, climate and atmospheric conditions. The U.S. used a chemical agent dubbed Olive Oil during Operation Popeye to induce heavy rains in Vietnam 40 years ago.57 The Air Force document titled "Weather As a Force Multiplier: Owning the Weather in 2025″ lists its weaponized agenda for creating abrupt climate change including: Storm creation and modification, fog and cloud creation, precipitation enhancement, precipitation denial, drought inducement and artificial creation of "space weather." This document also states that the military's radical weather modification agenda will "become a part of national security policy with both domestic and international applications."58
Weather weapons are now routinely used in war zones. A citizen reporting from Serbia noted that during NATO operations in the Balkans, black clouds suddenly materialized out of blue skies, hailstones were the size of eggs, and surreal thunder and lightening terrified the people. He reported that scientists found that the electromagnetic field over Serbia had been punctured, causing rain systems to circumvent the region.59 In addition to manufactured drought, scientists also predict that Serbia will suffer 10,000 cancer deaths from DU weaponry used there.60
According to University of Ottawa Professor Michael Chossudovsky, the military's High-frequency Active Auroral Research Program (HAARP), operating in Alaska as part of the Strategic Defense Initiative, is a powerful tool for weather and climate modification.61 Operated jointly by the U.S. Navy and Air Force, HAARP antennas bombard and heat the ionosphere, causing electromagnetic frequencies to bounce back to earth, penetrating everything living and dead.62
HAARP transmissions make holes in the ozone,63 creating yet another hobgoblin. HAARP inventor Bernard Eastlund described in his original patent how antenna energy can interact with plumes of atmospheric particles, used as a lens or focusing device, to modify weather.64 HAARP is capable of triggering floods, droughts and hurricanes, much to the chagrin of both the European Parliament and the Russian Duma.65
HAARP also generates sweeping pulses through the ULF/ELF range.66 In 2000, independent researchers monitored HAARP transmissions of 14 hertz. They found that when these signals were broadcast at high output levels, wind speeds topped 70 miles per hour. They watched as these same transmissions dispersed a huge weather front approaching the west coast from California to British Columbia. Although precipitation had been originally forecast, the front was seen shredding apart on satellite photos and rain did not materialize.67 The hobgoblin drought can be an enriching and empowering tool for certain corporate and governing entities.
HAARP is not only capable of destabilizing agricultural and ecological systems anywhere on the planet, but its effects can target select regions to affect human physical, mental and emotional responses during non-lethal warfare projects.68 HAARP frequencies beamed at specific targets can generate catastrophic earthquakes,69 exactly like the quake last December which killed thousands of people in Iran, a nemesis nation according to the Bush administration.
The Pentagon's warning about climate catastrophe is surely nothing more than a thinly-veiled attempt to prepare the masses for the bizarre atmospheric upheavals we can expect as the military continues to brutalize our planet and near space with its grotesque toys. And we ain't seen nothing yet. Dr. Eastlund and his ilk have developed plans for solar power satellites designed to modify the weather with electromagnetic beam output that dwarfs the present HAARP system.70 As abrupt climate change is increasingly orchestrated, we will surely need additional fascist agencies, an ever-growing military budget and more poison-particle projects that just happen to ensure population reduction as a side benefit.
Despite visual evidence that every aspect of our physical environment is being manipulated and damaged for war games, some Americans cannot accept that dangerous covert operations are being conducted by a government they still believe to be a virtuous defender of freedom. Their stumbling block is a numbing belief that their own officials would never perpetrate dangerous experimentation on humanity since "they have families too." History and the release of declassified government documents disprove such naiveté.
<Although "they" had families too, the U.S. government and its defense contractors exposed citizens of the northwest U.S. to huge and deliberate releases of radioactive iodine 131 from the Hanford Nuclear Reservation where plutonium was produced for nuclear bombs.71 Those Cold War releases unleashed radiation illnesses upon thousands of downwinders, some of whom received up to 350 rads of radiation when a maximum safety dose is set at .025 rads annually.72 Between 1949 and 1952, radioactive pellets, dust and particles were tested on the hapless citizens of Utah and New Mexico.73
By 1963, 1,200 nuclear weapons tests conducted at the Nevada test site had exposed every person in the U.S. to deadly radioactive fallout, causing millions of fetal deaths, spontaneous abortions, stillbirths and birth defects.74 The U.S. government also conducted over 4,000 radiation experiments on individual human test subjects without their informed consent.75 The delayed effects of decades of radiation exposure from weapons testing are today demonstrated by a U.S. population plagued with epidemic cancer and heart disease, neurological disorders, low fertility, chronic fatigue, obesity (thyroid involvement), immune system dysfunction and learning disabilities. Approximately half of all pregnancies in the U.S. result in prenatal or postnatal death or an otherwise less than healthy baby.76 As military tankers spew white chemical plumes across America at a cost of $3,448 per hour per tanker,77 we are reminded of Dr. Leonard Cole's 1994 testimony before a Senate Committee regarding 45 years of open air testing during which military aircraft sprayed American cities with bacteria, fungus and carcinogenic chemicals.78 Between 1962-1973, the U.S. Navy conducted hundreds of bio-chem tests known as Operation SHAD (Shipboard Hazard and Defense). SHAD projects like Autumn Gold and Copper Head exposed 10,000 navy personnel to aircraft spray laden with biological and chemical warfare agents, including sarin nerve gas.79 The cocktails used in those genocidal "tests" are now linked to cancer, heart and lung problems suffered by surviving guinea pigs.
We are told that defense officials perpetrated these atrocities so that scientists could learn about how to "protect" Americans from attack. So why, in the late 80s, would our "protectors" fall all over themselves to supply Saddam Hussein's war machine with 90 shipments of chemical and biological weaponry, including sarin, anthrax, botulism, brucella and West Nile Virus?80
It will likely be years before Americans are told what is being tested upon them during our present chemtrail/space wars era. The Hanford downwinders did not learn until 1986 what had been unleashed upon them some 30 years earlier; SHAD victims filed suit in 2003 to learn the extent to which they were intentionally exposed to dangerous substances in the 60s.
To understand how our nation has arrived at this doomsday corruption, we must recall that immediately after WWII ended, the U.S. government initiated Operation Paperclip through which a large number of German Nazi scientists were imported to the United States. Once issued new identities, these death industry pros were employed in U.S. military laboratories to develop a dazzling array of secret weaponry projects.81 With congressional funding, the crowning achievement of this nexus was the creation of ghastly new bioweapons, including the AIDS virus82 and an incapacitating chronic fatigue agent engineered from mycoplasma and brucella.83
The military is empowered to continue lethal experimentation by devious wording of Section 1520a Chapter 32 of U.S. Code Title 50. The law states that the Secretary of Defense may NOT conduct any chemical or biological test or experiment on civilian populations, unless such tests are for medical, therapeutic, pharmaceutical, agricultural, industrial purposes or for research in general or for protection against weapons or for law enforcement purposes, including riot control. So DOD may not use us for guinea pigs, unless it is for any "good" reason under the sun! The law states that human subjects must give informed consent. But a nasty loophole in Section 1515 of Chapter 32 allows informed consent to be suspended by executive order during a period of national emergency, a situation under which this nation perpetually labors by deliberate hobgoblin design.
Few American test rats realize that the Pentagon's boys in Congress have now:
* appropriated millions of dollars for the manufacture and testing of new "mini nukes" and bunker buster bombs.84

* authorized the DOE to resume nuclear testing in Nevada.85

* exempted DOD and DOE from landmark environmental laws in the development of these new weapons.86
America's 70,000 nuclear weapons manufactured since 1945 are not sufficient! As DOE gears up to develop and test fourth-generation nukes, numerous reports continue to surface about the agency's sordid corruption and mismanagement. DOE's habitual cover-up of site contamination and its devious efforts to downplay serious illnesses suffered by many of its nuclear workers are among recent scandals.87
When new "low yield" nuclear weapons (defined as being smaller than 5 kilotons) are tested in Nevada, downwinders might like to know that a mini .5 kiloton nuclear warhead would have to burrow 150 feet to eliminate atmospheric fallout. No weapon yet developed can penetrate more than 40 feet into the earth. A tested nuclear warhead that burrows to only 40 feet will throw a million cubic feet of radioactive debris into the atmosphere.88
The Pentagon's new nuke era is in the capable hands of Defense Secretary Donald Rumsfeld, who has so ably presided over the pre-emptive nuclear incineration of Middle Eastern Muslims. Rumsfeld has never adequately explained why his Department was unable to defend the Pentagon building despite a full hour's notice that hijacked planes were in the air. Should Rumsfeld be replaced due to the Pentagon's Iraqi torture scandal, we are assured that his Bush-appointed successor will share his have-nuke-will-travel ideology.
Working closely with Rumsfeld is a coven of pro-nukers, including his advisor Keith Payne, a vocal advocate of pre-emptive nuclear war. Payne has written that an "intelligent" nuclear offensive launched by the U.S. would result in only 20 million U.S. casualties, "a level compatible with national survival and recovery."89
Now that we have tied together the historical and political realities for which we mindlessly wave our flags, we still hope that sufficient numbers of American lab rats will miraculously awaken from their collective stupor and take stock of our appalling situation. After all, rodents have a notoriously short life span and are always killed when no longer useful to those conducting research. The irony of this horror story is that we rats are being plundered to finance our own demise. Our national debt of 7.2 trillion grows by $1.8 billion a day.90 The Pentagon cannot account for $2.3 trillion of its shadowy transactions.91 The radioactive operations in Iraq are costing $3.7 billion a month, those in Afghanistan $900 million a month.92 No one knows how many $billions are being flushed into Operation Cloverleaf and other hobgoblin projects. The U.S. spends $11,000 per second on weapons, according to calculations of celebrated author William Thomas.93
So, while we await the great awakening, have a wonderful, barium-dried summer under a synthetic tarpaulin of aluminum-white, particle-laden, electrically-charged aviation scum that passes for sky. Endure well your respiratory and ocular difficulties while staring at huge oily sun rings and smeary sundogs, the patent signature of chemical assault. Don't forget to salute and click your heels when you see tanker formations patriotically saturating the atmosphere with such a dense, micro-particulate brew that they cast black shadows alongside or ahead of themselves.
As you witness the noxious drama in the skies, remember, it's all just part of the "kill chain."
Notes
1. "USAF Plans to Utterly Dominate, Rule Space," Joel Bleifuss, editor of In These Times.com, 9-14-03.
2. Almanac 2000, Journal of the Air Force Association, May 2000, Vol. 83.
3. Roche's "kill chain" statement was made during his October 2002 speech at the Conference on the Law and Policy Relating to National Security Activities in Outer Space.
4. "Pentagon Preps for War in Space,"Noah Shachtman, http://www.wirednews.com , 2-20-04.
5. "The Theft of Sunlight," Clifford Carnicom, 10-25-03: "…Measurements show a rapid reduction in the transmission of sunlight from a value of 97% on a 'clear day' to the lower level of approximately 80% during the early stages of heavy aerosol operations….The absorption and displacement of this solar energy into environmental, military, biological and electromagnetic operations represents a theft of the natural and divine rights of the inhabitants of this planet." www.carnicom.com .
6. "Visibility Standards Changed," Clifford Carnicom, 3-30-01: "It will be noted that in October of 1997, a change in the reporting system of visibility data was reduced from a former maximum of 40 miles to a limit of 10 miles. It is a reasonable question to ask as to why that change was made, and whether or not it was made in anticipation of…large scale aircraft aerosol operations over large scale geographic regions." http://www.carnicom.com .
7. "A Meeting," Clifford Carnicom, 7-26-03. See http://www.carnicom.com .
8. "Atmospheric Conductivity," Clifford Carnicom, 7-09-01, http://www.carnicom.com .
9. For facts on barium toxicity, see Agency for Toxic Substances and Disease Registry, September 1995. For references on barium related to chemtrails, see www.carnicom.com for the following articles: "Barium Tests are Positive," Clifford Carnicom, 5-10-04; "Sub-micron Particulates Isolated," Carnicom, 4-26-04; "Barium Affirmed by Spectroscopy," Clifford Carnicom, 11-1-2000; "Electrolysis and Barium," Carnicom, 5-27-02; "Rainwater Metals," Carnicom, 7-30-01; "Barium Identification Further Confirmed," Carnicom, 11-28-00.
10. "The Plasma Frequency: Radar Applications," Clifford Carnicom, 11-05-01; See http://www.carnicom.com .
11. "Functional heterogeneity in the process of T lymphocyte activation; barium blocks several modes of T-cell activation, but spares a functionally unique subset of PHA-activable T cells," Clinical Experimental Immunology, Pecanha and Dos Reis, May 1989.
12. Agency for Toxic Substances and Disease Registry (ATSDR) Safety Data Sheet.
13. Aluminum Toxicity, Barbara Barnett, MD, 11-26-02. See http://www.emedicine.com .
14. Agency for Toxic Substances and Disease Registry, July 1999; For information on thorium in chemtrails: "The Methodic Demise of Natural Earth," Dr. Mike Castle, 3-27-04,http://www.willthomas.net .
15. Angels Don't Play This HAARP, Nick Begich and Jeane Manning, 1995; "HAARP: Vandalism in the Sky?" Begich and Manning, Nexus Magazine, January 1996.
16. "Elf Radiation is Confirmed," Clifford Carnicom, 11-17-02; "Elf Disruption & Countermeasures," Clifford Carnicom 11-27-02; "A Proposal of Cascading Resonance," Clifford Carnicom, 4-21-03. Seehttp://www.carnicom.com for these and numerous other frequency studies; also "Electromagnetic Waves Linked to Children's Brain Tumor," Kyodo News Service, 6-8-03.
17. Death In the Air, Global Terrorism and Toxic Warfare, Leonard G. Horowitz, Tetrahedron Publishing Group, 2001; "Military Conducting Biological Warfare in Washington," 12-12-97, www.rense.com; Probing the Chemtrails Conundrum, William Thomas, Essence Publications, 2000, http://www.willthomas.net .
18. For a comprehensive list of those involved in Operation Cloverleaf and associated projects, see: "Chemtrails–Top Intel, Military, and Defense Contractors Watching Carnicom.com," rense.com, 1-12-00. Among agencies most interested in opposition to chemtrail projects is the United States Department of Energy Joint Genome Institute associated with Lawrence Berkeley National Laboratory. See: "The Monitors of JGI," Clifford Carnicom, March 17, 2003, carnicom.com.
19. The Trojan Horse of Nuclear War– A paper presented at the World Depleted Uranium Weapons Conference at the University of Hamburg, October 16-19, 2003, Dr. Leuren Moret. Dr. Moret is a former staff scientist at the Lawrence Berkeley National Laboratory and the Lawrence Livermore National Laboratory. Her work is highly documented with scientific papers.
20. Uranium Medical Research Centre, "Afghan Field Trip #2 Report," November 2002; http://www.umrc.com ; also "Astoundingly High Afghan Uranium Levels Spark Alert," Alex Kirby, BBC News Online, 5-23-03.
21. Moret, op. cit.
22. "Medical Effects of Internal Contamination with Uranium," Dr. Asaf Durakovich, Department of Nuclear Medicine, Georgetown University School of Medicine, Washington D.C. March 1999. Volume 40, No. 1
23. Moret, op. cit.
24. "Contamination of Persian Gulf War Veterans and Others By Depleted Uranium," Leonard A. Dietz, 2-21-99.
25. Durakovich, op cit; Dietz, op. cit. Moret, op. cit.
26. "Republican Senator: Bring Back the Draft," World Net Daily, 4-20-04.
27. "Pentagon's Uranium Denial," New York Daily News, 4-27-04; "Pentagon: Uranium Didn't harm N.Y. Unit," Associated Press, 5-3-04. "Pentagon-Depleted Uranium No Health Risk," Dr. Doug Rokke; 3-15-03. Dr. Rokke was an U.S. Army DU expert (1991-1995) and he confirms that the Pentagon is lying about DU risks.
28. Documents in which the hazards of uranium and depleted uranium exposure are discussed include: U.S. Army Training Manual STP-21-1-SMCT: Soldiers Manual of Common Tasks; "Health Effects of Depleted Uranium," David E. McClain, Armed Forces Radiobiology Research Institute (AFRRI) Bethesda, Maryland; Marine Corp Memo Concerning DU (unclassified) 9-8-90; US Army Training Video, U.S. Army Depleted Uranium Project video: Depleted Uranium Hazard Awareness, 1995; "Army Not Adequately Prepared to Deal With Depleted Uranium Contamination," General Accounting Office, January 1993; Office of the Secretary of Defense, Memorandum from Bernard Rostker to chiefs of all military branches re: Depleted Uranium Ammunition Training, 9-09-97.
29. "Soldiers Believe Depleted Uranium Cause of Illnesses," Associate Press, 4-9-04; "Poisoned?" Juan Gonzalez, New York Daily News, 4-4-04. Other stories in this series are: "Inside Camp of Troubles" and "Army to Test N.Y. Guard Unit."
30. "Air Force Increases Rank of Lie," letter by Walter M. Washabaugh, Colonel, USAF, denying the existence of chemtrails, received by e-mail on May 22, 2001 and posted at http://www.carnicom.comby Clifford E Carnicom, May 22 2001.
31. Begich and Manning, op. cit. p. 51.
32. Global Warming and Ice Ages: Prospects for Physics-Based Modulation of Global Change, Edward Teller and Lowell Wood, Hoover Institution, Stanford University, prepared for invited presentation at the International Seminar On Planetary Emergencies, Erice, Italy, August 20-23, 1997; also "The Planet Needs a Sunscreen," Wall Street Journal, 10-17-97.
33. CBS News Eye on America Report : Cooling the Planet in two parts: 1-15-01 and 1-16-01.
34. Teller and Wood, op. cit.
35. "An Airline Manager's Statement," Posted by C.E. Carnicom on behalf of the author, 5-22-00. Quote: "The few airline employees who were briefed on Project Cloverleaf were all made to undergo background checks, and before we were briefed on it we were made to sign non-disclosure agreements which basically state that if we tell anyone what we know we could be imprisoned….They told us that the government was going to pay our airline, along with others, to release special chemicals from commercial aircraft….When we asked them why didn't they just rig military aircraft to spray these chemicals, they stated that there weren't enough military aircraft available to release chemicals on such a large basis as needs to be done….Then someone asked why all the secrecy. The government reps then stated that if the general public knew that the aircraft they were flying on were releasing chemicals into the air, environmentalist groups would raise hell and demand the spraying stop."
36. US patent 5003186; Stratospheric Welsbach Seeding for Reduction of Global Warming, Hughes Aircraft Company, issued March 26, 1991.
37. Secondary school text book: Science I Essential Interactions, published by Centre Point Learning, Inc. of Fairfield, Ohio. See "Chemtrail Sunscreen Taught in Schools," William Thomas,http://www.willthomas.com .
38. "Dirty Air and High Blood Pressure Linked," Reuters Health, 3-31-01; "Bad Air Worsens Heart Trouble: Study Blames Particulates for Many Sudden Deaths," Marla Cone, Los Angeles Times, June 4, 2000.
39. "Tiny Air Pollutants In the Air May Trigger Heart Attacks," John McKenzie, ABC News 6-21-01, u .
40. "Air Pollution 'Increases Stroke Risk,'" BBC News, 10-10-2003.
41. Ibid.
42. "Americans Breathing More Polluted, Toxic Air Than Ever," Natalie Pawelski, CNN Environmental Unit, http://www.cnn.com .
43. Asthma Statistics, www.getasthmahelp.org; "Asthma Deadly Serious," Spokesman Review, 7-6-97; www.asthmainamerica.com .
44. NATO paper: "Modification of Tropospheric Propagation Conditions," May, 1990.
45. US patent 6,315,213 (Cordani) issued November 13, 2001.
46. "Chemtrails, Bio-Active Crystalline Cationic Polymers," Dr. Mike Castle, 7-14-03 See u .
47. Ibid.
48. "Nanoparticles Toxic in Aquatic Habitat, Study Finds," Rick Weiss, Washington Post, 3-29-04.
49. Ibid.
50. "Greenhouse Gas Level Hits Record High," 3-22-04, http://www.NewScientist.com .
51. Climate Engineering: A Critical Review of Proposals, Scientists for Global Responsibility, School of Environmental Sciences, UEA, Norwich NR47TJ, November 1996.
52. Lewin L. C et al. Report from Iron Mountain on the Possibility and Desirability of Peace, New York: The Dial Press, 1967.
53. Trading With the Enemy, Charles Higham, Delacorte Press, 1983; Wall Street and the Rise of Hitler, Antony Sutton, 1976; "IBM Sued by Holocaust Lawyers –100 other US Firms Targeted for Nazi Links," Paterson and Wastel, The Telegraph, UK, 2-18-0l; "Ford and GM Scrutinized for Alleged Nazi Collaboration," Michael Dobbs, Washington Post, 11-30-98; "How the Bush Family Made Its Fortune From the Nazis," John Loftus, 7-2-02, http://www.rense.com . (John Loftus was a U.S. Department of Justice Nazi War Crimes prosecutor.)
54. This is a "Google project" that can fill volumes. Go to Google and type "CIA and al Queda," then "CIA and Saddam." Do the same with "Carlyle Group" for information on the Bush family's shady dealings with the "enemy."
55. Former German Defense Minister Confirms CIA Involvement in 9/11: Alex Jones Interviews Andreas von Bulow, 2-17-21, http://www.apfn.net
56. "Pentagon Tells Bush: Climate Change Will Destroy Us," Mark Townsend and Paul Harris, The Observer, UK 2-24-04; "Climate Collapse, The Pentagon's Weather Nightmare Could change Radically and Fast," David Stipp, Fortune Magazine, 2-9-04.
57. The Dead Farmer's Almanac, Who Really Controls the Weather? Jim Larranaga, Priority Publications, 2001.
58. Weather as a Force Multiplier: Owning the Weather In 2025, June 17, 1996. This report was produced by directive from the chief of staff of the Air Force.
59. "Very Weird Weather in Serbia, What's Happening?" Goran Pavlovic, 10-30-03, rense.com.
60. "The Secret Nuclear War," Eduardo Goncalves, The Ecologist, 3-22-01.
61. "Washington's New World Order Weapons Have the Ability to Trigger Climate Change," Center for Research on Globalization, Professor Michael Chossudovsky, University of Ottawa, January 2001.
62. "HAARP: Vandalism in the Sky?" Nick Begich and Jeane Manning, Nexus Magazine, December 1995.
63. Ibid.; also Castle, op. cit. Dr. Castle presents information on how HAARP punches massive holes in the open-air column ozone and how the Air Force then uses toxic chemicals to "patch" the holes it has created: Dr. Castle says: "Welsbach seeding and ozone hole remediation sciences utilize chemistries that are toxic to humans and the environment."
64. "HAARP: Vandalism in the Sky?" Begich and Manning; Researcher David Yarrow is quoted as saying that Earth's axial spin means that HAARP bursts are like a microwave knife producing a "long tear–an incision" in the multi-layer membrane of ionospheres that shield the Earth's surface from intense solar radiation.
65. U.S. HAARP Weapon Development Concerns Russian Duma, Interfax News Agency, 8-10-02.
66. HAARP Update, Elfrad Group, http://elfrad.org/2000/Haarp2.htm 6-27-00.
67. "14 Hertz Signal Suppresses Rainfall, Induces Violent Winds," 10-25-00, Newshawk Inc.; "When the Army Owns the Weather–Chemtrails and HAARP," Bob Fitrakis, 2-13-02: In this article HAARP inventor Bernard Eastlund is quoted on how HAARP can affect the weather: "Significant experiments could be performed. The HAARP antenna as it is now configured modulates the auroral electrojet to induce ELF waves and thus could have an effect on the zonal winds." Find this article with search engine at http://www.rense.com .
68. Angels Don't Play This HAARP, Begich and Manning, op. cit.
69. Ibid.
70. "Space Based Weather Control: The 'Thunderstorm Solar Power Satellite,' " Michael Theroux. See www.borderlands.com/spacewea.htm .
71. "After 12-year Wait for Trial, Downwinders Losing Hope," Spokesman Review, 5-18-03; also "Hanford Plaintiffs Seek Details," Spokesman Review, 4-2-04.
72. "Hanford Put Area At Risk: Spokane, North Idaho Were Exposed to Significant Radiation," Spokesman Review," April 22, 1994.
73. "Sick Century," Eduardo Goncalves, The Ecologist, 11-22-01.
74. Moret, op. cit. "The Trojan Horse of Nuclear War" contains excellent statistics on the U.S. health ramifications of Cold War nuclear weapons testing and includes references to numerous scientific papers which document this tremendous damage to the national health.
75. Undue Risk, Secret State Experiments on Humans, Jonathan D. Moreno, Freeman & Co. 1999: Moreno was a senior staff member of the President's Advisory Committee on Human Radiation Experiments which completed in 1995 its studies of horrific U.S. government radiation experiments conducted since World War II.
76. Information reported by the National Research Council of the National Academy of Science Institute of Medicine in a 2000 study titled: Scientific Frontiers in Developmental Toxicology, Board on Environmental Studies and Toxicology.
77. "Trouble With Tankers," William Thomas, http://www.willthomas.net .
78. Testimony by Dr. Leonard A. Cole before the U.S. Senate Committee on Veterans' Affairs, May 6, 1994; also Clouds of Secrecy, The Army's Germ Warfare Tests Over Populated Areas, Leonard A. Cole, Rowman & Littlefield, 1988.
79. "Secret Germ Warfare Experiments?" CBS News, 5-15-2000; "Pentagon to Reveal Biowarfare Tests," CBS News, 9-20-2000; "US Navy Sprayed BioWarfare Chemtrails on Its Own Ships and Men," NewsMax.com, 7-8-00; "Sailors: 'We Were Used,' " Florida Today, 1-31-03.
80. Senate Banking Committee Report 103-900 (Riegle Report) issued May 25, 1994. This 551-page document contains a comprehensive list of biological and chemical warfare agents shipped to Saddam by U.S. companies under purview of the U.S. Commerce Department for use against Iran during the Iran-Iraq war in the late 80s during the regime of George Bush Sr.
81. Moreno, op.cit. "To this day few Americans know about the special top-secret program that brought German scientists to the United States after World War II, and fewer still know that their number included medical scientists. Code-named Operation Paper Clip…hundreds of 'specialists' …entered the United States under Joint Chiefs' protection, avoiding regular immigration procedures and requirements…It is hard to escape the conclusion that many of the German recruits were for decades important consultants on a myriad of military-medical projects."
82. Emerging Viruses: Aids and Ebola, Dr. Len Horowitz, Tetrahedron Inc., 1996.
83. The Brucellosis Triangle, Donald W. Scott, Chelmstreet Publishers, 1998.
84. "Bush Signs Bill for New Generation Nuclear Weapons," rense.com, 12-2-03. The Energy and Water Development Appropriations Act of 2004 allocates millions for new nuclear weapons and bolsters readiness for new weapons testing at the Nevada nuclear test site.
85. Ibid.
86. "House Approves Pentagon Wish List–Bill Includes Military Exemptions From Environmental Laws," Nick Anderson, Los Angeles Times, 11-8-03.
87. "DOE Count of Worker Injuries Inaccurate," Spokesman Review, 3-28-04; also "Book Alleges Cover-up at Nuclear Site," Spokesman Review 3-28-04; also DOE Has Record of Broken Promises, editorial, 4-11-04.
88. "Kennedy Warns on Nuclear Tests," Julian Borger in Washington, The Guardian http://www.guardian.co.uk , 4-30-03.
89. "Rumsfeld's Dr. Strangelove," Fred Kaplan, MSN.com, 5-12-03.
90. "Bush Drives the Nation Towards Bankruptcy," Peter Eavis, The American Conservative, 2-15-04.
91. The War on Waste, 1-29-02, cbsnews.com.
92. "Money for Iraq Fight Running Out," The Australian 2-12-04 These figures are from U.S Army Chief of Staff General Peter Schoomaker.
93. "Fight of the Century," William Thomas, http://www.willthomas.net .
Defense One
BY MIKE MURPHY
Stephen Hawking, Steve Wozniak, and hundreds of others signed an open letter that begged leaders to stop a military robotics arms race.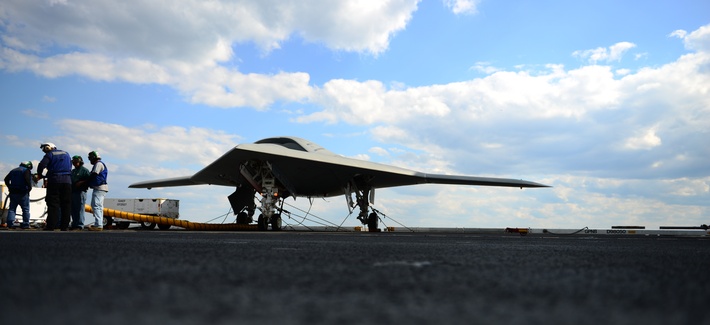 Northrop Grumman personnel conduct pre-operational tests on an X-47B Unmanned Combat Air System demonstrator on the flight deck of the aircraft carrier USS George H.W. Bush, on May 13, 2013. U.S. NAVY PHOTO BY MASS COMMUNICATION SPECIALIST 3RD CLASS KEVIN J. STEINBERG
Maybe we should take the warnings of RoboCop more seriously. Famous scientists, engineers, and businessmen are banding together to call for a ban on autonomous weapons development.
In an open letter published today by the Future of Life Institute—a research group concerned with making sure humanity stays in charge of our technological future—Stephen Hawking, Elon Musk, and Steve Wozniak, along with hundreds of other researchers, signed on to the idea that "starting a military AI arms race is a bad idea."
The letter questions the idea of researching technology that can be used to remotely kill humans without anyone telling the weapon to do so. While we have aerial technology today that lets us kill someone in the Middle East from a shipping container outside of Las Vegas, this is not what the Institute is concerning itself with. The letter says its focus is not on "cruise missiles or remotely piloted drones for which humans make all targeting decisions."
Rather, the institute is worried about easily replicable technology that could search and kill humans based on "pre-defined criteria."
Unlike nuclear weapons, [autonomous weapons] require no costly or hard-to-obtain raw materials, so they will become ubiquitous and cheap for all significant military powers to mass-produce. It will only be a matter of time until they appear on the black market and in the hands of terrorists, dictators wishing to better control their populace, warlords wishing to perpetrate ethnic cleansing, etc. Autonomous weapons are ideal for tasks such as assassinations, destabilizing nations, subduing populations and selectively killing a particular ethnic group.
While current autonomous technologies are struggling to stand on their own two feet and learn defensive driving techniques, the institute says military technology that could lead to robots killing humans could be "feasible within years, not decades."
The three famous engineers also signed a broader open letter from the institute in January about making sure research into AI is rigidly structured to safeguard against the creation of Terminators. The new letter comes ahead of the 2015 International Joint Conference on Artificial Intelligence, which begins today in Buenos Aires.
Hawking is also answering questions on Reddit this week, with the guiding topic of "making the future of technology more human." Reddit users can submit questions now, and Hawking will start answering them tomorrow. Undoubtedly, some of the questions will likely hinge on the role robots and AI have in our future.
The Economic Collapse
by Michael Snyder
Can you feel the panic in the air? CNN Money's Fear & Greed Index measures the amount of fear in the financial world on a scale from 0 to 100. The closer it is to zero, the higher the level of fear. Last Monday, the index was sitting at a reading of 36. As I write this article, it has fallen to 7. The financial turmoil which began last week is threatening to turn into an avalanche. On Sunday night, we witnessed the second largest one day stock market collapse in China ever, and this pushed stocks all over the planet into the red. Meanwhile, the twin blades of an emerging market currency crisis and a commodity price crash are chewing up economies that are dependent on the export of natural resources all over the globe. For a long time, I have been warning about what would happen in the second half of 2015, and now it is here. The following is a summary of the financial carnage that we have seen over the past 24 hours…
-On Sunday night, the Shanghai Composite Index plunged 8.5 percent. It was the largest one day stock market crash in China since 2007, and it was the second largest in history. The Chinese government is promising to directly intervene in order to prevent Chinese stocks from going down even more.
-Over 1,500 stocks in China fell by their 10 percent daily maximum. This list includes giants such as China Unicom, Bank of Communications and PetroChina.
-Ever since peaking in June, the Shanghai Composite Index has dropped by a total of 28 percent.
-Even Chinese stocks that are listed on U.S. stock exchanges are being absolutely hammered. The following comes from USA Today…
The 144 China-based stocks with primary listings on major U.S. exchanges have erased nearly $40 billion in paper wealth since the Shanghai Composite index peaked on June 12. It's an enormous destruction of wealth that in effects wipes out the market value of a company the size of cruise ship operator Carnival.
-The Chinese stock market crash pushed European stocks significantly lower on Monday…
The pan-European FTSEurofirst 300 provisionally closed 2.1 percent lower, while the Germany's DAX and France's CAC closed respectively 2.4 percent and 2.5 percent lower.

The U.K.'s benchmark FTSE outperformed its euro zone peers, but still closed unofficially down 1.0 percent.
-Overall, European stocks have been falling steadily since the beginning of last week. To get an idea of how much damage has been done already, just check out this chart.
-As I mentioned above, an emerging market currency crisis is causing havoc for economies all over the planet. The following comes from an article that was published by the Telegraph…
The currencies of Brazil, Mexico, South Africa and Turkey have all crashed to multi-year lows as investors flee emerging markets and commodity prices crumble.

The drastic moves came as fears of imminent monetary tightening by the US Federal Reserve combined with shockingly weak figures from China, which stoked fears that the country may be sliding into a deeper downturn and sent tremors through East Asia, Latin America and Africa.
-The government of Puerto Rico has announced that it does not have enough cash to make a scheduled debt payment of 169 million dollars on August 1st. The Obama administration says that there are no plans in the works to bail out Puerto Rico.
-On Monday, the Dow was down another 127 points. It was the fifth day in a row that the Dow and the S&P 500 have both declined.
-Overall, the Dow is now down more than 650 points since July 20th.
-480 stocks on the New York Stock Exchange have hit new 52-week lows. Many analysts consider this to be a very, very ominous sign.
-I have repeatedly written about the danger of the commodity collapse that we are currently witnessing, and the Bloomberg Commodity Index fell another 1.22 percent on Monday to a fresh low of 92.1493.
-On Monday, the price of U.S. oil hit a 52-week low of $46.92.
-So far, the price of U.S. oil has fallen about 20 percent this month.
-Back in June 2014, the price of a barrel of West Texas Intermediate crude was above 107 dollars. Since then, the price of U.S. oil has fallen an astounding 56 percent.
-Thanks in large part to the collapse in energy prices, junk bonds are cratering. This is something that happened just before the financial crisis of 2008, and now it is happening again. The following comes from Wolf Street…
Among the bonds: Cliffs Natural Resources down 27.6%, SandBridge down 30%, Murray Energy down 21.2%, and Linn Energy down 22.3%, according to Bloomberg.

For example, Linn Energy 6.25% notes due in 2019 were trading at 78 cents on the dollar at the beginning of July and at 58 on Friday, according to LCD. There was bloodshed beyond energy, such as AK Steel's 7.625% notes due in 2021. They were trading at 62 cents on the dollar, down 22% from the beginning of July.

"The performance is a disappointment to investors who purchased about $40 billion of junk-rated bonds from energy companies this year, thinking that the worst of the slump was over," Bloomberg noted.
This is exactly what we would expect to see during the early stages of a financial crisis.
Of course global financial markets may bounce back somewhat tomorrow. If you will remember, some of the largest one day gains in stock market history happened right in the middle of the stock market collapse of 2008. So don't get fooled by what happens on any one particular day.
With so much fear in the air, literally anything could happen in the weeks and months ahead of us. One month ago, I issued a red alert for the last six months of this year. I warned that a major financial crisis was imminent and that people needed to start protecting themselves immediately.
As I write this article on Monday evening, financial markets are already opening up over in Asia. Japanese stocks are already down 251 points even though the market has only been open for about an hour over there.
We have entered a time when what is happening to global stock markets will once again be headline news. We are right on the precipice of another great financial crisis, only this one is going to ultimately end up being much worse than the last one.
Now is the time.
Please get prepared while you still can.