Surveillance
The New American
by Joe Wolverton, II, J.D.

Video of prototype of cicada drone: U.S. Naval Research Laboratory
The Department of Defense is well on its way to developing various iterations of tiny drones that will give the federal government "squad level intel" on every man, woman, and child in the United States, even inside their homes.
The latest addition to the miniature monitors is the U.S. Navy's Cicada drones. Business Insider published an AFP story describing the tiny vehicles:
US military scientists have invented a miniature drone that fits in the palm of a hand, ready to be dropped from the sky like a mobile phone with wings.
The "micro air vehicle" is named after the insect that inspired its invention, the Cicada, which spends years underground before appearing in great swarms, reproducing and then dropping to the ground dead.
"The idea was why can't we make UAVs (unmanned aerial vehicles) that have the same sort of profile," Aaron Kahn of the Naval Research Laboratory told AFP.
"We will put so many out there, it will be impossible for the enemy to pick them all up."
That wouldn't be such a threat to liberty were it not for the fact that since the National Defense Authorization Act of 2012, the United States has been designated a theatre in the "War on Terror" and Americans can be denied the most fundamental of their rights and indefinitely detained on the command of the president.
In other words, in order to appreciate the danger of these drones, one must understand the contemporary definition of "enemy."
Unlike their larger, louder cousins, the Cicadas (an acronym standing for Covert Autonomous Disposable Aircraft) are quiet and nearly invisible until it's too late. Business Insider reports the battlefield workings of the weapon:
It is designed to glide to programmed GPS coordinates after being dropped from an aircraft, a balloon or a larger drone, researchers said.
In a test about three years ago in Yuma, Arizona, Cicada drones were released from 57,600 feet (17,500 meters). The little drone flew — or fell — 11 miles, landing within 15 feet of its target.
The Cicada drone can fly at about 46 miles (74 kilometers) per hour and are virtually silent, with no engine or propulsion system.
"It looks like a bird flying down," said Daniel Edwards, an aerospace engineer at the Naval Research Laboratory. But, he said, "it's very difficult to see."
In light of the revelations made a few years ago by this reporter regarding Trapwire — the software that allows the government to aggregate all surveillance and traffic camera video feeds and send them to federal agencies — the next potential use for the Cicadas is particularly worrisome to all defenders of individual liberty.
One possible scenario could be using the drones to monitor traffic on a remote road behind enemy lines.
"You equip these with a microphone or a seismic detector, drop them on that road, and it will tell you 'I heard a truck or a car travel along that road.' You know how fast and which direction they're traveling," a Navy official said, as quoted by the AFP.
It isn't beyond the region of imagination to foresee a not-so-distant future where anyone audacious enough to challenge the hegemony of the federal government could have his every move monitored by these powerful pocket-sized eyes in the sky.
BizTekMojo.com reports, "Even intelligence agencies were interested in the Cicada program. It makes sense as they could be used to spy on enemy territory with minimal risks and costs. Instead of spy planes, the drones could be scattered … through fields without being spotted."
The blog "In Homeland Security" in its report on the Cicadas suggests that the bad press generated by the civilian assassinations carried out by Predator drones may have prompted the move to shrink the vehicles. "This may replace the larger Predator class drones where such large kinetic strikes elicit diplomatic outrage and local backlash on the populations below. In spite of the tremendous amount of precision and the increased efforts and pressure to limit and lessen collateral damage, American forces are learning to go smaller and stealthier," the blog reports.
It is informative that none of the stories, in particular the one from In Homeland Security, mentions that perhaps we should focus less on making it easier carry out kill missions and more on upholding the rule of law that supports life and liberty.
In fact, not only does the report not mention this aspect of the plan, but it seems to glorify the mortal might of the Cicada and similar weapons: "Next generation models of mini-drones might well take on the additional form of a swarming tornado of artificial locusts that could one day devastate and destroy the urban enemy in a matter of hours like the agrarian croplands. A micro-UAV locust model might become the next killer variant."
As long as money can be made by the military industrial complex, it's unlikely that peaceful, constitutional alternatives will ever be seriously considered.
Another disturbing fact about this deadly plague is that not only could the Cicadas monitor and record movements and conversations (the AFP report calls it a "phone with wings"), but when the mission is complete, the devices could be destroyed, as one of the selling points is that their price point makes them "disposable." The Washington Post reports:
By the estimates of the U.S. Naval Research Laboratory, a single prototype for a CICADA can be produced for less than $1,000. And as more uses are found for these micro-drones, it's easy to see the price falling further. One scenario being bandied about is using these CICADAS to monitor extreme weather situations, such as tornadoes. Within a few years, as more applications are discovered, that price might drop to as low as $250.
Two hundred and fifty dollars for that type of killing machine — who could say no?
Apparently, nobody. Silicon Republic reports on the durability and desirability of the tiny drones:
"They've flown through trees. They've hit asphalt runways. They have tumbled in gravel. They've had sand in them. The only thing that we found that killed them was desert shrubbery," said Daniel Edwards, aerospace engineer at the US Navy's research laboratory.
He went on to say that people from many fields, both military and civilian, are interested in the Cicada: "Everyone is interested. Everyone."
It's little wonder that a president that has assumed autocratic authority over life and death would want such an arrow in his quiver. That is a given. What is still a variable, however, is how the American people will respond to this latest threat to their civil liberties.
Of course, in the present climate of near-constant urban unrest, it isn't a stretch to see the deployment of these drones justified by the urgent need to restore peace and order.
Thanks to the legal plunder perpetrated by the federal government and the billions of dollars it puts at the disposal of the Department of Defense, the watchers will soon be able to be the proverbial fly on the wall — walls within the formerly private residences of Americans.
Day by day, the dossier of dictatorship being compiled by President Obama grows thicker and thicker. From the assumption of authority to draw "First Amendment Zones" to the supposed right to capture and indefinitely detain American citizens in violation of the Fourth and Fifth Amendments and the capacity to send swarms of nearly silent, nearly invisible miniature drones throughout urban areas, President Obama and his congressional co-conspirators are attacking the constitutional barriers protecting the people from tyrants.
But the complete shredding of the U.S. Constitution protecting us from tyranny is not inevitable, and the damage already inflicted on history's greatest experiment in human liberty can be reversed over time — if enough citizens become informed and then work with others to put the federal government back into its constitutional restraints.
Defense One
by ALIYA STERNSTEIN
Smartphone technology built by Lockheed Martin promises to verify a user's identity based on the swiftness and shape of the individual's finger strokes on a touch screen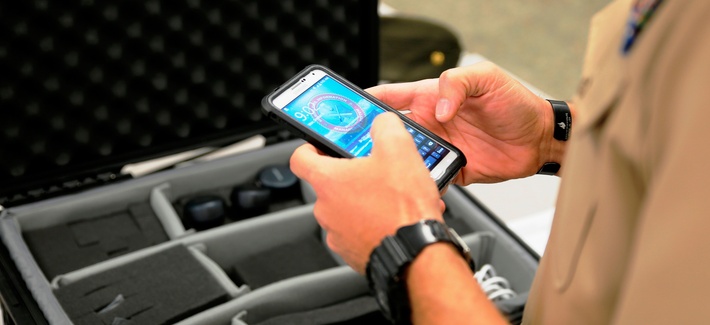 The National Security Agency has tested the use of smartphone-swipe recognition technology, according to the tool's manufacturer.
The mobile device feature, created by Lockheed Martin, verifies a user's identity based on the swiftness and shape of the individual's finger strokes on a touch screen. The technology is but one incarnation of handwriting-motion recognition, sometimes called "dynamic signature" biometrics, which has roots in the Air Force.
"Nobody else has the same strokes," said John Mears, senior fellow for Lockheed IT and Security Solutions. "People can forge your handwriting in two dimensions, but they couldn't forge it in three or four dimensions. Three is the pressure you put in, in addition to the two dimensions on the paper. The fourth dimension is time. The most advanced handwriting-type authentication tracks you in four dimensions."
The biometric factors measured by Lockheed's technology, dubbed "Mandrake," are speed, acceleration and the curve of an individual's strokes.
"We've done work with the NSA with that for secure gesture authentication as a technique for using smartphones," Mears said. "They are actually able to use it."
NextGov has contacted NSA for comment.
Lockheed officials said they do not know how or if the agency has operationally deployed the Mandrake smartphone doodling-recognition tool. The company also is the architect of the FBI's recently completed $1 billion facial, fingerprint, palm print, retina scan and tattoo image biometric ID system. That project, called the Next Generation Identification system, could tie in voice and "gait matching" (how a person walks) in the future, the bureau has said.
Mandrake potentially might be useful for emergency responders who often do not have the time or capability to access an incident command website, Mears said.
"If you are going 100 miles down the road, you are not going to enter a complex 12-character password to authenticate yourself," he said. "We have some customers who deal with radioactive material and they can't touch things" that small with gloves on — "How do they authenticate?"
In 1978, the Air Force and contractor MITRE published some early test results on handwriting-motion ID verification. The use case back then involved gaining entry to restricted facilities, not locked-down smartphone apps.
As part of a project to develop external physical security systems for the Pentagon, the Air Force acquired an "automatic handwriting verification system," according to a research abstract. The technique required two forms of identification.
"An individual desiring access into a controlled area arrives at the entry control point" and types in a four-digit ID number "through a keyboard," the paper states. Then, the system prompts the user to further prove identity through handwriting. It matches the individual's scribbling in real time against a pre-enrolled "pressure versus time history of a signature," the study states.
Experiments were performed in a laboratory and in a weapons storage area at Pease Air Force Base in New Hampshire. Interestingly, the error rate was higher for females than for males. But in general, it was determined the results should not be affected by "the sex or the handedness" of the person. At that time, the technology was too embryonic to operate under real world conditions, the research said.
Today, in retail, handwriting-gesture recognition is sometimes used to enhance customer service, by allowing sales staff to authorize sensitive transactions wherever convenient.
For example, in 2012, Asian life insurance company AIA started using a Kofax-brand app on tablet computers that captures the image, speed and acceleration of a person's strokes with a stylus.
Broadly speaking, however, gesture recognition has not found its sweet spot in the ID management sector.
A 10-year biometrics market forecast released earlier this month by research firm Tractica found that the technology was not lucrative in any of the 194 countries analyzed.
"Research on signature dynamics … has been ongoing for nearly 50 years, but still there is no viable use case, and it was never mentioned during any of the interviews conducted for this report," the study concluded.​
Defense One
BY PATRICK TUCKER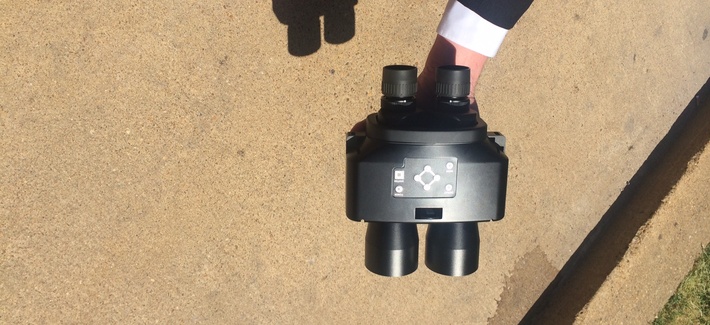 It can be difficult to spot a face in the crowd, especially when the face belongs to someone who wants to kill you. That's why the Navy is working to develop a wireless 3-D binocular face-recognition system.
At the Defense Department's inaugural Lab Day, held in the Pentagon's courtyard, Defense One got up close and personal with a working prototype that can ID someone at 225 meters, about two football fields away. The image recognition isn't necessarily superior to what you could get from a high-resolution camera feed mounted on a surveillance drone. But spotting particular individuals from the air poses a unique challenge because you're mostly looking at the tops of people's heads. The binoculars promise much better face matching because they work at, well, face level.
"The image is captured, sent to our system, which does a few software enhancements, and it's run against a local database," said Michael Richmond, who manages the project at the Space And Naval Systems Warfare Center (Atlantic). "Most facial recognition systems are a few meters at most; nothing is this far at a handheld capability."
In January 2013, the Navy awarded its first contract for a system to "increase the stand-off identification of uncooperative subjects," according to a solicitation announcement. The winner was StereoVision, a California company that had already demonstrated a set of face-recognizing spectacles called the Wireless 3D Binocular Face Recognition System. This 3DMobileID could pick out a face and match it to a database at 100 to 200 meters. The prototypes on display at the Lab Day can reach about twice as far.
Currently, the system uses point-matching software from Cognitec, but Richmond said it was designed to be interoperable with any commercial face-recognition software.
Like any face-rec device, the binoculars are only as good as the database that the machine pulls images and potential matches from. For the military, that means the biometrically-enabled watch list, or BEWL. Always growing, the BEWL currently holds the facial records of some 200,000 people from around the world. In the past 10 years, many have come from the battlefields of Afghanistan and Iraq.
"We're looking to incorporate a 50k watchlist from the BEWL onto another system for additional testing," said Richardson. There's no reason, at least theoretically, why future versions of the binoculars couldn't pull from much larger databases. By year's end, the FBI's Next Generation Identification database is expected to hold as many as 52 million records.
Richmond said that the prototype systems cost $30,000 apiece, a price tag that could decrease if scale increases.
Face-recognition binoculars could play an important role in developing better intelligence in real time. That could help identify threats faster or reduce casualties from errant drone strikes. The most critical intelligence, related to friends and foes, will still be developed by men and women in the field. New face-ID tech will help put a bit more distance between them and the enemy.
The New American
by Joe Wolverton, II, J.D.
Despite the objections of millions of Americans and civil liberties advocates, the Department of Homeland Security refuses completely to abandon its license plate tracking program. And now, other government and industry agencies are joining in the surveillance.
While there has been some slight scaling back of the scope of the surveillance, DHS will continue using the controversial technology in almost half of the United States, comprising most of the largest population centers.
"The LPR [License Plate Reader] data service shall compile LPR from at least 25 states and 24 of the top 30 most populous metropolitan statistical areas to the extent authorized by law in those locations," a contract issued by DHS Immigration and Customs officials reports.
There will be a corresponding decrease in the number of images gathered by the devices that are subsequently reported to DHS. One source indicates that the inventory will be reduced from 30 million images, as originally requested by DHS, to six million.
Although that may seem like at least a small victory for privacy and liberty, that's not the whole story.
Last year Bloomberg reported that the Internal Revenue Service (IRS) and the Forest Service (among others) awarded nearly half a million dollars to Vigilant Solutions, a California-based company that provides tools for tracking license plates and for accessing license plate databases.
Why would the IRS and the Forest Service need the technology to track the license plates of Americans? Bloomberg explained:
"The IRS uses a variety of investigative tools similar to other law-enforcement agencies to assist with criminal cases," Eric Smith, an agency spokesman, said in an e-mail. He declined to say how the IRS used the records in its investigations.
The Forest Service, part of the Department of Agriculture, awarded Vigilant a contract valued at as much as $47,019 for its "CarDetector" system in August 2009, records show. The product scans and captures license plate numbers, compares the data to law enforcement lists of wanted vehicles and sends alerts when such vehicles are detected, according to the company's website.
"License plate readers are helpful to our law enforcement officers with illegal activities on national forest system lands in California," Tiffany Holloway, a spokeswoman for the agency, said in an e-mail. She declined to comment about what types of crimes the tools are used to investigate or provide examples of how the technology has helped law enforcement.
Constitutionalists should sense something sinister in the IRS's purchase of license plate tracking technology. Their senses would be right.
Owe money to the IRS? Having trouble making your mortgage payments? Ever been sued or been arrested?
Soon, the Transportation Security Administration (TSA) will know the answers to these questions before you pass through security, and they might affect whether you are cleared for travel.
In an article from October 2013, the New York Times reported, "The Transportation Security Administration is expanding its screening of passengers before they arrive at the airport by searching a wide array of government and private databases that can include records like car registrations and employment information."
The complete list of sources of personal data reviewed by the TSA also includes:
▪ private employment information
▪ vehicle registrations
▪ travel history
▪ property ownership records
▪ physical characteristics
▪ tax identification numbers
▪ past travel itineraries
▪ law enforcement information
▪ "intelligence" information
▪ passport numbers
▪ frequent flier information
▪ other "identifiers" linked to DHS databases
Civil libertarians and privacy advocates have reacted to the ramped up surveillance, particularly as it relates to license plate tracking and other technology that could give the government access to a person's precise location in almost real time.
"Ultimately, you're creating a national database of location information," Electronic Frontier Foundation staff attorney Jennifer Lynch told the Washington Post in February 2014. "When all that data is compiled and aggregated, you can track somebody as they're going through their life."
After learning of the IRS's obtaining of the license plate tracking technology, Lynch updated her criticism. "Especially with the IRS, I don't know why these agencies are getting access to this kind of information," she reportedly said. "These systems treat every single person in an area as if they're under investigation for a crime — that is not the way our criminal justice system was set up or the way things work in a democratic society."
Sputnik puts an even finer point on the problem:
"Using massive systems of automated license plate recognition devices absolutely violates our fundamental right to privacy," Nicolas Sarwark, Chairman of the US Libertarian National Committee, told Sputnik in February. "These systems allow the government to know everything about a person's movements, especially when combined with facial recognition."
Lynch and Sarwrk are right. Any deprivation of liberty without conforming to the requirements set out in the Fourth Amendment is one too many. If we are a Republic of laws, then the supreme constitutional law of the land must be adhered to every time the government wants to search and seize anything from Americans.
The standard is not whether or not the Department of Homeland Security, the IRS, or the Forest Service claims that investigations create the need to violate the Constitution. The standard is the Constitution — for every issue, on every occasion, with no exceptions. Anything less than that is a step toward tyranny.
It's not just the government, however, that wants to keep an eye on all of us. Consider this chilling twist to the plot provided by The Intercept:
As privacy advocates battle to rein in the use of automated license plate readers (ALPRs), they're going up against another industry that benefits from this mass surveillance: lenders and debt collectors.
Several states and cities, as quoted in the article and chronicled by The New American, are taking steps to regulate the use of the license plate tracking devices. As efforts to stymie the surveillance increase, the voice of a new player — debt collectors — is raised in defense of the devices.
Quoting Danielle Fagre Arlow, senior vice president to the American Financial Services Association (AFSA), a trade group for consumer lending companies, The Intercept reports:
"Our particular interest in the bill," Arlow wrote, "is the negative impact it would have on ALPR's valuable role in our industry – the ability to identify and recover vehicles associated with owners who have defaulted on their loans and are not responding to good-faith efforts to contact them." Arlow opposed the bill's restrictions on "how long data can be kept because access to historical data is important in determining where hard-to-find vehicles are likely located."
AFSA lobbied against several similar bills as they were proposed around the country. In Massachussetts, the group lobbied against a bill designed to destroy ALPR records after 90 days. AFSA argued that such a regime is unfair because "ALPR systems work best when they are used to string together the historical locations of vehicles."
As BetaBoston reported, Digital Recognition, a leading ALPR company, works with about 400 repossession companies. The firm lists Bank of America, JP Morgan Chase, HSBC and Citibank among its clients.
According to the ACLU of Rhode Island, the ALPR privacy bill died last session — notably, the bill failed after the consumer lending lobbyists voiced their opposition.
For Americans concerned about the loss of privacy and individual liberty, this is an unsettling alliance: Big Brother, the debt collection industry (a sector that has come under significant fire for its abuses), and the banks they serve combining to destroy what's left of liberty.
Given the rapid growth of government and the increasingly invasive policies it is adopting, it seems that to have to battle big banks, as well, is a fight few will have the stomach for.
The 4th Media
by Tom Engelhardt
Have you ever undertaken some task you felt less than qualified for, but knew that someone needed to do? Consider this piece my version of that, and let me put what I do understand about it in a nutshell: based on developments in our post-9/11 world, we could be watching the birth of a new American political system and way of governing for which, as yet, we have no name.
And here's what I find strange: the evidence of this, however inchoate, is all around us and yet it's as if we can't bear to take it in or make sense of it or even say that it might be so.
Let me make my case, however minimally, based on five areas in which at least the faint outlines of that new system seem to be emerging: political campaigns and elections; the privatization of Washington through the marriage of the corporation and the state; the de-legitimization of our traditional system of governance; the empowerment of the national security state as an untouchable fourth branch of government; and the demobilization of "we the people."
Whatever this may add up to, it seems to be based, at least in part, on the increasing concentration of wealth and power in a new plutocratic class and in that ever-expanding national security state. Certainly, something out of the ordinary is underway, and yet its birth pangs, while widely reported, are generally categorized as aspects of an exceedingly familiar American system somewhat in disarray.
1. 1% Elections
Check out the news about the 2016 presidential election and you'll quickly feel a sense of been-there, done-that. As a start, the two names most associated with it, Bush and Clinton, couldn't be more familiar, highlighting as they do the curiously dynastic quality of recent presidential contests. (If a Bush or Clinton should win in 2016 and again in 2020, a member of one of those families will have controlled the presidency for 28 of the last 36 years.)
Take, for instance, "Why 2016 Is Likely to Become a Close Race," a recent piece Nate Cohn wrote for my hometown paper. A noted election statistician, Cohn points out that, despite Hillary Clinton's historically staggering lead in Democratic primary polls (and lack of serious challengers), she could lose the general election. He bases this on what we know about her polling popularity from the Monica Lewinsky moment of the 1990s to the present. Cohn assures readers that Hillary will not "be a Democratic Eisenhower, a popular, senior statesperson who cruises to an easy victory."
It's the sort of comparison that offers a certain implicit reassurance about the near future. (No, Virginia, we haven't left the world of politics in which former general and president Dwight D. Eisenhower can still be a touchstone.)
Cohn may be right when it comes to Hillary's electability, but this is not Dwight D. Eisenhower's or even Al Gore's America. If you want a measure of that, consider this year's primaries. I mean, of course, the 2015 ones. Once upon a time, the campaign season started with candidates flocking to Iowa and New Hampshire early in the election year to establish their bona fides among party voters. These days, however, those are already late primaries.
The early primaries, the ones that count, take place among a small group of millionaires andbillionaires, a new caste flush with cash who will personally, or through complex networks of funders, pour multi-millions of dollars into the campaigns of candidates of their choice. So the early primaries — this year mainly a Republican affair — are taking place in resort spots like Las Vegas, Rancho Mirage, California, and Sea Island, Georgia, as has been widely reported.
These "contests" involve groveling politicians appearing at the beck and call of the rich and powerful, and so reflect our new 1% electoral system. (The main pro-Hillary super PAC, for instance, is aiming for a kitty of $500 million heading into 2016, while the Koch brothers network has already promised to drop almost $1 billion into the coming campaign season, doubling their efforts in the last presidential election year.)
Ever since the Supreme Court opened up the ultimate floodgates with its 2010 Citizens Uniteddecision, each subsequent election has seen record-breaking amounts of money donated and spent. The 2012 presidential campaign was the first $2 billion election; campaign 2016 isexpected to hit the $5 billion mark without breaking a sweat.
By comparison, according to Burton Abrams and Russell Settle in their study, "The Effect of Broadcasting on Political Campaign Spending," Republicans and Democrats spent just under $13 million combined in 1956 when Eisenhower won his second term.
In the meantime, it's still true that the 2016 primaries will involve actual voters, as will the election that follows. The previous election season, the midterms of 2014, cost almost $4 billion, a record despite the number of small donors continuing to drop.
It also represented the lowest midterm voterturnout since World War II. (See: demobilization of the public, below — and add in the demobilization of the Democrats as a real party, the breaking of organized labor, the fragmenting of the Republican Party, and the return of voter suppression laws visibly meant to limit the franchise.)
It hardly matters just what the flood of new money does in such elections, when you can feel the weight of inequality bearing down on the whole process in a way that is pushing us somewhere new.
2. The Privatization of the State (or the U.S. as a Prospective Third-World Nation)
In the recent coverage of the Hillary Clinton email flap, you can find endless references to theClintons of yore in wink-wink, you-know-how-they-are-style reporting; and yes, she did delete a lot of emails; and yes, it's an election year coming and, as everyone points out, the Republicans are going to do their best to keep the email issue alive until hell freezes over, etc., etc. Again, the coverage, while eyeball gluing, is in a you've-seen-it-all-before, you'll-see-it-all-again-mode.
However, you haven't seen it all before. The most striking aspect of this little brouhaha lies in what's most obvious but least highlighted. An American secretary of state chose to set up her own private, safeguarded email system for doing government work; that is, she chose to privatize her communications. If this were Cairo, it might not warrant a second thought.
But it didn't happen in some third-world state. It was the act of a key official of the planet's reigning (or thrashing) superpower, which — even if it wasn't the first time such a thing had ever occurred — should be taken as a tiny symptom of something that couldn't be larger or, in the long stretch of history, newer: the ongoing privatization of the American state, or at least the national security part of it.
Though the marriage of the state and the corporation has a pre-history, the full-scale arrival of thewarrior corporation only occurred after 9/11. Someday, that will undoubtedly be seen as a seminal moment in the formation of whatever may be coming in this country. Only 13 years later, there is no part of the war state that has not experienced major forms of privatization.
The U.S. military could no longer go to war without its crony corporations doing KP and guard duty, delivering the mail, building the bases, and being involved in just about all of its activities, including training the militaries of foreign allies and even fighting.
Such warrior corporations are now involved in every aspect of the national security state, including torture, drone strikes, and — to the tune ofhundreds of thousands of contract employees like Edward Snowden — intelligence gathering and spying. You name it and, in these years, it's been at least partly privatized.
All you have to do is read reporter James Risen's recent book, Pay Any Price, on how the global war on terror was fought in Washington, and you know that privatization has brought something else with it: corruption, scams, and the gaming of the system for profits of a sort that might normally be associated with a typical third-world kleptocracy.
And all of this, a new world being born, was reflected in a tiny way in Hillary Clinton's very personal decision about her emails.
Though it's a subject I know so much less about, this kind of privatization (and the corruption that goes with it) is undoubtedly underway in the non-war-making, non-security-projecting part of the American state as well.
3. The De-legitimization of Congress and the Presidency

On a third front, American "confidence" in the three classic check-and-balance branches of government, as measured by polling outfits, continues to fall. In 2014, Americans expressing a "great deal of confidence" in the Supreme Court hit a new low of 23%; in the presidency, it was 11%, and in Congress a bottom-scraping 5%. (The military, on the other hand, registers at 50%.) The figures for "hardly any confidence at all" are respectively 20%, 44%, and more than 50%. All are in or near record-breaking territory for the last four decades.
It seems fair to say that in recent years Congress has been engaged in a process of delegitimizing itself. Where that body once had the genuine power to declare war, for example, it is now "debating" in adesultory fashion an "authorization" for a war against the Islamic State in Syria, Iraq, and possibly elsewhere that has already been underway for eight months and whose course, it seems, will be essentially unaltered, whether Congress authorizes it or not.
What would President Harry Truman, who once famously ran a presidential campaign against a "do-nothing" Congress, have to say about a body that truly can do just about nothing? Or rather, to give the Republican war hawks in that new Congress their due, not quite nothing. They are proving capable of acting effectively to delegitimize the presidency as well.
House Majority Leader John Boehner's invitation to Israeli Prime Minister Benjamin Netanyahu to undercut the president's Iranian nuclear negotiations and the letter signed by 47 Republican senators and directed to the Iranian ayatollahs are striking examples of this. They are visibly meant to tear down an "imperial presidency" that Republicans gloried in not so long ago.
The radical nature of that letter, not as an act of state but of its de-legitimization, was noted even in Iran, where fundamentalist Supreme Leader Ali Khamenei proclaimed it "a sign of a decline in political ethics and the destruction of the American establishment from within."
Here, however, the letter is either being covered as a singularly extreme one-off act ("treason!") or, as Jon Stewart didon "The Daily Show," as part of a repetitive tit-for-tat between Democrats and Republicans over who controls foreign policy. It is, in fact, neither. It represents part of a growing pattern in which Congress becomes an ever less effective body, except in its willingness to take on and potentially take out the presidency.
In the twenty-first century, all that "small government" Republicans and "big government" Democrats can agree on is offering essentially unconditional support to the military and the national security state. The Republican Party — its various factions increasingly at each other's throats almost as often as at those of the Democrats — seems reasonably united solely on issues of war-making and security.
As for the Democrats, an unpopular administration, facing constant attack by those who loath President Obama, has kept its footing in part by allying with and fusing with the national security state. A president who came into office rejecting torture and promoting sunshine and transparency in government has, in the course of six-plus years, come to identify himself almost totally with the U.S. military, the CIA, the NSA, and the like.
While it has launched an unprecedented campaign against whistleblowers and leakers (as well as sunshine and transparency), the Obama White House has proved a powerful enabler of, but also remarkably dependent upon, that state-within-a-state, a strange fate for "the imperial presidency."
4. The Rise of the National Security State as the Fourth Branch of Government
One "branch" of government is, however, visibly on the rise and rapidly gaining independence from just about any kind of oversight. Its ability to enact its wishes with almost no opposition in Washington is a striking feature of our moment.
But while the symptoms of this process are regularly reported, the overall phenomenon — the creation of a de facto fourth branch of government — gets remarkably little attention. In the war on terror era, the national security state has come into its own. Its growth has been phenomenal.
Though it's seldom pointed out, it should be considered remarkable that in this period we gained a second full-scale "defense department," the Department of Homeland Security, and that it and the Pentagon have become even more entrenched, each surrounded by its own growing "complex" of private corporations, lobbyists, and allied politicians. The militarization of the country has, in these years, proceeded apace.
Meanwhile, the duplication to be found in the U.S. Intelligence Community with its 17 major agencies and outfits is staggering. Its growing ability to surveil and spy on a global scale, including on its own citizens, puts the totalitarian states of the twentieth century to shame.
That the various parts of the national security state can act in just about any fashion without fear of accountability in a court of law is by now too obvious to belabor. As wealth has traveled upwards in American society in ways not seen since the first Gilded Age, so taxpayer dollars have migrated into the national security state in an almost plutocratic fashion.
New reports regularly surface about the further activities of parts of that state. In recent weeks, for instance, we learned from Jeremy Scahill and Josh Begley of the Intercept that the CIA has spent years trying to break the encryption on Apple iPhones and iPads; it has, that is, been aggressively seeking to attack an all-American corporation (even if significant parts of its production process are actually in China).
Meanwhile, Devlin Barrett of the Wall Street Journal reported that the CIA, an agency barred from domestic spying operations of any sort, has been helping the U.S. Marshals Service (part of the Justice Department) create an airborne digital dragnet on American cell phones. Planes flying out of five U.S. cities carry a form of technology that "mimics a cellphone tower."
This technology, developed and tested in distant American war zones and now brought to "the homeland," is just part of the ongoing militarization of the country from its borders to its police forces. And there's hardly been a week since Edward Snowden first released crucial NSA documents in June 2013when such "advances" haven't been in the news.
News also regularly bubbles up about the further expansion, reorganization, and upgrading of parts of the intelligence world, the sorts of reports that have become the barely noticed background hum of our lives. Recently, for instance, Director John Brennan announced a major reorganization of the CIA meant to break down the classic separation between spies and analysts at the Agency, while creating a new Directorate of Digital Innovation responsible for, among other things, cyberwarfare and cyberespionage.
At about the same time, according to the New York Times, the Center for Strategic Counterterrorism Communications, an obscure State Department agency, was given a new and expansive role in coordinating "all the existing attempts at countermessaging [against online propaganda by terror outfits like the Islamic State] by much larger federal departments, including the Pentagon, Homeland Security and intelligence agencies."
This sort of thing is par for the course in an era in which the national security state has only grown stronger, endlessly elaborating, duplicating, and overlapping the various parts of its increasingly labyrinthine structure.
And keep in mind that, in a structure that has fought hard to keep what it's doing cloaked in secrecy, there is so much more that we don't know. Still, we should know enough to realize that this ongoing process reflects something new in our American world (even if no one cares to notice).
5. The Demobilization of the American People
In The Age of Acquiescence, a new book about America's two Gilded Ages, Steve Fraser asks why it was that, in the nineteenth century, another period of plutocratic excesses, concentration of wealth and inequality, buying of politicians, and attempts to demobilize the public, Americans took to the streets with such determination and in remarkable numbers over long periods of time to protest their treatment, and stayed there even when the brute power of the state was called out against them.
In our own moment, Fraser wonders, why has the silence of the public in the face of similar developments been so striking?
After all, a grim new American system is arising before our eyes. Everything we once learned in the civics textbooks of our childhoods about how our government works now seems askew, while the growth of poverty, the flatlining of wages, the rise of the .01%, the collapse of labor, and the militarization of society are all evident.
The process of demobilizing the public certainly began with the military. It was initially a response to the disruptive and rebellious draftees of the Vietnam-era. In 1973, at the stroke of a presidential pen, the citizen's army was declared no more, the raising of new recruits was turned over to advertising agencies (a preview of the privatization of the state to come), and the public was sent home, never again to meddle in military affairs.
Since 2001, that form of demobilization has been etched in stone and transformed into a way of life in the name of the "safety" and "security" of the public.
Since then, "we the people" have made ourselves felt in only three disparate ways: from the left in the Occupy movement, which, with its slogans about the 1% and the 99%, put the issue of growing economic inequality on the map of American consciousness; from the right, in the Tea Party movement, a complex expression of discontent backed and at least partially funded by right-wing operatives and billionaires, and aimed at the de-legitimization of the "nanny state"; and the recent round of post-Ferguson protests spurred at least in part by the militarization of the police in black and brown communities around the country.
The Birth of a New System
Otherwise, a moment of increasing extremity has also been a moment of — to use Fraser's word — "acquiescence." Someday, we'll assumedly understand far better how this all came to be. In the meantime, let me be as clear as I can be about something that seems murky indeed: this period doesn't represent a version, no matter how perverse or extreme, of politics as usual; nor is the 2016 campaign an election as usual; nor are we experiencing Washington as usual.
Put together our 1% elections, the privatization of our government, the de-legitimization of Congress and the presidency, as well as the empowerment of the national security state and the U.S. military, and add in the demobilization of the American public (in the name of protecting us from terrorism), and you have something like a new ballgame.
While significant planning has been involved in all of this, there may be no ruling pattern or design. Much of it may be happening in a purely seat-of-the-pants fashion. In response, there has been no urge to officially declare that something new is afoot, let alone convene a new constitutional convention.
Still, don't for a second think that the American political system isn't being rewritten on the run by interested parties in Congress, our present crop of billionaires, corporate interests, lobbyists, the Pentagon, and the officials of the national security state.
Out of the chaos of this prolonged moment and inside the shell of the old system, a new culture, a new kind of politics, a new kind of governance is being born right before our eyes. Call it what you want. But call it something. Stop pretending it's not happening.
Tom Engelhardt is a co-founder of the American Empire Project and the author of The United States of Fear as well as a history of the Cold War, The End of Victory Culture. He is a fellow of the Nation Institute and runs TomDispatch.com. His latest book is Shadow Government: Surveillance, Secret Wars, and a Global Security State in a Single-Superpower World(Haymarket Books).
[Note: My special thanks go to my friend John Cobb, who talked me through this one. Doing it would have been inconceivable without him. Tom]
InfoWars
by PAUL JOSEPH WATSON
The town of Paradise Valley in Arizona has installed license plate scanning cameras in fake cactuses with no public consultation whatsoever, just days after the DHS announced its intention to revive a nationwide version of the program.
Residents were alarmed to see the cactus cameras popping up throughout the town over the last few days with no indication of what they were being used for as city officials refused to explain their purpose until all the cameras were installed.
Town leaders initially declined to even talk to local station Fox 10 about the cameras, with Paradise Valley Police saying they were "not prepared to make a statement at this time." The network was similarly rebuffed when they attempted to get answers on license plate scanners that were being installed in traffic lights back in February.
Fox 10's Jill Monier was eventually able to speak to Town Manager Kevin Burke, who admitted that the cameras were being used to "run license plates of cars against a hotlist database."
When asked why officials had been secretive about the cameras, which are being placed on the perimeter of the town, Burke asserted that there was "nothing to hide" and that the cameras wouldn't be activated until privacy concerns had been addressed.
"Shouldn't that have been vetted before they even went up?" asked Monier, to which Burke responded, "It probably is fair."
The cameras are part of a $2 million "technology upgrade" passed by the council last year. It is not know whether the Department of Homeland Security contributed to this figure, although the DHS has funded the introduction of license plate scanners in other cities.
In February 2014, the DHS announced that it intended to create, "a nationwide database with information from license-plate readers that scan every vehicle crossing their paths," a proposal that alarmed privacy groups.
The plan was subsequently canceled by Secretary Jeh Johnson, but the program has returned in a scaled back version which will collect data from "at least 25 states" and 24 of the 30 most populated metropolitan areas, reports the Hill.
After the license plate scanners were introduced in Philadelphia, city officials argued in a response to a request for information that, "every metro driver is under investigation," reported TechDirt. In other words, the cameras treat everyone as guilty until proven innocent.
"Investigative reporter Dustin Slaughter and The Philly Declaration have been battling the city for access to two weeks of raw ALPR output and, after multiple appeals, have been told every scan is exempt because every scan is part of a criminal investigation. This bizarre claim echoes the Los Angeles Police Department's public records request-thwarting declaration: all scans are, and always will be, tied to investigations."
Back in March, Montana state lawmakers backed a bill that would ban license plate scanners, with sponsor Rep. Daniel Zolnikov arguing that the cameras were being used to "compile a massive database on every vehicle."
In January it was revealed that the Justice Department had been building a secret domestic intelligence gathering program in concert with the Drug Enforcement Agency "that scans and stores hundreds of millions of records about motorists."
The license plate scanner program was initially used near the border but has since been expanded "throughout the United States," according to documents unearthed by the Wall Street Journal.
The American Civil Liberties Union subsequently revealed that the cameras were also using facial recognition technology to record who was traveling in the vehicle "as part of an official exercise to build a database on people's lives," reported the Guardian.