Defense One
by Patrick Tucker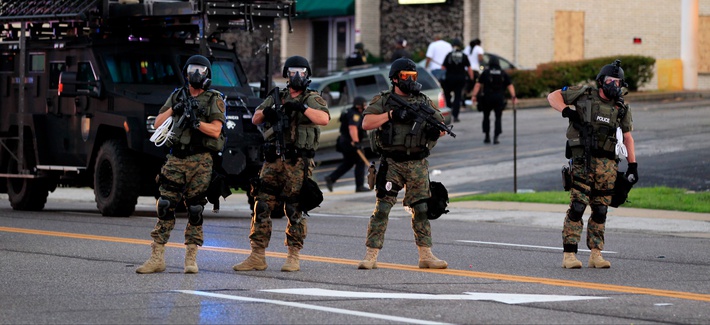 As images of Ferguson, Missouri's AR-15 totting police force made their way across the Internet, an ever-concerned public began to wonder who decided to give cops in an American city the sort of guns and gear that we provide to soldiers in the most dangerous places in the word? We quickly discovered that the United States government did, under the so-called 1033 program, a program that allows the Defense Department to transfer military equipment to law enforcement (much to the delight, surely, of the companies that make that equipment.)
Of course, to call the Ferguson police force "militarized" is a misnomer. As Adam Weinstein points out at Gawker, gear alone does not a military member make—to wit: "Despite their expensive costuming, the police in Ferguson are putting on an unsophisticated, unscripted performance, a copy without an original. If these cops were to take a page out of the Army's book on crowd control, it would be an improvement. But they seem to be making up tactics to go with the gear they've acquired."
In terms of large nations that have, in fact, militarized their police forces, the model that we are now following looks Chinese in origin, a country that has been blurring the line between military and police for a long time. NATO and the Defense Department continuously point out that Chinese military funding and "public safety" funding overlap to large extent. A quick glance at Chinese spending on "internal" security versus formal "defense" reveals a country that views its citizens as a larger threat than any external foe.
In 2011, not long after the "Jasmine Revolution" swept Tunisia, Beijing—feeling the winds change in popular uprising—upped spending for police, jails, and other pieces of internal security by more than 13 percent to 624.4 billion yuan ($95 billion). Money for the Chinese Liberation Army, conversely, rose 12.7 percent that year to 601.1 billion yuan ($91.5 billion).
"This would be the first time that the openly announced domestic security budget has surpassed military spending," Tongji University political scientist Xie Yue told Reuters. Yue said that the figure provides a good sense of China's "stability protection" spend.
The trend slightly slowed but still continued through 2013. Chinese spending on its own police and internal security rose to 769.1 billion yuan last year compared to 740.6 billion yuan for the People's Liberation Army.
This year, China withheld figures for what it would be spending on "stability maintenance," but by the end of 2014, China will become the world's number one market for surveillance equipment and technology, surpassing the U.S., according to a report from the Homeland Security Research Corporation.
The U.S. forbids the sale of military equipment to China with its Foreign Relations Authorization Act for FY1990-FY1991 (P.L. 101-246). But U.S. contractors from IBM China to GE Security Asia to Honeywell sell into the Chinese security market.
If China is a country that is at war with its own citizens, what does that mean for the future weapons that she might deploy?
Here's where China may borrow from us. One of the most important new weapons that police forces around the country are experimenting with is so called predictive policing—the use of data and statistics to determine the location, and possibly even the perpetrators of crime. It's a trend that's sweeping police departments across America. Reporters at San Francisco Weekly have shown that a lot of today's predictive policing marketers are peddling products that don't meet the expectations that those marketers are advertising. But the thinking behind the concept is still sound, and there are some key cases where predictive policing has proven to be a force multiplier.
One such example is New York.