Police State
The Common Sense Show
by Dave Hodges
Over the past two months, many of us in the Independent Media have said it again and again, Jade Helm is about subjugating the American people who will one day rise up to what is coming.
As the American people are kept in the dark about the true nature of Jade Helm, members of the Independent Media have been very consistent about pointing out that Jade Helm, because of its involvement of Special Operations Forces, the "drill" is clearly designed to practice political dissident extractions which would be executed prior to the imposition of martial law. This is a simple and logical conclusion to draw because this is what Navy Seals, Green Berets, etc. do in pre-combat activities. The involvement of ARSOF in Jade Helm as a primary player, speaks clearly to intent.
What I never counted on would be the fact that Jade Helm would ever let any part of these kinds of activities to ever become public. The military has now allowed planned political dissident extractions to become verifiably public, and most amazingly, they did so with the release of video that the military, itself, would make, produce and then disseminate.
Gigantic war games, along with a massive military convoy, are commencing in Colorado, prior to the start of the supposed start of Jade Helm 15 exercises in July which has now been officially moved up to June 15th. This ancillary Jade Helm drill is called "Raider Focus" and it is turning Southern Colorado and the Independent Media on its ear.
Vehement Mainstream Media Denials Regarding Jade Helm
Raider Focus, which I am told, is merely a subset of Jade Helm, has been the sold to the citizenry as merely war preparations in the Middle East and this has nothing to do with the imposition of martial law.
Fox and Friends actually referred to the drill as "Jed Helm". And anyone who dares to profess the belief that "Jed Helm" is about martial law also is dumb enough "to believe in Chemtrails and we all know that is not true", said Fox and Friends in a recent broadcast. Fox and Friends further stated that Alex Jones scares people and that nobody should listen to him as they invoked the "giggle factor" to discredit what clearly is a martial law exercise directed towards the American people. And of course there are the sloppy disinformation agents at KHOU TV, in Houston, who told the blatant lie in which they stated that I claimed that Americans were "being slaughtered inside of Death Domes in Texas". Who could forget that the Washington Post actually had an article pinned to the top of Google for five days which proclaimed the insanity of linking Jade Helm to martial law and political extractions in an attempt to discredit Jade Helm naysayers.
I could go on and on with the near universal media ridicule of Jade Helm detractors, but you get the idea. Yet, despite the extreme obfuscation of the truth about Jade Helm by the six corporations that control the vast majority of the dinosaur media, the military is now providing the public with evidence which serves to validate the concerns that Jade Helm is a clear and present danger to the American people.
In a sight in which I could not believe my eyes, at the 3:40 mark in the following video, we see military forces rehearsing extraction drills on citizens.
Why would the military release video-taped images of what are clearly extractions drills? In the video, they even refer to the captured citizens as "detainees". Check out the martial law manual, FM 3-39.4 nd FM 3-39.33 and the reader will see that this is the universal term for individuals who will be incarcerated in what are commonly referred to as FEMA camps. Again, I ask, why would the military provide the Independent Media with such smoking gun evidence which serves to validate our allegations that Jade Helm is directed at the American people? This question will be analyzed at the end of this article. Just for now, let's suffice it to say that this is a planned leak of very damning information.
In another leak of information, we have yet another video which demonstrates that a permanent martial law force is being prepared to be unleashed upon the American public in a matter of months and the source of the information is stunning.
Amy Goodman and Democracy Now
Amy Goodman, the host of the PBS show, Democracy Now, has recently reported that a permanent martial law occupying force that will go live in October of 2015. The martial law enforcement unit is the 3rd Infantry Division, 1st Brigade Combat Team. The mission is to serve as "an on-call Federal response in times of emergency".
According to the PBS report, the unit will be placed under the control of Northern Command. The martial law unit will be responsible for stopping civil unrest and engaging in crowd control. As an aside, when the terms "civil unrest" and "crowd control" are used, this can only mean that the 3rd Infantry Division, 1st Brigade Combat Team is rehearsing to subdue the American people in a martial law action.
Goodman reported that the weapons of interest for this unit are primarily nonlethal. The first 50 seconds of the following Democracy Now video tells one all that anyone needs to know about what is coming and how this is being practiced for as I write these words.
Connecting the Dots
Even Fox and Friends would have a difficult time denying what is on video in this article as we have seen clear and demonstrable proof that Jade Helm related activities are connected with political dissident extractions of American citizens and this will be followed up with the roll out of a martial law occupation force.
So, despite the fact that the MSM has embarrassed themselves in denying what is so painfully obvious, the military undoes all of this work designed to obfuscate the truth and basically admits to the fact that America is going under martial law and political dissidents are about to be treated as extreme enemies of the state.
Why would the military engage in such a self-defeating revelation and sacrifice the element of surprise prior to subjugating the American public? I have a hard time believing that the military is not on board with the ulterior motives behind Jade Helm and this release of information is intentional in that they want to see a public backlash. Based on the available information, this is the only thing that makes any sense.
History Repeats Itself
These stunning revelations by our military are not unprecedented and they have happened before. On November 3, 2012, I wrote an article in which I detailed how elements of our military unsuccessfully attempted to rescue Ambassador Stevens just prior to his eventual murder. This action was an attempt at a soft coup directed at the Obama administration and came at a time when Obama was firing command officers at a time faster than their replacements could be seated.
For 30 months, elements of the military abandoned employing another soft coup attempt because, as I have been told, they did not feel that they enjoyed the popular support of the public which would be a prerequisite for regime change. I would encourage the reader to read this article which demonstrates the extremely strained relationship between military command officers and the Commander-In-Chief.
Conclusion
It now appears that elements of the Jade Helm task force are not fully on board with the full implementation of the objectives and we are seeing a moderate attempt to warn the American people.
These warnings may be subtle, but to the trained eye, they are undeniable. The best possible outcome with regard to these revelations is to spread these revelations far and wide and see what develops by exposing much of the public to the realizations that "we are not in Kansas anymore".
InfoWars
by JOHN W. WHITEHEAD
"If we're training cops as soldiers, giving them equipment like soldiers, dressing them up as soldiers, when are they going to pick up the mentality of soldiers? If you look at the police department, their creed is to protect and to serve. A soldier's mission is to engage his enemy in close combat and kill him. Do we want police officers to have that mentality? Of course not."— Arthur Rizer, former civilian police officer and member of the military
Talk about poor timing. Then again, perhaps it's brilliant timing.
Only now—after the Departments of Justice, Homeland Security (DHS) and Defense have passed off billions of dollars worth of military equipment to local police forces, after police agencies have been trained in the fine art of war, after SWAT team raids have swelled in number to more than 80,000 a year, after it has become second nature for local police to look and act like soldiers, after communities have become acclimated to the presence of militarized police patrolling their streets, after Americans have been taught compliance at the end of a police gun or taser, after lower income neighborhoods have been transformed into war zones, after hundreds if not thousands of unarmed Americans have lost their lives at the hands of police who shoot first and ask questions later, after a whole generation of young Americans has learned to march in lockstep with the government's dictates—only now does President Obama lift a hand to limit the number of military weapons being passed along to local police departments.
Not all, mind you, just some.
Talk about too little, too late.
Months after the White House defended a federal program that distributed $18 billion worth of military equipment to local police, Obama has announced that he will ban the federal government from providing local police departments with tracked armored vehicles, weaponized aircraft and vehicles, bayonets, grenade launchers, camouflage uniforms and large-caliber firearms.
Obama also indicated that less heavy-duty equipment (armored vehicles, tactical vehicles, riot gear and specialized firearms and ammunition) will reportedly be subject to more regulations such as local government approval, and police being required to undergo more training and collect data on the equipment's use. Perhaps hoping to sweeten the deal, the Obama administration is also offering $163 million in taxpayer-funded grants to "incentivize police departments to adopt the report's recommendations."
While this is a grossly overdue first step of sorts, it is nevertheless a first step from an administration that has beenutterly complicit in accelerating the transformation of America's police forces into extensions of the military. Indeed, as investigative journalist Radley Balko points out, while the Obama administration has said all the right things about the need to scale back on a battlefield mindset, it has done all the wrong things to perpetuate the problem:
distributed equipment designed for use on the battlefield to local police departments,
provided private grants to communities to incentivize SWAT team raids,
redefined "community policing" to reflect aggressive police tactics and funding a nationwide COPS (Community Oriented Policing Services) program that has contributed to dramatic rise in SWAT teams,
encouraged the distribution of DHS anti-terror grants and the growth of "contractors that now cater to police agencies looking to cash DHS checks in exchange for battle-grade gear,"
ramped up the use of military-style raids to crack down on immigration laws and target "medical marijuana growers, shops, and dispensaries in states that have legalized the drug,"
defended as "reasonable" aggressive, militaristic police tactics in cases where police raided a guitar shop in defense of an obscure environmental law, raided a home looking for a woman who had defaulted on her student loans, and terrorized young children during a raid on the wrong house based on a mistaken license plate,
and ushered in an era of outright highway robbery in which asset forfeiture laws have been used to swindle Americans out of cash, cars, houses, or other property that government agents can "accuse" of being connected to a crime.
It remains to be seen whether this overture on Obama's part, coming in the midst of heightened tensions between the nation's police forces and the populace they're supposed to protect, opens the door to actual reform or is merely a political gambit to appease the masses all the while further acclimating the populace to life in a police state.
Certainly, on its face, it does nothing to ease the misery of the police state that has been foisted upon us. In fact, Obama's belated gesture of concern does little to roll back the deadly menace of overzealous police agencies corrupted by money, power and institutional immunity. And it certainly fails to recognize the terrible toll that has been inflicted on our communities, our fragile ecosystem of a democracy, and our freedoms as a result of the government's determination to bring the war home.
Will the young black man guilty of nothing more than running away from brutish police officers be any safer in the wake of Obama's edict? It's unlikely.
Will the old man reaching for his cane have a lesser chance of being shot? It's doubtful.
Will the little girl asleep under her princess blanket live to see adulthood when a SWAT team crashes through her door? I wouldn't count on it.
It's a safe bet that our little worlds will be no safer following Obama's pronouncement and the release of his "Task Force on 21st Century Policing" report. In fact, there is a very good chance that life in the American police state will become even more perilous.
Among the report's 50-page list of recommendations is a call for more police officer boots on the ground, training for police "on the importance of de-escalation of force," and "positive non-enforcement activities" in high-crime communities to promote trust in the police such as sending an ice cream truck across the city.
Curiously, nowhere in the entire 120-page report is there a mention of the Fourth Amendment, which demands that the government respect citizen privacy and bodily integrity. The Constitution is referenced once, in the Appendix, in relation to Obama's authority as president. And while the word "constitutional" is used 15 times within the body of the report, its use provides little assurance that the Obama administration actually understands the clear prohibitions against government overreach as enshrined in the U.S. Constitution.
For instance, in the section of the report on the use of technology and social media, the report notes: "Though all constitutional guidelines must be maintained in the performance of law enforcement duties, the legal framework (warrants, etc.) should continue to protect law enforcement access to data obtained from cell phones, social media, GPS, and other sources, allowing officers to detect, prevent, or respond to crime."
Translation: as I document in my book Battlefield America: The War on the American People, the new face of policing in America is about to shift from waging its war on the American people using primarily the weapons of the battlefield to the evermore-sophisticated technology of the battlefield where government surveillance of our everyday activities will be even more invasive.
This emphasis on technology, surveillance and social media is nothing new. In much the same way the federal government used taxpayer-funded grants to "gift" local police agencies with military weapons and equipment, it is also funding the distribution of technology aimed at making it easier for police to monitor, track and spy on Americans. For instance, license plate readers, stingray devices and fusion centers are all funded by grants from the DHS. Funding for drones at the state and local levels also comes from the federal government, which in turn accesses the data acquired by the drones for its own uses.
If you're noticing a pattern here, it is one in which the federal government is not merely transforming local police agencies into extensions of itself but is in fact federalizing them, turning them into a national police force that answers not to "we the people" but to the Commander in Chief. Yet the American police force is not supposed to be a branch of the military, nor is it a private security force for the reigning political faction. It is supposed to be an aggregation of the countless local civilian units that exist for a sole purpose: to serve and protect the citizens of each and every American community.
So where does that leave us?
There's certainly no harm in embarking on a national dialogue on the dangers of militarized police, but if that's all it amounts to—words that sound good on paper and in the press but do little to actually respect our rights and restore our freedoms—then we're just playing at politics with no intention of actually bringing about reform.
Despite the Obama Administration's lofty claims of wanting to "ensure that public safety becomes more than the absence of crime, that it must also include the presence of justice," this is the reality we must contend with right now:
Americans still have no real protection against police abuse. Americans still have no right to self-defense in the face of SWAT teams mistakenly crashing through our doors, or police officers who shoot faster than they can reason. Americans are still no longer innocent until proven guilty. Americans still don't have a right to private property. Americans are stillpowerless in the face of militarized police. Americans still don't have a right to bodily integrity. Americans still don't have a right to the expectation of privacy. Americans are still being acclimated to a police state through the steady use and sight of military drills domestically, a heavy militarized police presence in public places and in the schools, and a taxpayer-funded propaganda campaign aimed at reassuring the public that the police are our "friends." And to top it all off, Americans still can't rely on the courts, Congress or the White House to mete out justice when our rights are violated by police.
To sum it all up: the problems we're grappling with have been building for more than 40 years. They're not going to go away overnight, and they certainly will not be resolved by a report that instructs the police to simply adopt different tactics to accomplish the same results—i.e., maintain the government's power, control and wealth at all costs.
This is the sad reality of life in the American police state.
SHTFplan
by Jeremiah Johnson
"A dictatorship was impossible in our Republic because power was widely diffused. Today, as we approach Democratic Socialism, all power is being centralized at the apex of the executive branch of the federal government. This concentration of power makes a dictatorship inevitable."

(Gary Allen, "None Dare Call it Conspiracy," page 34)
The aforementioned quote and book were written in 1971. Good Day to you, SHTF readers. This article is going to mention some of the "finer points" utilized by the executive branch (Obama) toward the totalitarian end-state he desires. The end state of slavery he erroneously (and intentionally) labels a "fundamental transformation." Keep these points in mind, as we mentioned in the last article that Jade Helm is (as you readers also agree) a precursor for some unknown nefarious act to take place in the near future.
The Executive Order is a presidential directive that holds the force of law once it is published in the Federal Register. Now the United States has been continuously placed in a "state of emergency" since 1933. The War and Emergency Powers Act of 1933 has enabled all successive presidents to usurp powers normally designated to the legislative branch. Abraham Lincoln suspended habeas corpus in 1862, flagrantly disregarding Article 1, Section 9 of the Constitution that states a person may not be imprisoned without due process on a whim of the government.
In 1937, the courts in the case of U.S. vs. Belmont ruled that executive agreements do not require the consensus of other branches of the government to be enacted. On March 23, 2005, George Bush Jr. entered into a treaty with Canada and Mexico in which the president of the U.S. is allowed to use troops from those countries to stop an uprising or political unrest…in the U.S. The treaty was signed without the approval of Congress and via executive order.
Readers, I have read your comments and we see the writing on the wall for what it is! What reason for all of these different laws and executive orders if not to bring to bear the whole weight of the U.S. government against the American people? It is poised and ready, just waiting for the right moment to be unleashed.
December 15, 2011 was when Congress passed the NDAA, which of course was ratified into law by Obama while he vacationed in Hawaii, signed with that "auto-pen-thing," slipped right into everyone's New Year's Eve drink under our noses. Section 1021 of the NDAA affirms the authority of the President to detain an individual via the Armed Forces of the United States, and this detention without trial until the end of the hostilities. Guess we all better hope Jade Helm doesn't go "live."
Section 1031 refers to the U.S. as a "battlefield," giving the military the green light to act in a "law enforcement" role in the U.S., and this is the death-knell of the Posse Comitatus Act of 1878 that the Warner Defense Act of 2006 had already negated. We are already well aware of the March 16, 2012 Executive Order Obama signed for National Defense Resources Preparedness, in which every thing that can be eaten, drank, driven, grown….virtually everything in the U.S., including human labor…is now under the authority of Obama and his minions during an "emergency," whether real, created, or imaginary.
With all that has just been mentioned, there is so much more to it than this. He must be crafted out of Teflon…nothing sticks to him. Nothing. Not Benghazi (or the entire "Arab Spring," for that matter), not Fast and Furious, not the bin Laden thing where an entire SEAL Team paid the price to keep a lid on the truth (in a Chinook, no less of an ignominy…when have you ever heard of a SEAL team extracted or transported by a Chinook?), and so on ad infinitum. Nothing sticks to this guy. Nothing.
Make no mistake about it; the groundwork and foundation have been put into place. The NDAA is there, all primed and ready to be used against us, the American citizens. The EO's are all in place to confiscate our resources and to force us into internment camps to perform forced labor for KBR (Kellogg, Brown, and Root) under the supervision of the Internment Specialist MOS of the U.S. Army. The police departments, local and state, have effectively been federalized by the dangling of the carrot (federal funds) in front of the jackasses (the state governors and their respective state legislatures).
Now all that the regime needs is a good false flag, or the conversion of an existing problem into something cataclysmic. A war, or an economic collapse would be good triggers. Make no mistake, guys and gals, we are right on the edge. All it will take is a small shove and we'll pass over the tipping point. The point is that the propaganda and the conditioning of the public consciousness to accept martial law are well under way. The "for your own safety" and "in the interests of the nation/national security/public good," etc., slogans are going to be the keys to their pulling the trigger on a martial law scenario.
Every day the envelope is pushed just a little further. It is also quite obvious there are much larger forces that pull the strings of Obama: the globalists so desirous of their world government. The UN and other foreign forces, backed by the thieves of the IMF and the World Bank are slavering with anticipation of the United States giving away its own sovereignty and becoming another "district" in their version of "the Hunger Games." I submit to you that the actions this regime has taken toward the American people is nefarious and evil because it cannot answer the question "why" for any of its actions with any legitimacy. There is no reason that has been given that justifies any of the things done by either the administration or its bureaucratic fiefdoms.
Why would DHS need billions of hollow point rounds for paper targets? Why would MRAP's and other armored personnel carriers be sent to towns akin to Gomer Pyle's Mayberry? Why are all of these military maneuvers being carried out on American soil in populated areas? Why is all of the hardware…tanks, artillery, etc., being shipped all over the U.S.?
The answer to all of them, good Readers, is that we are now in a "soft" tyranny. It will morph into something much harder, and the only unanswered question is "when" that tyranny will fully flower. Let's open up the dialogue. The comments have been great: in-depth and thought provoking. I ask you to present your prognosis and your ideas about where we are and where we're going, both short and long term. Also, I'm trying to answer as many of you back as possible, so please don't be offended if I haven't answered yours right away. I'm reading each and every one of them; they're that important to me, and I hope they are important to you (one another) as a group.
Stay alert and frosty, and keep up the good work. Have a great day!
JJ
---
Jeremiah Johnson is the Nom de plume of a retired Green Beret of the United States Army Special Forces (Airborne). Mr. Johnson is also a Gunsmith, a Certified Master Herbalist, a Montana Master Food Preserver, and a graduate of the U.S. Army's SERE school (Survival Evasion Resistance Escape). He lives in a cabin in the mountains of Western Montana with his wife and three cats. You can follow Jeremiah's regular writings at SHTFplan.com.
The American Dream
By Michael Snyder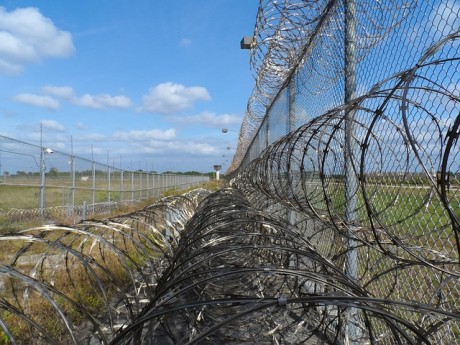 The history books tell us about how evil and wicked the Nazis were, so why aren't we more alarmed that the United States is becoming more like Nazi Germany with each passing day? More than three years ago, I wrote an article entitled "25 Signs That America Is Rapidly Becoming More Like Nazi Germany" which got a ton of attention. Unfortunately, nothing has gotten better since I first published that piece. Government control freaks are still watching us, tracking us, recording our phone calls and monitoring our emails. TSA thugs at our airports are still fondling the private parts of our women and children and laughing while they do it. Our police and our military are still training for civil unrest and martial law in America. And even though our politicians are socializing our economy and destroying our constitutional freedoms, the American people keep sending most of them back to Washington time after time. It is an incredibly sad thing to watch the country that you love slowly die right in front of your eyes.
At the heart of Nazism was a desire to control everyone and everything, and that is exactly what we are seeing in America today. Most of our "leaders" are psychotic control freaks that want to micromanage every aspect of our lives. For example, a bill that was just introduced in Congress would force all children in public schools nationwide to be vaccinated with no exceptions whatsoever. Other new legislation that was just introduced would ban all sales of ammunition over the Internet and require ammo dealers to report all bulk sales to individuals to the government. Our founders intended for this nation to be a place where individual freedom and liberty were maximized, but today we literally have millions of laws, rules and regulations that wrap us so tightly in red tape that we can hardly breathe.
To say that we are becoming just like the Nazis is a very strong statement, but I think that after reviewing the evidence you will agree with me. The following are 10 pictures that show how America is becoming just like Nazi Germany…
#1 It surprises most people to learn that the Nazis were actually radical leftists that had great animosity for free market capitalism. For example, National Socialist theologian Gregor Strasser once made the following statement…
We National Socialists are enemies, deadly enemies, of the present capitalist system with its exploitation of the economically weak … and we are resolved under all circumstances to destroy this system.
With that in mind, I want you to check out the following political cartoon from 1934. The same kinds of things that helped the communists rise to power in Russia and the Nazis rise to power in Germany are happening in the United States today…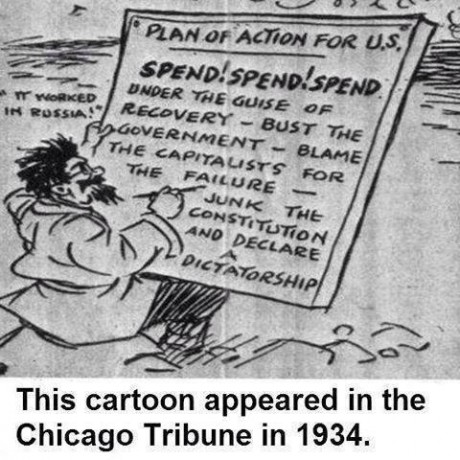 #2 Just like in Nazi Germany, political leaders in America tend to foster cult followings. At this point, there are millions of Americans that would support Barack Obama and believe whatever he had to say even if he was sacrificing children on the White House lawn. These kinds of followers are called "sheeple" for a reason…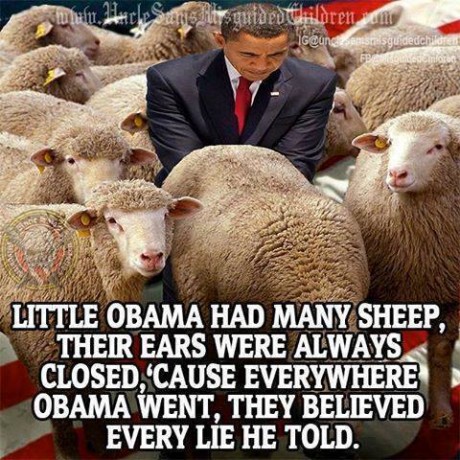 #3 The Nazis were well known for their brutal police tactics, and that is definitely true of us today. The following photo is a powerful commentary on the transformation of police in America over the past several decades…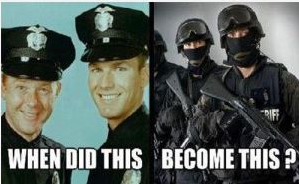 Just recently, representatives from 117 countries confronted the U.S. about all of this police brutality at the United Nations' Human Rights Council. Unfortunately, I don't think that this is actually going to change anything…
The United States was slammed over its rights record Monday at the United Nations' Human Rights Council, with member nations criticizing the country for police violence and racial discrimination, the Guantánamo Bay Detention Facility and the continued use of the death penalty.

The issue of racism and police brutality dominated the discussion on Monday during the country's second universal periodic review (UPR). Country after country recommended that the U.S. strengthen legislation and expand training to eliminate racism and excessive use of force by law enforcement.
#4 Why do so many of our police insist on dressing up like Darth Vader these days? Yes, I know that body armor is called for in certain situations, but many believe that the primary goal of these outfits is to intimidate. The following photo was submitted to Flickr by Elvert Barnes…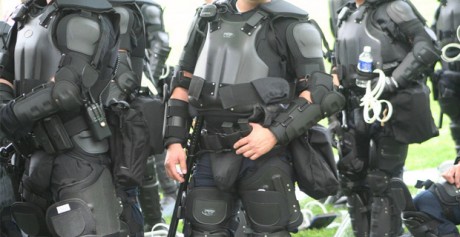 #5 In recent years, the American people have become conditioned to seeing troops in our streets. This next picture is from the Ferguson protests. The fact that sharpshooters were deployed on rooftops during the unrest there is more than a little disconcerting…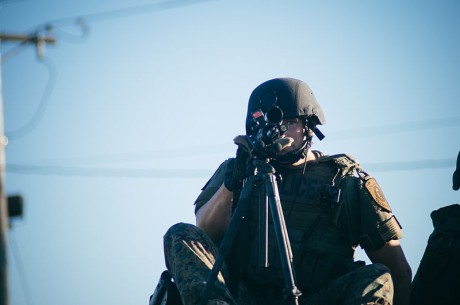 #6 Just like in Ferguson, when rioting started in Baltimore the police were initially ordered to stand down and allow it to spiral out of control. Then after a few hours, National Guard troops were finally deployed to help restore order. We are slowly getting used to the idea that martial law in our cities is a good thing…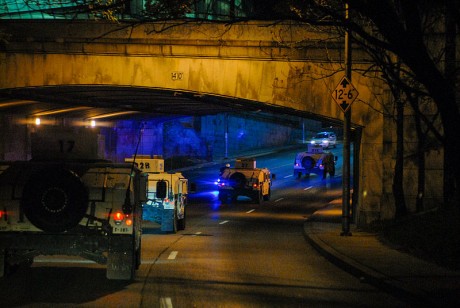 #7 Meanwhile, "progressives" continue to use our system of public education to launch a relentless attack on the values that this country was founded upon. The Nazis were also big believers in "public education", and they used it with shocking efficiency. Today, our children are being brainwashed to accept "progressive values", and most Americans don't seem to be too concerned about what is happening…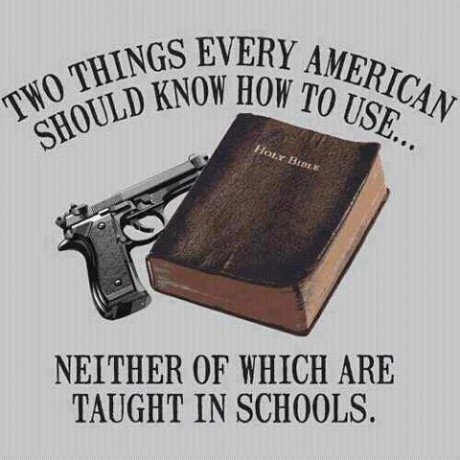 #8 Yes, the Nazis loved gun control. In fact, they eventually had everyone in the general population turn in their guns, and that is precisely what the "progressives" would love to see take place in the U.S. today. But what would this country look like if that actually happened? I think that this next photo which has been circulating on Facebook gives us a clue…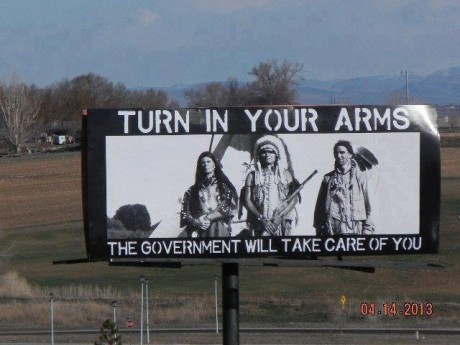 #9 Under the Nazis, the Germans were taught to salute a new flag and to adopt an entirely new set of values. In America today, it is not "politically correct" to display the American flag publicly or to show honor for it. Instead, we are being trained to think of ourselves as "global citizens" and to never question the growing power of international institutions such as the United Nations. Fortunately, there are many Americans that never plan to accept the "global governance" that the elitists have planned…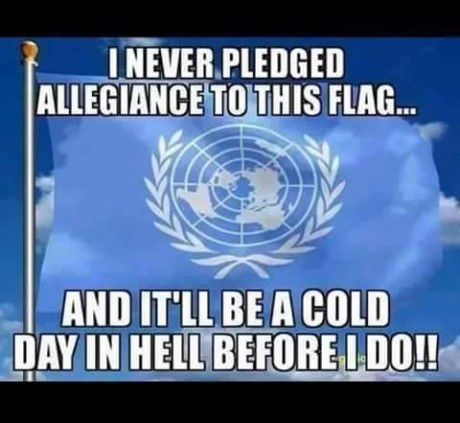 #10 In the end, the reason why the Nazis were so successful in Germany was because the vast majority of the German population simply complied with their demands. As Americans, we are going to be faced with our own choices in the years ahead…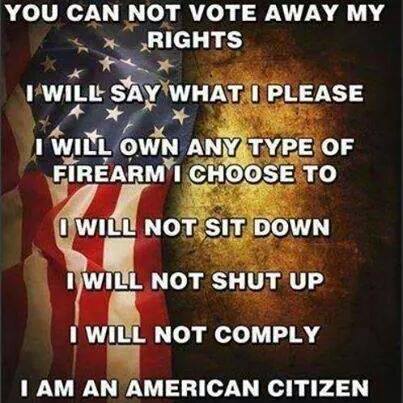 So what do you think?
Is America becoming more like Nazi Germany?
Please feel free to share what you think by posting a comment below…
The Common Sense Show
by Dave Hodges
America's southern border has disintegrated, Russia and NATO are mobilizing in and around Ukraine in what could be the beginning of World War III, our economy is one slight push from free fall, we have foreign troops, who have promised us harm, training on our soil. And we have massive military movements all around our country in support of Jade Helm. Our skies are filled with attack helicopters. Our train tracks are increasingly carrying military equipment all around the country. We cannot turn on our televisions and be assured that our children will not see reports about Jade Helm because the Mainstream Media is becoming obsessed with the topic. All of these things are on the short list of challenges presented to inhabitants of America by the New World Order and many parents are finding it difficult to shield their children from the truth. You can always unplug the television and change the subject. However, when the following scenes begin to take place with greater frequency over the next several weeks, what will you tell your children about Jade Helm and the New World Order?
At the end of the day, the biggest question is, WHAT DO WE TELL OUR CHILDREN ABOUT JADE HELM AND THE NEW WORLD ORDER AND WHEN DO WE TELL THEM?
Do we tell our children about Jade Helm after Special Forces are rapelling from helicopters into our communities as they practice their extraction drills which could go live at any moment?
Do we wait until we see armored vehicles like we did in a small town in New Hampshire this past Wednesday? Or do you wait until you are sitting at a railroad crossing and see a two mile long train filled with nothing but military equipment?
And God forbid that you and your children are out on a Friday night and are confronted with the horror of citizens being marched into detention while under guard by U.S. troops like we see here on Friday, March 27, 2015 in Ft. Lauderdale, Florida. What will you tell them then?
No Blueprint for Parenting
When I became a parent, I mistakenly thought that I would raise my son just like my parents raised me. My parents instilled in me a fundamental respect for authority, how to honor the great traditions of our country and how to work hard to get what I wanted out of life. I grew up loving the ideals of our country, the freedom and the opportunity. As a result, I have lived a good and prosperous life. I give thanks to my parents and to God everyday for my good fortune. However, I have learned that I was not fully prepared to be a parent because I do not know how to teach my 14 year old son about living under tyranny that will accompany Jade Helm on behalf of the New World Order.
The Republic Is Dead, Long Live the Republic
The America we knew is dead and gone and is running solely on momentum. Are any of you asking the same question that I am about how we tell our teenage children that they live under a hopelessly corrupt government and they are making plans to fully enslave all of us under REX 84, FEMA Camps, NDAA, and now Jade Helm? Do we teach our children to never criticize the government because free speech has been criminalized as an act of terrorism? How do we provide our children hope that if they work hard and go to college, that they will have a good life? And even if our kids graduate from college, most won't find job when they get out of school and even if they do find work in their field, they will be debt slaves because of the cost of higher education. How do we encourage our children to learn the lessons of civics when we fully know that our vote, on a national level, does not make a darn bit of difference and that the Nancy Pelosi, Hillary Clinton, Rand Paul, Ted Cruz, et al., are all bought and paid for? How do we teach our children that our brave men and women who serve in the military have been turned into pawns of corporate greed and subsequent bankster-inspired imperialism? How do we prepare to raise our children in a decadent society which dishonors the very Christian principles that our country was founded upon?
Feeling Inadequate As a Father
In my work as a writer and a broadcaster in the Independent Media, I know all too well that the potential dangers that I face in my attempts to reveal the truth about the lawlessness and abject criminality of so many in power. Hastings and Breitbart remind all of us that we take significant risks to do what we do. I decided several years ago that I was willing to take the risk as are so many of my media colleagues. However, I have discovered that I was unprepared to be a father to a child who is growing up in a time of unprecedented corporate and government criminality. Do you realize that our children are living under a government that has forsaken due process and tortures people that they disagree with, under the NDAA, and this is only what is openly admitted to! If we treated our children like the government treats us, we would all be put in jail for neglect and child abuse. How do I teach my son to develop a fundamental respect for many of our political and corporate leaders who have no moral compass?
The Questions a Parent Cannot Answer
My son is now asking questions befitting an adult perspective of our present political and economic situation. I am not bashful about identifying the misdeeds of our government when I am writing or broadcasting. Also, I know that I have the intellectual capacity to explain to my son how bad things have become in terms he can understand. However, I have found that I am lacking the skill and knowledge to explain to my son just how bad things are without taking away his hope for the future. Although I constantly say that I am fighting for our children's future, I have kept my son as separate as I can from my work in the media. It is not something that I have tried to share with him because I do not want him to become cynical. Yet, I know that there comes the day when all parents realize that we have to tell our children that there is no Santa Claus and that is not him coming down the chimney at 3AM.
I grew up in an America which was a republic interspersed with some corruption. Today's America is a corporate criminal enterprise where there are no rules for the elite and the constitutional precepts underlying our laws are on life support. Subsequently my son 14 year old son is growing up in a far different America than I did and to hear him talk about his future hopes and fears reflects these fundamental changes that we have experienced as a country.
What Will You Tell Your Children?
When my son was eight years old, I took him to Washington D.C. (pictured to the right) and we tried to instill in him an ongoing appreciation of American traditions.
At the time of the trip, six years ago, I still held out faint hope we could restore our Republic and Washington D.C. could stop being referred to as the District of Criminals. After all, children need to be worried about the piano lessons, their sports teams, their first crush, their schooling, they do not need to be burdened with dealing with geopolitical issues stemming from the bankers trying to run this planet. Yet, our children's lives are increasingly being dominated by this march towards economic and political totalitarianism, and in the upcoming weeks, Jade Helm will force parents to answer some very uncomfortable questions from their children as we witness the tyranny of Jade Helm
in an up close and personal manner.
Conclusion
If you are awake as to what is going on and you have children, you will one day be forced to answer the questions that your children ask about the world that they live in. And for the life of me, I do not know how to tell my child how to live in the New World Order. Do you?
If the globalists are able to completely tighten the noose of Jade Helm tyranny around our collective necks, your children may ask you one day "Mommy and Daddy, what did you do to try and stop the bad people from hurting us"?
The 4th Media
by Tom Engelhardt
Have you ever undertaken some task you felt less than qualified for, but knew that someone needed to do? Consider this piece my version of that, and let me put what I do understand about it in a nutshell: based on developments in our post-9/11 world, we could be watching the birth of a new American political system and way of governing for which, as yet, we have no name.
And here's what I find strange: the evidence of this, however inchoate, is all around us and yet it's as if we can't bear to take it in or make sense of it or even say that it might be so.
Let me make my case, however minimally, based on five areas in which at least the faint outlines of that new system seem to be emerging: political campaigns and elections; the privatization of Washington through the marriage of the corporation and the state; the de-legitimization of our traditional system of governance; the empowerment of the national security state as an untouchable fourth branch of government; and the demobilization of "we the people."
Whatever this may add up to, it seems to be based, at least in part, on the increasing concentration of wealth and power in a new plutocratic class and in that ever-expanding national security state. Certainly, something out of the ordinary is underway, and yet its birth pangs, while widely reported, are generally categorized as aspects of an exceedingly familiar American system somewhat in disarray.
1. 1% Elections
Check out the news about the 2016 presidential election and you'll quickly feel a sense of been-there, done-that. As a start, the two names most associated with it, Bush and Clinton, couldn't be more familiar, highlighting as they do the curiously dynastic quality of recent presidential contests. (If a Bush or Clinton should win in 2016 and again in 2020, a member of one of those families will have controlled the presidency for 28 of the last 36 years.)
Take, for instance, "Why 2016 Is Likely to Become a Close Race," a recent piece Nate Cohn wrote for my hometown paper. A noted election statistician, Cohn points out that, despite Hillary Clinton's historically staggering lead in Democratic primary polls (and lack of serious challengers), she could lose the general election. He bases this on what we know about her polling popularity from the Monica Lewinsky moment of the 1990s to the present. Cohn assures readers that Hillary will not "be a Democratic Eisenhower, a popular, senior statesperson who cruises to an easy victory."
It's the sort of comparison that offers a certain implicit reassurance about the near future. (No, Virginia, we haven't left the world of politics in which former general and president Dwight D. Eisenhower can still be a touchstone.)
Cohn may be right when it comes to Hillary's electability, but this is not Dwight D. Eisenhower's or even Al Gore's America. If you want a measure of that, consider this year's primaries. I mean, of course, the 2015 ones. Once upon a time, the campaign season started with candidates flocking to Iowa and New Hampshire early in the election year to establish their bona fides among party voters. These days, however, those are already late primaries.
The early primaries, the ones that count, take place among a small group of millionaires andbillionaires, a new caste flush with cash who will personally, or through complex networks of funders, pour multi-millions of dollars into the campaigns of candidates of their choice. So the early primaries — this year mainly a Republican affair — are taking place in resort spots like Las Vegas, Rancho Mirage, California, and Sea Island, Georgia, as has been widely reported.
These "contests" involve groveling politicians appearing at the beck and call of the rich and powerful, and so reflect our new 1% electoral system. (The main pro-Hillary super PAC, for instance, is aiming for a kitty of $500 million heading into 2016, while the Koch brothers network has already promised to drop almost $1 billion into the coming campaign season, doubling their efforts in the last presidential election year.)
Ever since the Supreme Court opened up the ultimate floodgates with its 2010 Citizens Uniteddecision, each subsequent election has seen record-breaking amounts of money donated and spent. The 2012 presidential campaign was the first $2 billion election; campaign 2016 isexpected to hit the $5 billion mark without breaking a sweat.
By comparison, according to Burton Abrams and Russell Settle in their study, "The Effect of Broadcasting on Political Campaign Spending," Republicans and Democrats spent just under $13 million combined in 1956 when Eisenhower won his second term.
In the meantime, it's still true that the 2016 primaries will involve actual voters, as will the election that follows. The previous election season, the midterms of 2014, cost almost $4 billion, a record despite the number of small donors continuing to drop.
It also represented the lowest midterm voterturnout since World War II. (See: demobilization of the public, below — and add in the demobilization of the Democrats as a real party, the breaking of organized labor, the fragmenting of the Republican Party, and the return of voter suppression laws visibly meant to limit the franchise.)
It hardly matters just what the flood of new money does in such elections, when you can feel the weight of inequality bearing down on the whole process in a way that is pushing us somewhere new.
2. The Privatization of the State (or the U.S. as a Prospective Third-World Nation)
In the recent coverage of the Hillary Clinton email flap, you can find endless references to theClintons of yore in wink-wink, you-know-how-they-are-style reporting; and yes, she did delete a lot of emails; and yes, it's an election year coming and, as everyone points out, the Republicans are going to do their best to keep the email issue alive until hell freezes over, etc., etc. Again, the coverage, while eyeball gluing, is in a you've-seen-it-all-before, you'll-see-it-all-again-mode.
However, you haven't seen it all before. The most striking aspect of this little brouhaha lies in what's most obvious but least highlighted. An American secretary of state chose to set up her own private, safeguarded email system for doing government work; that is, she chose to privatize her communications. If this were Cairo, it might not warrant a second thought.
But it didn't happen in some third-world state. It was the act of a key official of the planet's reigning (or thrashing) superpower, which — even if it wasn't the first time such a thing had ever occurred — should be taken as a tiny symptom of something that couldn't be larger or, in the long stretch of history, newer: the ongoing privatization of the American state, or at least the national security part of it.
Though the marriage of the state and the corporation has a pre-history, the full-scale arrival of thewarrior corporation only occurred after 9/11. Someday, that will undoubtedly be seen as a seminal moment in the formation of whatever may be coming in this country. Only 13 years later, there is no part of the war state that has not experienced major forms of privatization.
The U.S. military could no longer go to war without its crony corporations doing KP and guard duty, delivering the mail, building the bases, and being involved in just about all of its activities, including training the militaries of foreign allies and even fighting.
Such warrior corporations are now involved in every aspect of the national security state, including torture, drone strikes, and — to the tune ofhundreds of thousands of contract employees like Edward Snowden — intelligence gathering and spying. You name it and, in these years, it's been at least partly privatized.
All you have to do is read reporter James Risen's recent book, Pay Any Price, on how the global war on terror was fought in Washington, and you know that privatization has brought something else with it: corruption, scams, and the gaming of the system for profits of a sort that might normally be associated with a typical third-world kleptocracy.
And all of this, a new world being born, was reflected in a tiny way in Hillary Clinton's very personal decision about her emails.
Though it's a subject I know so much less about, this kind of privatization (and the corruption that goes with it) is undoubtedly underway in the non-war-making, non-security-projecting part of the American state as well.
3. The De-legitimization of Congress and the Presidency

On a third front, American "confidence" in the three classic check-and-balance branches of government, as measured by polling outfits, continues to fall. In 2014, Americans expressing a "great deal of confidence" in the Supreme Court hit a new low of 23%; in the presidency, it was 11%, and in Congress a bottom-scraping 5%. (The military, on the other hand, registers at 50%.) The figures for "hardly any confidence at all" are respectively 20%, 44%, and more than 50%. All are in or near record-breaking territory for the last four decades.
It seems fair to say that in recent years Congress has been engaged in a process of delegitimizing itself. Where that body once had the genuine power to declare war, for example, it is now "debating" in adesultory fashion an "authorization" for a war against the Islamic State in Syria, Iraq, and possibly elsewhere that has already been underway for eight months and whose course, it seems, will be essentially unaltered, whether Congress authorizes it or not.
What would President Harry Truman, who once famously ran a presidential campaign against a "do-nothing" Congress, have to say about a body that truly can do just about nothing? Or rather, to give the Republican war hawks in that new Congress their due, not quite nothing. They are proving capable of acting effectively to delegitimize the presidency as well.
House Majority Leader John Boehner's invitation to Israeli Prime Minister Benjamin Netanyahu to undercut the president's Iranian nuclear negotiations and the letter signed by 47 Republican senators and directed to the Iranian ayatollahs are striking examples of this. They are visibly meant to tear down an "imperial presidency" that Republicans gloried in not so long ago.
The radical nature of that letter, not as an act of state but of its de-legitimization, was noted even in Iran, where fundamentalist Supreme Leader Ali Khamenei proclaimed it "a sign of a decline in political ethics and the destruction of the American establishment from within."
Here, however, the letter is either being covered as a singularly extreme one-off act ("treason!") or, as Jon Stewart didon "The Daily Show," as part of a repetitive tit-for-tat between Democrats and Republicans over who controls foreign policy. It is, in fact, neither. It represents part of a growing pattern in which Congress becomes an ever less effective body, except in its willingness to take on and potentially take out the presidency.
In the twenty-first century, all that "small government" Republicans and "big government" Democrats can agree on is offering essentially unconditional support to the military and the national security state. The Republican Party — its various factions increasingly at each other's throats almost as often as at those of the Democrats — seems reasonably united solely on issues of war-making and security.
As for the Democrats, an unpopular administration, facing constant attack by those who loath President Obama, has kept its footing in part by allying with and fusing with the national security state. A president who came into office rejecting torture and promoting sunshine and transparency in government has, in the course of six-plus years, come to identify himself almost totally with the U.S. military, the CIA, the NSA, and the like.
While it has launched an unprecedented campaign against whistleblowers and leakers (as well as sunshine and transparency), the Obama White House has proved a powerful enabler of, but also remarkably dependent upon, that state-within-a-state, a strange fate for "the imperial presidency."
4. The Rise of the National Security State as the Fourth Branch of Government
One "branch" of government is, however, visibly on the rise and rapidly gaining independence from just about any kind of oversight. Its ability to enact its wishes with almost no opposition in Washington is a striking feature of our moment.
But while the symptoms of this process are regularly reported, the overall phenomenon — the creation of a de facto fourth branch of government — gets remarkably little attention. In the war on terror era, the national security state has come into its own. Its growth has been phenomenal.
Though it's seldom pointed out, it should be considered remarkable that in this period we gained a second full-scale "defense department," the Department of Homeland Security, and that it and the Pentagon have become even more entrenched, each surrounded by its own growing "complex" of private corporations, lobbyists, and allied politicians. The militarization of the country has, in these years, proceeded apace.
Meanwhile, the duplication to be found in the U.S. Intelligence Community with its 17 major agencies and outfits is staggering. Its growing ability to surveil and spy on a global scale, including on its own citizens, puts the totalitarian states of the twentieth century to shame.
That the various parts of the national security state can act in just about any fashion without fear of accountability in a court of law is by now too obvious to belabor. As wealth has traveled upwards in American society in ways not seen since the first Gilded Age, so taxpayer dollars have migrated into the national security state in an almost plutocratic fashion.
New reports regularly surface about the further activities of parts of that state. In recent weeks, for instance, we learned from Jeremy Scahill and Josh Begley of the Intercept that the CIA has spent years trying to break the encryption on Apple iPhones and iPads; it has, that is, been aggressively seeking to attack an all-American corporation (even if significant parts of its production process are actually in China).
Meanwhile, Devlin Barrett of the Wall Street Journal reported that the CIA, an agency barred from domestic spying operations of any sort, has been helping the U.S. Marshals Service (part of the Justice Department) create an airborne digital dragnet on American cell phones. Planes flying out of five U.S. cities carry a form of technology that "mimics a cellphone tower."
This technology, developed and tested in distant American war zones and now brought to "the homeland," is just part of the ongoing militarization of the country from its borders to its police forces. And there's hardly been a week since Edward Snowden first released crucial NSA documents in June 2013when such "advances" haven't been in the news.
News also regularly bubbles up about the further expansion, reorganization, and upgrading of parts of the intelligence world, the sorts of reports that have become the barely noticed background hum of our lives. Recently, for instance, Director John Brennan announced a major reorganization of the CIA meant to break down the classic separation between spies and analysts at the Agency, while creating a new Directorate of Digital Innovation responsible for, among other things, cyberwarfare and cyberespionage.
At about the same time, according to the New York Times, the Center for Strategic Counterterrorism Communications, an obscure State Department agency, was given a new and expansive role in coordinating "all the existing attempts at countermessaging [against online propaganda by terror outfits like the Islamic State] by much larger federal departments, including the Pentagon, Homeland Security and intelligence agencies."
This sort of thing is par for the course in an era in which the national security state has only grown stronger, endlessly elaborating, duplicating, and overlapping the various parts of its increasingly labyrinthine structure.
And keep in mind that, in a structure that has fought hard to keep what it's doing cloaked in secrecy, there is so much more that we don't know. Still, we should know enough to realize that this ongoing process reflects something new in our American world (even if no one cares to notice).
5. The Demobilization of the American People
In The Age of Acquiescence, a new book about America's two Gilded Ages, Steve Fraser asks why it was that, in the nineteenth century, another period of plutocratic excesses, concentration of wealth and inequality, buying of politicians, and attempts to demobilize the public, Americans took to the streets with such determination and in remarkable numbers over long periods of time to protest their treatment, and stayed there even when the brute power of the state was called out against them.
In our own moment, Fraser wonders, why has the silence of the public in the face of similar developments been so striking?
After all, a grim new American system is arising before our eyes. Everything we once learned in the civics textbooks of our childhoods about how our government works now seems askew, while the growth of poverty, the flatlining of wages, the rise of the .01%, the collapse of labor, and the militarization of society are all evident.
The process of demobilizing the public certainly began with the military. It was initially a response to the disruptive and rebellious draftees of the Vietnam-era. In 1973, at the stroke of a presidential pen, the citizen's army was declared no more, the raising of new recruits was turned over to advertising agencies (a preview of the privatization of the state to come), and the public was sent home, never again to meddle in military affairs.
Since 2001, that form of demobilization has been etched in stone and transformed into a way of life in the name of the "safety" and "security" of the public.
Since then, "we the people" have made ourselves felt in only three disparate ways: from the left in the Occupy movement, which, with its slogans about the 1% and the 99%, put the issue of growing economic inequality on the map of American consciousness; from the right, in the Tea Party movement, a complex expression of discontent backed and at least partially funded by right-wing operatives and billionaires, and aimed at the de-legitimization of the "nanny state"; and the recent round of post-Ferguson protests spurred at least in part by the militarization of the police in black and brown communities around the country.
The Birth of a New System
Otherwise, a moment of increasing extremity has also been a moment of — to use Fraser's word — "acquiescence." Someday, we'll assumedly understand far better how this all came to be. In the meantime, let me be as clear as I can be about something that seems murky indeed: this period doesn't represent a version, no matter how perverse or extreme, of politics as usual; nor is the 2016 campaign an election as usual; nor are we experiencing Washington as usual.
Put together our 1% elections, the privatization of our government, the de-legitimization of Congress and the presidency, as well as the empowerment of the national security state and the U.S. military, and add in the demobilization of the American public (in the name of protecting us from terrorism), and you have something like a new ballgame.
While significant planning has been involved in all of this, there may be no ruling pattern or design. Much of it may be happening in a purely seat-of-the-pants fashion. In response, there has been no urge to officially declare that something new is afoot, let alone convene a new constitutional convention.
Still, don't for a second think that the American political system isn't being rewritten on the run by interested parties in Congress, our present crop of billionaires, corporate interests, lobbyists, the Pentagon, and the officials of the national security state.
Out of the chaos of this prolonged moment and inside the shell of the old system, a new culture, a new kind of politics, a new kind of governance is being born right before our eyes. Call it what you want. But call it something. Stop pretending it's not happening.
Tom Engelhardt is a co-founder of the American Empire Project and the author of The United States of Fear as well as a history of the Cold War, The End of Victory Culture. He is a fellow of the Nation Institute and runs TomDispatch.com. His latest book is Shadow Government: Surveillance, Secret Wars, and a Global Security State in a Single-Superpower World(Haymarket Books).
[Note: My special thanks go to my friend John Cobb, who talked me through this one. Doing it would have been inconceivable without him. Tom]